Author Archive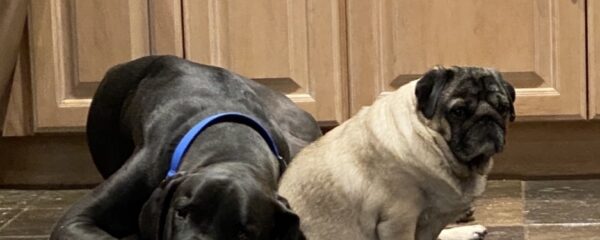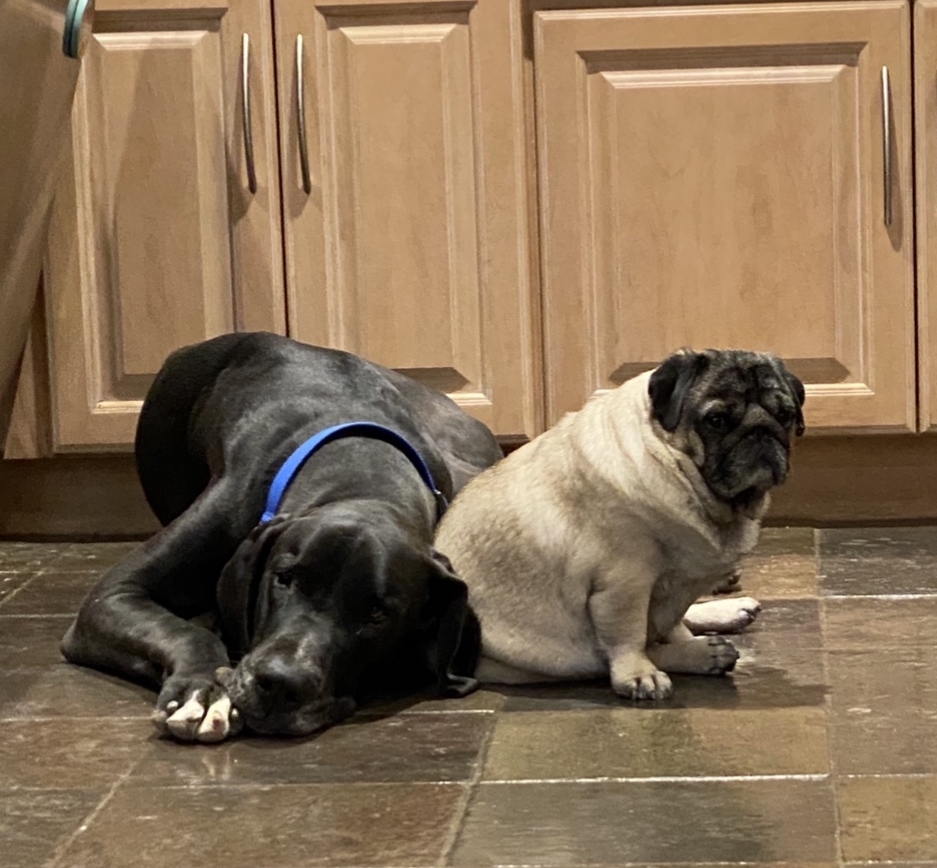 Another cute photo of Nicholas and Elliot.
It must be love!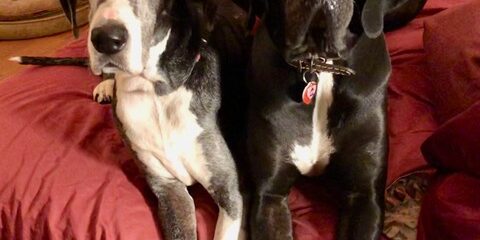 Another cute photo from Barbara Slobodian of her kids Titan and Shawnee, both rescues.
Shawnee can finally relax, teaching Titan the ropes in their home has finished. He was a good student and a wonderful family addition. (And they initially thought they were done with Danes!)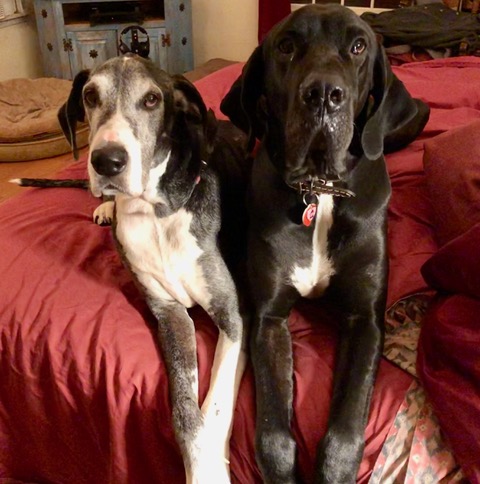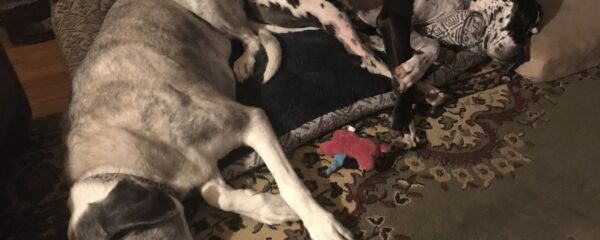 Finn's new bed was delivered but the "sisters" insist on snuggling together. Looks like Kim will be out shopping for another bed that's large enough for all three.
Yes, there are three girls there. Little Bailee is on the right by Finn's head.
Thanks to Kim Hutsell for sending this sweet photo.
Yay!! Stevie is 8 and is a very loved girl. Her parents, Glen and Gayle, sent us this priceless video of Stevie's celebration. Bodie, their handsome harlequin boy, is also celebrating.
In case anyone doesn't remember Stevie's story, she came in as a stray from the Auburn Animal Control. She was dirty, thin, and very shy. We ended up having to amputate her tail due to long standing neglect. We looked at this scraggly black girl and thought we would have a hard time finding her a home. But we lucked out with the Cook family who saw past the physical and adopted her. They took her home and in a short period of time, they find out she is heartworm positive. But being the Cook family, they did not return her but rather went through the heartworm treatment (on their dime no less) and got her through that tough time. Now Stevie is a stunner and is living the life all dogs deserve. Thanks to Glen and Gayle for always keeping in touch and for being good parents to both Stevie and Bodie.
stevievideo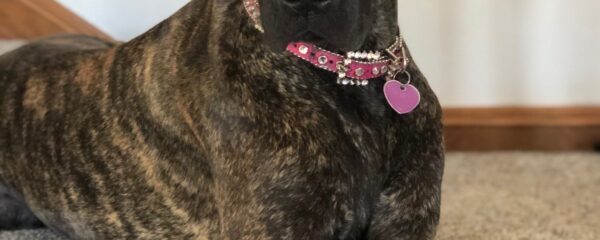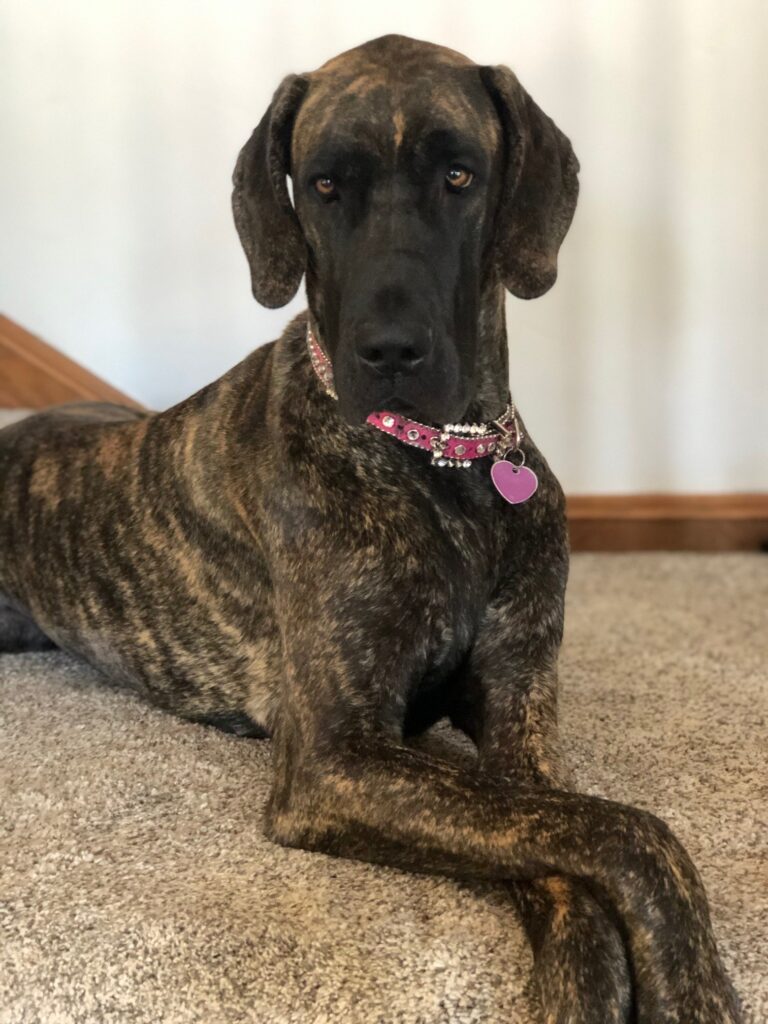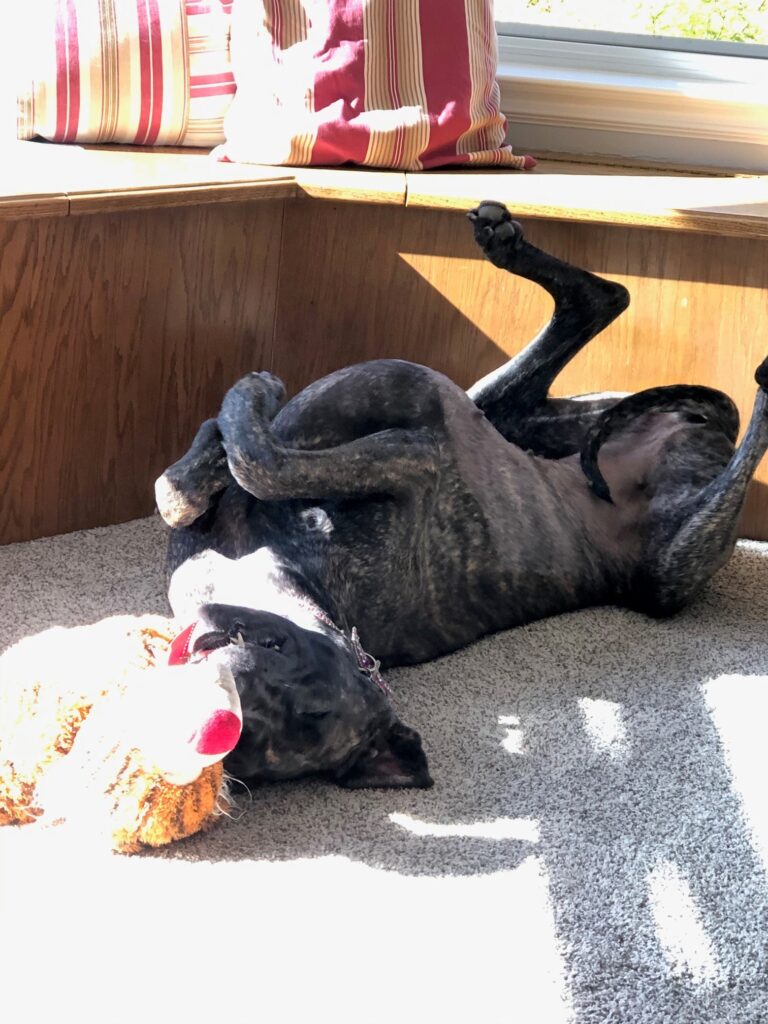 We got this nice update on the cute young brindle girl, Fiona, who was a Private Adoption. Thanks to the Dishno family for providing this shy girl a great home!
"Fiona certainly lives up to her nickname of "Princess Fiona". We have never seen a dog lay down so properly, she is always crossing her legs as shown in the photo. She also has such a mild temperament outside our house, she is great on walks, meeting new dogs and people. We pass lots of animals (deer, ducks, squirrels, etc.) on our walks and she just looks at them. Inside our house is a different story as she is a such a character. She loves to play with toys and also enjoys a mid-morning nap. Sometimes she does both at the same time (2nd photo). She is such a happy, affectionate dog who always has her tail wagging.
Once again we are so grateful to you for helping us find this sweet, wonderful girl."
Thank you,
Roberta and Keith
Just in case you all were wondering, Great Dane Rescue never really closed. We just were limited on who we could bring in due to the kennel where we board being closed, so we had to rely on foster care only (thanks Karen!)
But now we are up and running full strength and just waiting for all those un-wanted Great Danes to come pouring in! Things seem to be slow in the "I want to give up my sweet Dane" realm, but really busy in the "my unsocialized ten year old arthritic blind Dane just bit three people and can you take him" arena.
So keep checking our website to see who comes in and for all those on our waitlist, we are looking out for a Dane for you!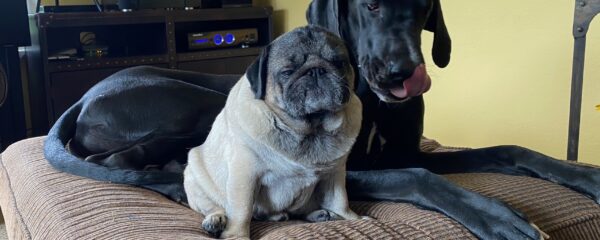 —————————————–
Thanks to the Uchytil family for sending this update on Nicholas. Karen took a chance on Nicholas when she sprung him from the local shelter. He was so scared and shut down. The shelter staff had to carry him to Karen's car as he would not walk on a leash. But Karen couldn't leave him there and vowed to do her best to bring him around. With her love and patience (and Michael the great Great Dane's help) Nicholas learned to trust people again and found a wonderful home! Bravo Karen!
Here is the update on Nicholas:
"Hey! This is Taylor, Tina's daughter. We are all so happy to have Nicholas around, he's so easy! He definitely brightens our life, especially Elliot's.
We adopted Nicholas a month ago today! We got to know Nicholas to be the sweetest & happiest dog. However, it is all thanks to Karen with Great Dane Rescue of Northern California for her hard work. Karen spent so much time and energy for many months helping Nicholas be less fearful/shy around people. We could not ask for a more perfect dog and friend for our Pug, Elliot.
In addition to growing our family, the adoption process for Nicholas was trouble-free. We were able to spend time with Nicholas before adoption and introduce him to Elliot. We appreciate Karen for her dedication to Great Dane rescues. Her hours spent making sure Nicholas is loved and cared for demonstrates her passion for rescues and their adoption. From the checklist to the instructions on Nicholas's schedule, Karen left nothing to chance.
Great Dane Rescue of Northern California ensures that every adoption is the perfect fit for the family and pet. No questions or concerns were left unanswered or unattended. Thanks to Karen we were able to bring home the most well-behaved and fun-loving new pet."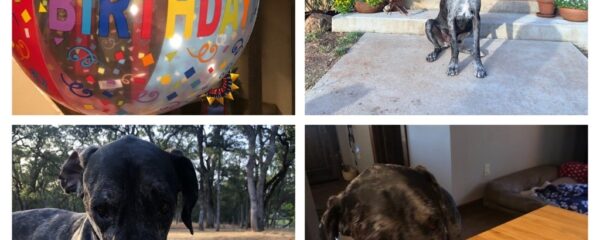 Blake is 5! Thanks to his Dad Michael for sending these photos.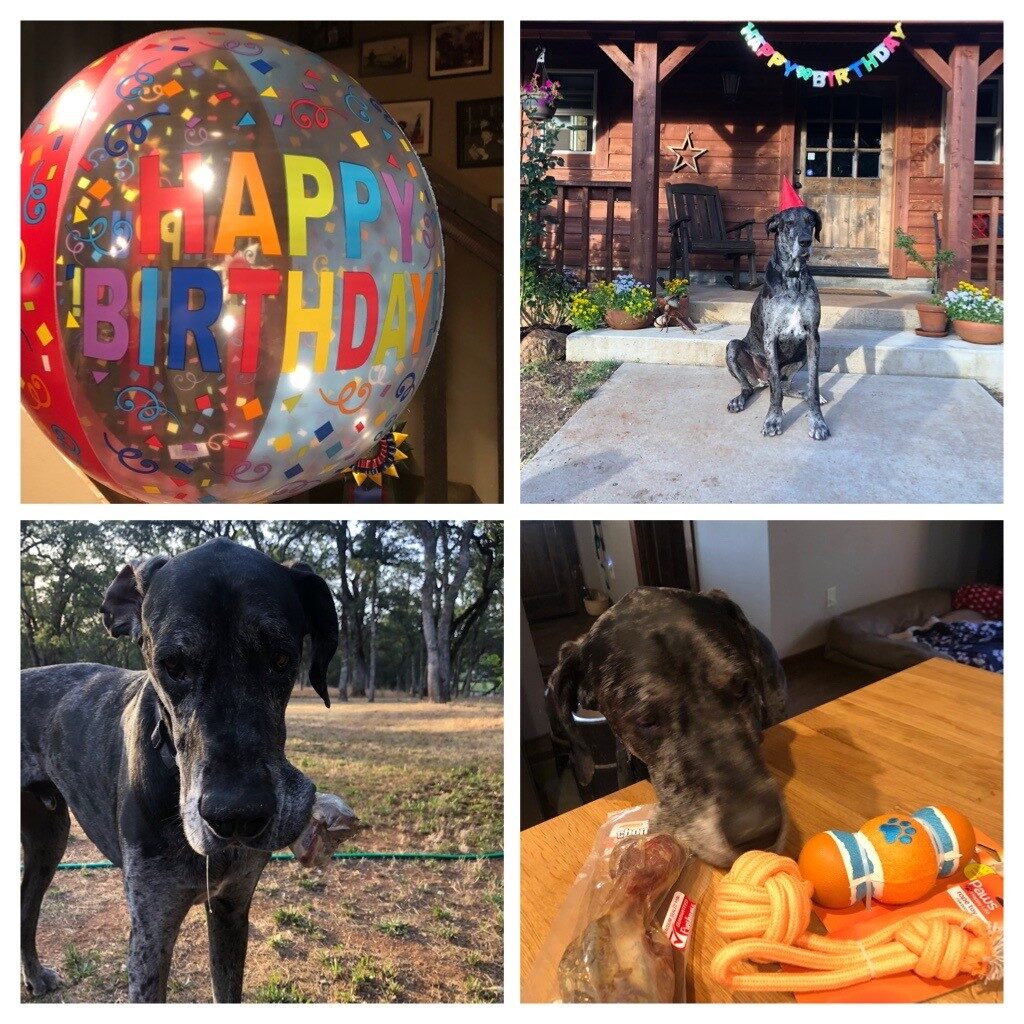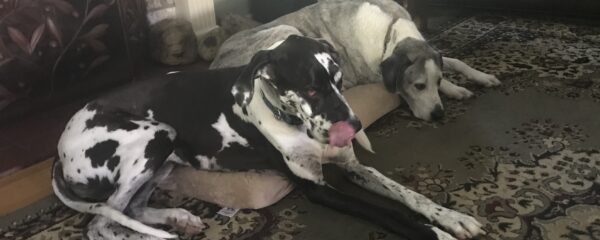 A family sadly reached out for our help placing Melanie. She was shy, could be fearful with some people and never got totally comfortable with all the family members. They made a Reno trip during the quarantine to us, so we could get to know Melanie. In a short time with much socialization, Karen felt she was ready for her forever home. Fortunately, Kim, who has adopted previously from us, was on our waitlist for a Dane. Karen knew she and her family would be the perfect match for Melanie, now know as Finn.
Here's what Kim wrote to us about her experience:
"We came to meet Finn (Melanie) last Sunday and couldn't have found a better fit for our diverse family of other animals. She and Abby are best buddies already and run circle eights in the yard. They share one of many beds because Finn is a cuddler! I am looking forward to our camping trips with both big girls. For now our daily walks are her highlight of the morning. Thanks are not enough for Karen's wisdom to know Finn needed to have a family sooner rather than later💗"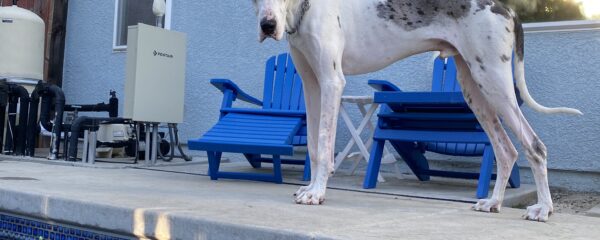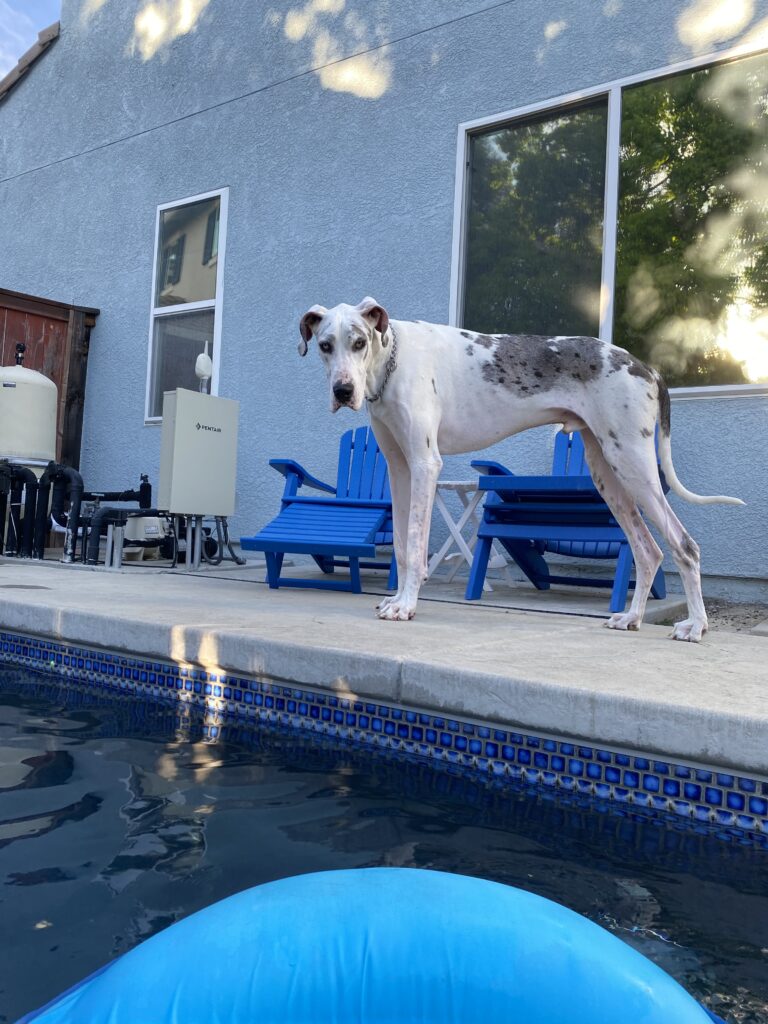 We received this photo and update from Matt and Sara on their new boy Goliath:
"We thought it might be too difficult to have two deaf Great Danes but Goliath (we call him "G") proved us wrong. He has acclimated beautifully, but just like ALL the Danes we've ever had, he does NOT want anything to do with water and hates it when Mama goes in the pool!"
Thanks to the Minor family for adopting another deaf Great Dane!