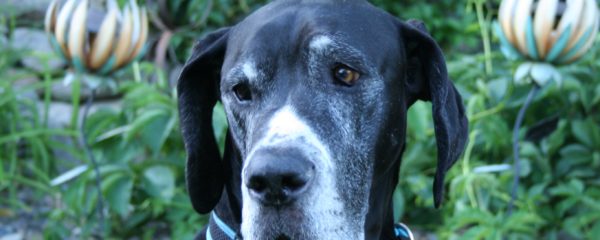 Michael was surrendered at seven months old because three goats were killed. We brought him to Reno to determine if he had high prey drive or was simply a big puppy unsupervised around livestock. Within days it was clear that Michael was a sweet, shy, 115 pound puppy that didn't know his own strength when he played. Due to his temperament, I decided to keep him and train him to be my partner and a big brother to all the foster Danes that would be coming in.
Fast forward to the present. Michael is celebrating his fourth birthday. Yes, he does look older but being a big brother to Danes coming and going is hard work. He has accepted 17 Danes into his home. Some were easy breezie, some not so much, but he was patient with them all. He helped them in ways I couldn't, just by being a good dog. Right now we have Daisy & he has done wonders with her.

Michael, I want to wish you a very Happy Birthday. I'm so proud of you and love you very much.