Category: "Happy Homes"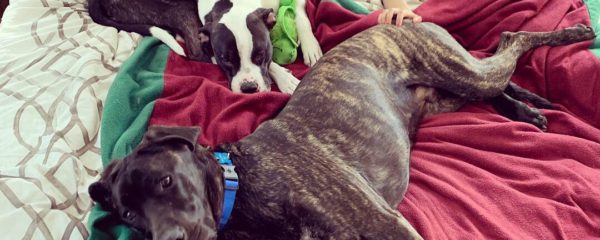 Obviously feeling right at home, Zeus graciously lets his new owner have a small space on the bed. Danes rule!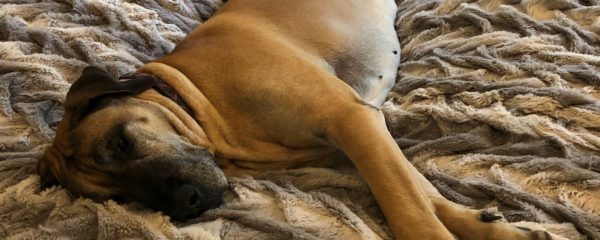 Lucky Sabrina is relaxing now that she has wonderful new Dads to cherish her!
Cute photo of Winston with his new dog brother Logan. Thanks to Dad Doug for adopting Winston and giving him a great start to the new year.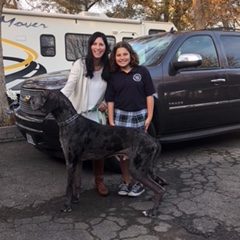 "Adoption" photo of Charlie and part of his new family, the Brocatos. We are so happy Charlie found a great, loving new home. They are working on teaching him some house manners, and we appreciate them being willing to work with this sweet boy.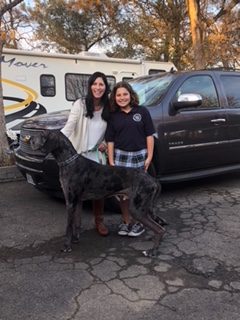 Next photo is Charlie trying to sleep with someone snuggling against him. I'm sure Charlie is thanking his lucky stars he is home!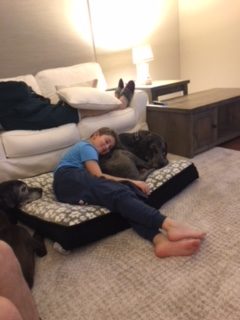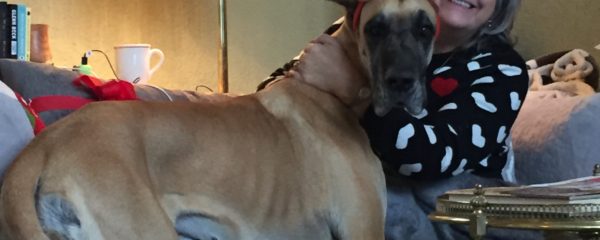 Here is a nice update on Dory from her owner Maureen:
"Dory is doing great. She and I are close friends. Dory is getting better around Gary and makes sure to get a pet from him each night but still skitters away half the time when he tries to pet her any other time. Ryan on the other hand is still working hard to gain her trust. Even though he gives Dory a treat every day she still jumps away from him whenever she sees him. She does take the treat now so that's a little progress.
When we go for our twice daily walks she runs and runs so I guess she likes the open spaces.
Gary welded a special eating and watering station so we've gotten over her not eating. Maybe it was the enclosed porch that bothered her. As soon as we moved feeding to the side porch outside she was fine.
All in all Dory is doing fine although we have to work on her shying away from everyone."
Merry Christmas with love,
Maureen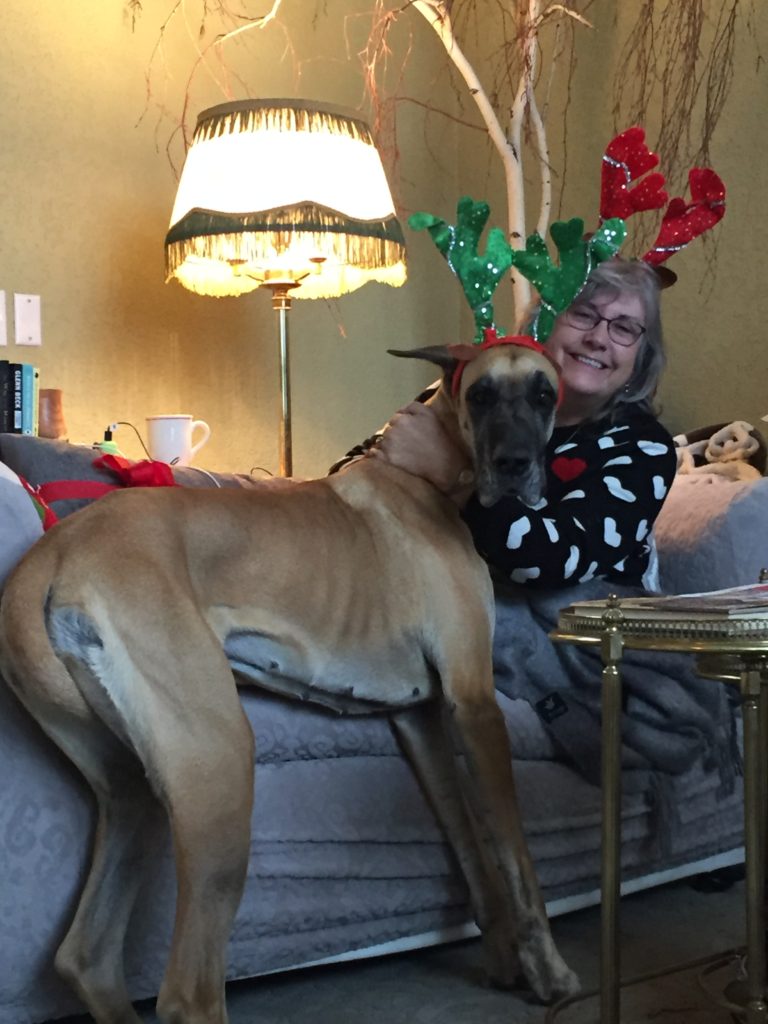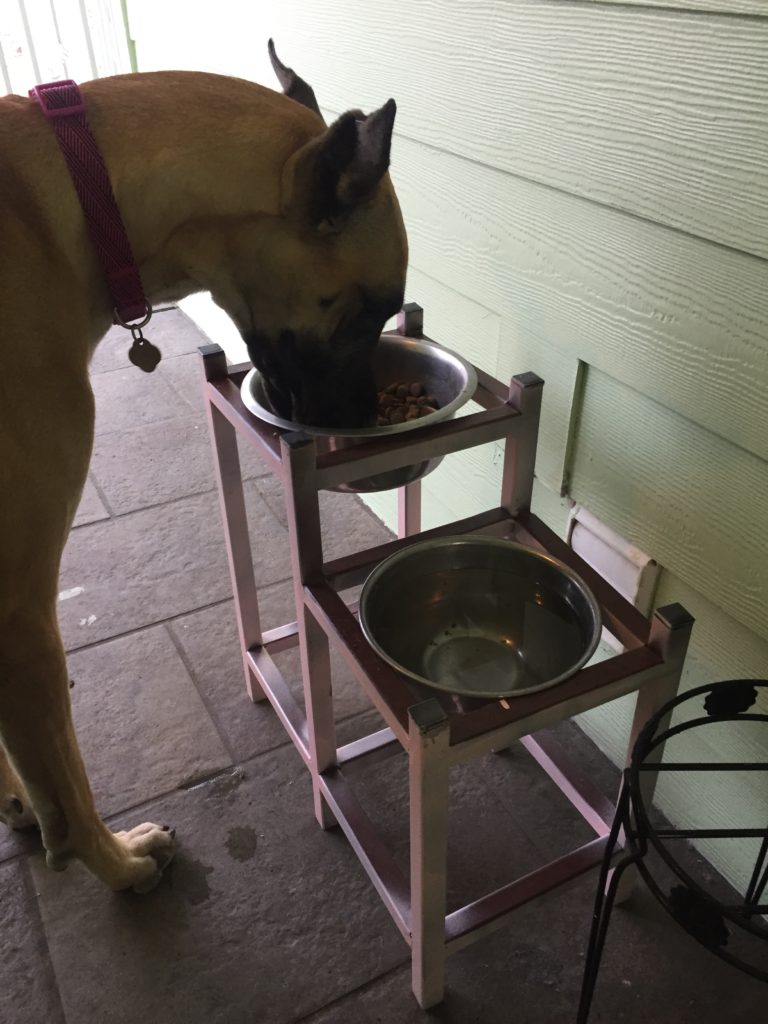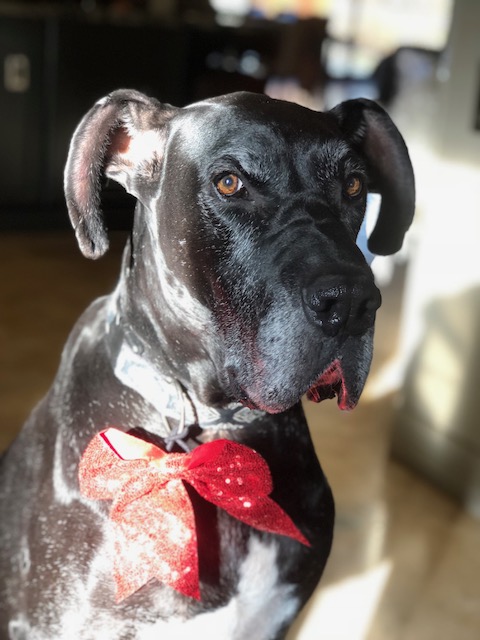 Thanks to Jessica Robnett for sending this photo of her boy Tank.  Besides the red bow, he borrowed Jess's red lipstick and lined his lips to make himself even MORE attractive to Santa!   He went the extra mile to impress.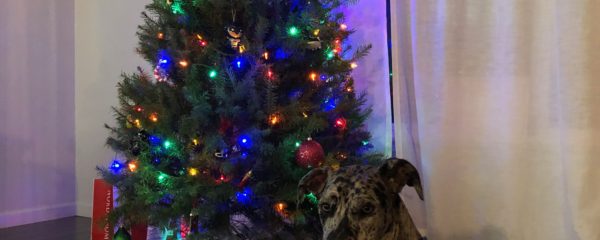 Thanks to Annie for sending us this update on her girl Athena and the cute photos. Here is what Annie wrote:
"I am attaching two pictures of Athena enjoying the Christmas decorations. She has adjusted so well to our house and now knows it is her house too! She is so smart and funny and surprises us with something silly everyday. We could not ask for a better dog. She is also doing very well with our niece and nephew, who are 3 and are always so excited to see her. She is a happy, healthy, and confident companion.
She has taken up a habit of barking at new people, but seems to adjust relatively quickly once she is used to new people in her space. We are trying to help her with this. She goes to daycare during the week and we get reports that she is a joy to have and gets along with all the dogs. We are so happy and she continues to be more than we could have hoped for. Everyone in our family absolutely loves her. We wish you all a happy holidays and a wonderful new year!!"
Thanks!
Annie and Jesse