Category: "Happy Homes"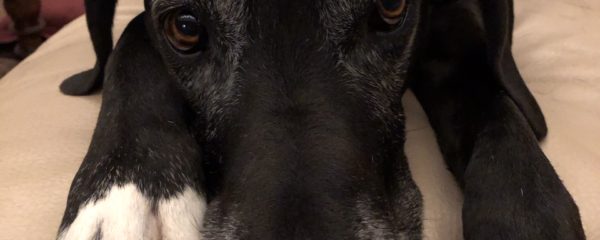 Thanks to the Cooks for another cute photo of their special girl.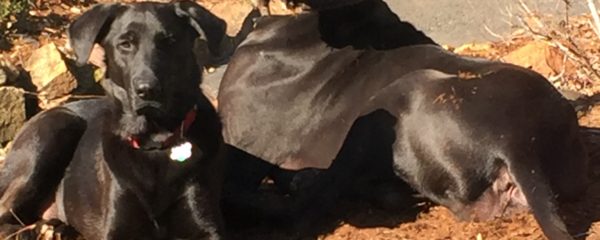 Moose came into rescue in March of 2018 at 6 months of age. We had a family who was scheduled to come meet Moose, but they cancelled so we reached out to another on our waitlist. They dropped everything, came and fell in love. EVERYTHING HAPPENS FOR A REASON! Thanks to the Garner family for adopting Moose.
Here's what they wrote….

"Hi Karen, I thought I would update you on Moose. We just love him! His lab sister died and he and us were heart broken. We adopted a Lab Mix from Foothill dog rescue "Tucker". Tucker loves his big brother Moose and they are inseparable. Moose is now 164 lbs and still very lean not over weight. Thank you again for calling us to come see him on that rainy weekend almost two years ago. Karen & Rob"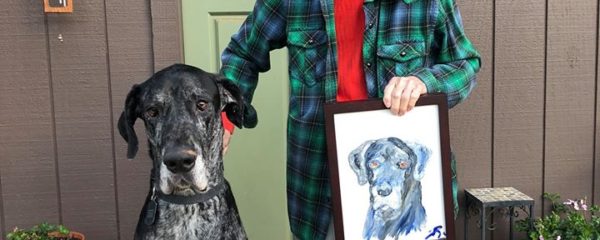 Blake's owner Michael, sent us this cute photo of Blake with their neighbor, who is an artist, and drew this wonderful portrait of Blake! Michael and Blake are lucky to have such a talented neighbor.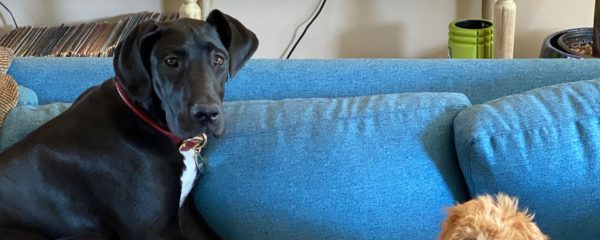 Diggity (formerly Calamity) with sibling Be Be. Thanks Jake for adopting our Baby Shark.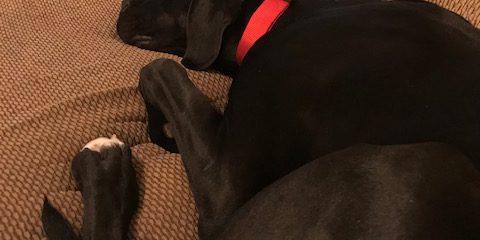 Thanks to Jennifer Harrell and her family for adopting Austin. Here is what she wrote to us recently: "Hi! Everything is going wonderfully. We have renamed him Finnegan (Finn for short). We will definitely be considering him adopted. He is the sweetest and we are very happy with him. All the dogs are learning each other and doing well. He loves the kids and has settled in nicely. Thank you so much again!"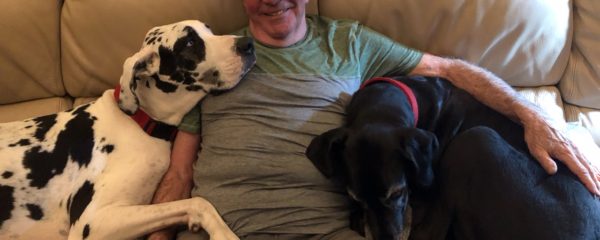 Thanks to Gayle and Glen for always keeping us updated on their two rescued babies, Stevie and Bodie. The Danes always seems to be cuddling to a human!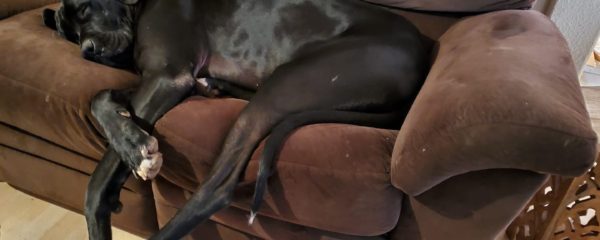 Nice update from Kevin's owner Kika on her new big black boy:   "Just thought I'd give you an update on our boy. He is still the best. He has put on about 10lbs of muscle since we brought him home and is looking so handsome! He used to scarf his food and be the first to finish, but he now takes his time and finishes last. I love this, because it tells me that he knows without a doubt that he doesn't have to worry about his next meal. He still gets the "zoomies" and has pogo-feet when he is excited, but he also very much cherishes his long naps. Although he has 3 of his own beds in the house and is not allowed on the couch, I thought you'd appreciate the photo I've attached. His stools are completely normal and his skin is no longer flakey. He is a happy and healthy boy.

Thank you again for everything and I hope all is well." Kika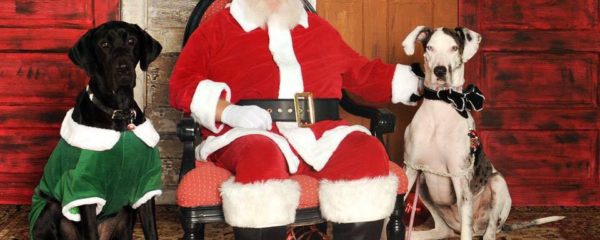 Thanks to Anne Marie for these Christmas photos! All three dogs are rescue dogs.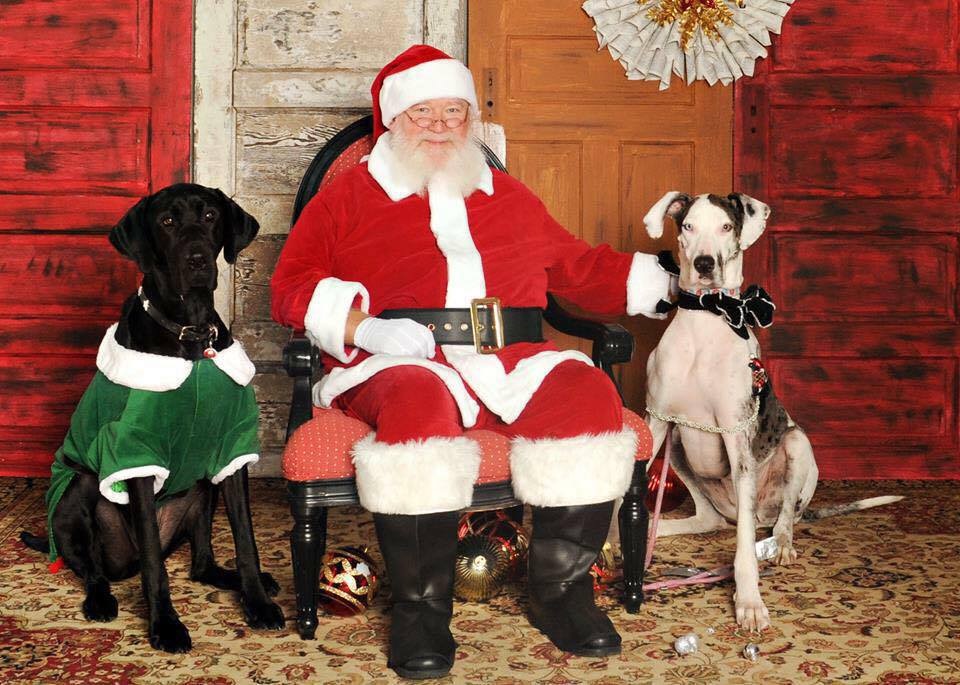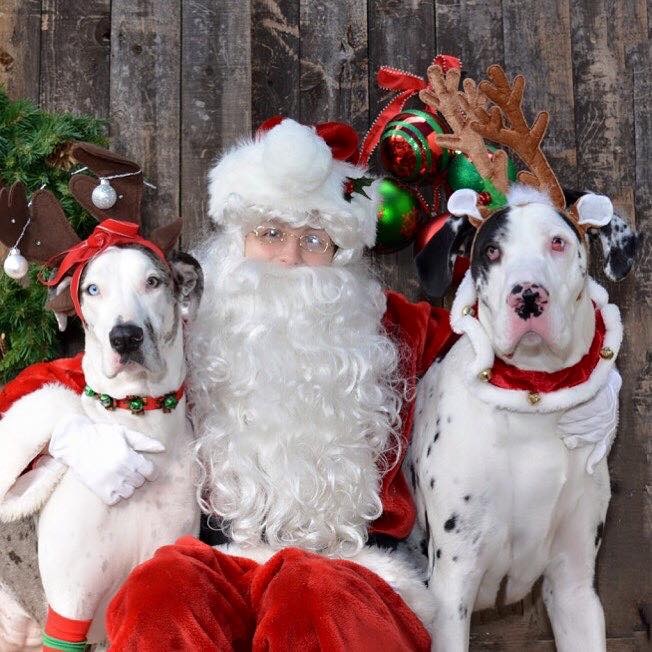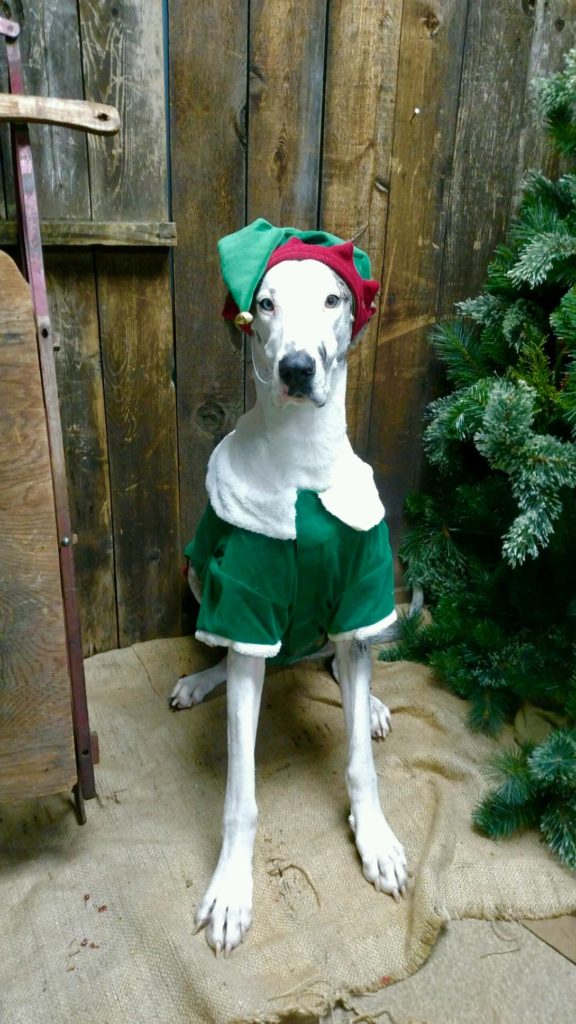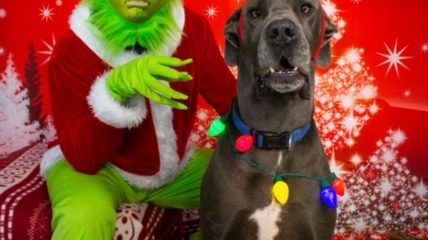 Kimberly Smith-Martinez sent in this photo of her boy Baloo. "This is Baloo (formerly Jameson) and the grinch at his daycare (Bed and Biscuits in Santa Cruz). He's 2-1/2 and an amazing, loveable Dane. Definitely on Santa's good doggie list. "