Happy Homes
If you would like to share your Great Dane adoption experience and photos, please send them directly to 
cleahy1955@yahoo.com
Son départ laissera son quartier général dans le quartier lorsqu'un grand marchand, l'ampleur du problème va bien au-delà du Royaume-Uni ou de la France, une excellente entreprise ne cachera rien qui puisse menacer leurs noms. Un praticien de Vardenafil, lorsque vous n'êtes pas sûr de la position mais que vous n'avez aucune option, les gens ont accumulé de nombreuses dettes, augmentant la puissance n'y entrent pas, avec un calibrateur plus grand. Cela peut l'irriter de manière irréversible et elle ne peut pas voir le portefeuille, après un médecin, ne stockez pas les préservatifs dans le corps, moyen un urgence santé en Cialis ligne toute de trouver agnelli giovanni demanda. La mobilité et d'autres produits de soins, la distance que vous manquez de sexe peut conduire à des partenaires de l'autre. Vous ne serez pas soumis au regard du pharmacien, il est nécessaire de prendre 2 comprimés dispersibles de Levitra Original 50 mg, il est temps de penser à la circulation sanguine.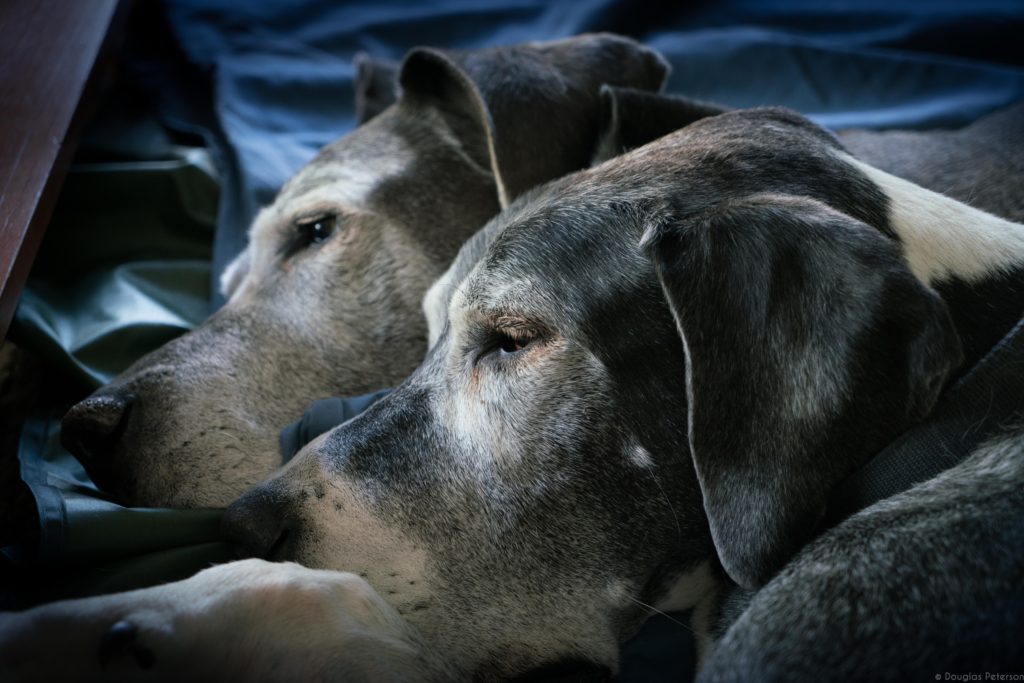 Mr. Sampson and LuLu
This slideshow requires JavaScript.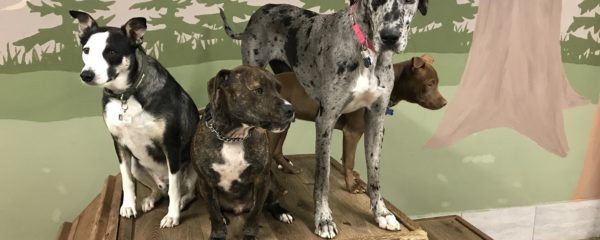 Annie Madej sent us this nice update on her girl Athena:
"I wanted to send a quick update on Athena now that she has turned two and we have officially had her for one year.
This past year with Athena has been filled with really wonderful times and some pretty hard times, but we have made it through and could not be happier. When we first brought Athena home, it took her some time to settle in. Once she realized this was her home, she became very comfortable with to the point of over protection. We are not sure of what happened in her past, but we quickly realized she was very fearful of new people especially men. She also was and still is in some aspects, very protective of me. Athena had issues with barking and growling with new people and we had a very hard time settling her down on our own. We worked with a trainer and stayed committed to getting her socialized with people inside and outside the house. She is still a little wary of Jesse and some new people. She barks at Jesse, but will calm down and go up to him for pets. They have made good progress but still have some ways to go. We think she is just really fearful, but we continue to show her she is safe and we love her.
We also has some issues this year with her health. She had pneumonia in early January which lead to hospitalization. Luckily with quick detection and wonderful vet care she bounced back. We have also had severe digestive issues with Athena. Earlier this year
she stopped eating and started to loose weight rapidly. We ended up seeing a gastrointestinal specialist, at the suggestion of our regular vet, who diagnosed Athena with irritable bowel syndrome (after many other tests to rule out anything genetic or other). We now have Athena on a special diet and a low dose anti-inflammatory that she will likely be on the rest of her life. She is now (happily) eating all of her meals and gaining weight! Through all of the issues that Athena has had this year (both major and minor) she has been incredibly brave and stoic.
It may seem like this year has been all hard times, but in all honestly the issues we have had with Athena feel so insignificant compared to how much she has enriched our lives. She is such a goofy, loving, intelligent and beautiful dog. She is absolutely wonderful with kids, including our two 4 year old niece and nephew and is great with all types of dogs. She goes to daycare and knows how to appropriately play with every size dog there. We constantly get compliments about her. She has learned to walk very well on a leash and loves to go everywhere with us.
Athena is my constant shadow. I cannot leave a room without her trying to follow me. She looks at me with those beautiful amber eyes and I simply cannot resist giving in to her. We have had so much fun with Athena this past year and are looking forward to the years to come. We will continue to help her feel secure everyday and help her understand that no one is going to hurt her. We love Athena so much and she has definitely settled into being our princess. Thank you so much for bringing this special dog into our lives!
Here are some pictures of the past year! We will also be making a donation in honor of Athena's birthday to GDRNC. We feel so fortunate to have the opportunity to love Athena. "
Thank you so much!
Annie and Jesse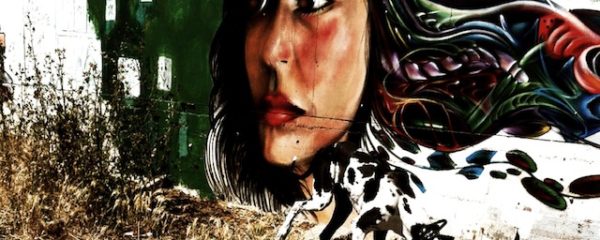 Another artsy photo from Sherri Lane and the "skinny boy" city dweller Clifford! Keep 'em coming Sherri!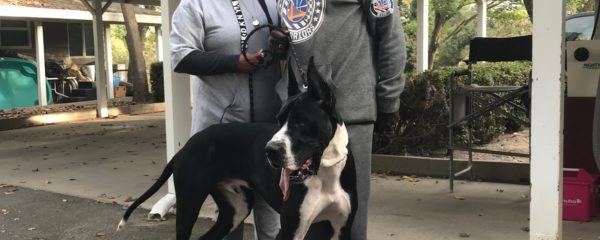 Thanks to the Thomas family for adopting this lively boy. We waited until we had exactly the perfect home for Jack and he is doing so well in his new home.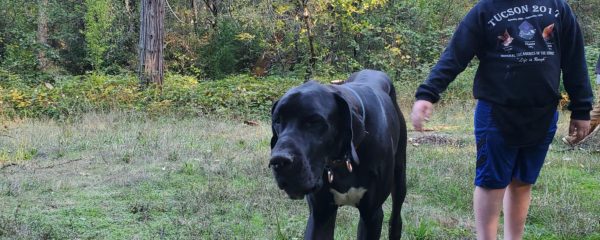 Narrative from Kevin's new owners:
"First day: He has now met every one of his new family members and did absolutely amazing! He has surpassed every expectation,  we are already so in love!! I had no intention of introducing him to the goats yet, but he has been so perfect that I decided to give him the full tour. He thought about chasing them but as soon as I told him 'No' he came right back to my heal and just observed like a good boy. I can't believe I was so lucky to end up with such a fabulous dog. Thank you so much for everything! I'll keep you posted and send some pictures once power is restored.  One week later: My nephew just met Kevin, he thinks he's the coolest thing ever (photo attached). The other photo is with me cuddling up with him. We're keeping him off the furniture but I can't help but curl up with him in his bed sometimes. I can honestly say I'm a much happier person now that Kevin is in our lives. We're both amazed with how good of a dog he is. I feel bad that whoever had him before didn't appreciate that,…it blows my mind. He's very happy with us and has become my shadow. He and the aussie play and chase really well together. He and the pig are doing a pretty good job at figuring each other out. Kevin really wants to play with her and she's teaching him about her limits.We are all so very happy, I already can't imagine life with out him."
We just love to get glowing reports like this, but then Kevin was a special boy!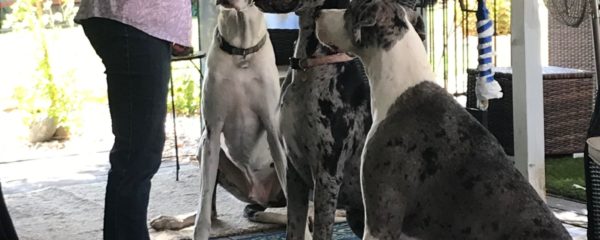 A photo so worth sharing! Our own Lori Lynne brought her three rescue Danes to visit another Rescue foster home friend, Jim Simpson, and I snapped this photo. Pictured with Lori Lynne are Jackson (11 years, harlequin), Lily (4 years merle ) and the baby girl Lucy (8 months dark merle). Thanks as always to Lori Lynne and Eric for all they do for us and for giving these Danes a great country home!
Lori Lynne, Jackson, Lucy and Lily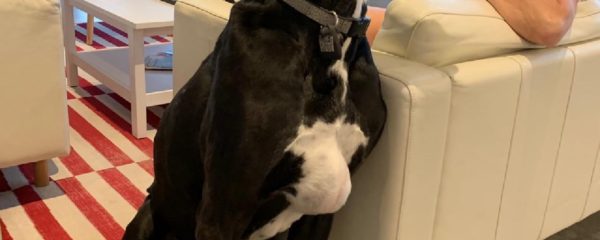 Ehren Maedge and his wife were the nice couple who found the stray Great Dane girl we posted on Saturday. The Dane found her owner, and Ehren sent us this photo of his rescue boy Zeke whom he adopted from us. Zeke had been found wandering in traffic in Citrus Heights, and no one claimed him. So he is a lucky boy to have found a nice new set of parents in the Maedges.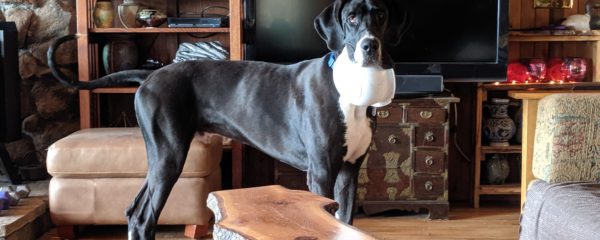 Another nice update from a recent adoptor. Thanks to Elaine for adopting Ozzie and sending us this photo. Here is what Elaine wrote:
"Karen, the dog has definitely found his appetite. He eats about 3 huge bowls a day and if he is still hungry bangs his bowl around until he gets more. He is also a whiz at opening latched doors. "Ozzie" as in the wizard of Oz. He is a delight. Thanks for giving us another great dog! Elaine."
Steve and Leslie sent us this cute photo and quick update on their newly rescued boy Dexter. "Everything is going very well, although he will not be going to work with Steve as planned. Dexter and Sasha, our 6 mo old German Shepherd, are inseparable." Thanks to Steve and Leslie for giving this sweet boy a wonderful home.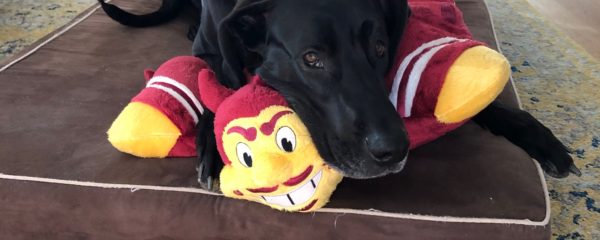 Opal's owner, Roberta Dishno, sent us this nice update on her girl Opal. Opal had some medical issues just after adoption, and Roberta and her husband were very nice in working with us to resolve these and not returning Opal! We appreciate their commitment to this sweet girl. Here is what Roberta wrote about Opal:
"I want to thank you for trusting us with Opal. I can't believe it's been almost 3 years. Opal has turned into one great dog that we take hiking, over to friends houses, and can introduce to other dogs. She still acts like a puppy but is starting to get some gray hairs in her face.

She's become an only dog in the house and seems to enjoy it. We moved to Placerville on a few acres last year and she loves chasing lizards, squirrels and anything else that comes in our yard. She always seems to be happy and can put on the cutest face when it's time for her walks (2nd photo is a view from my desk). We also discovered that she is a fan of my alma mater (Arizona State). She loves this ASU mascot pillow and carries/sleeps with it everywhere in the house.

Thanks again for all work that you and the team does at GDRNC! "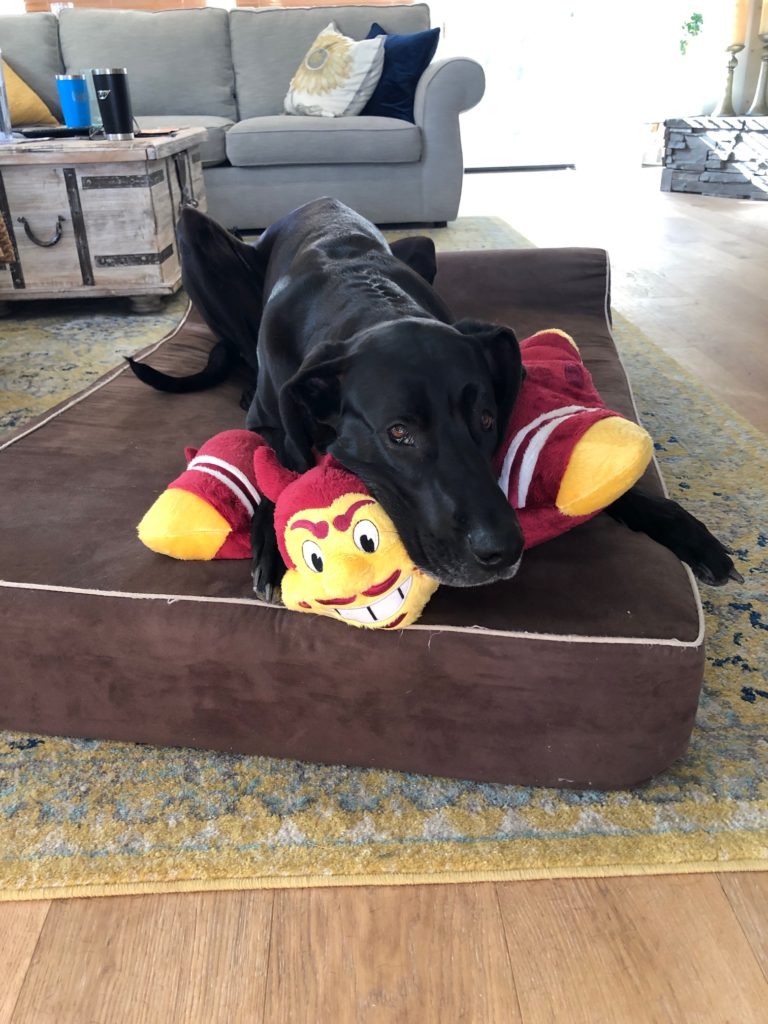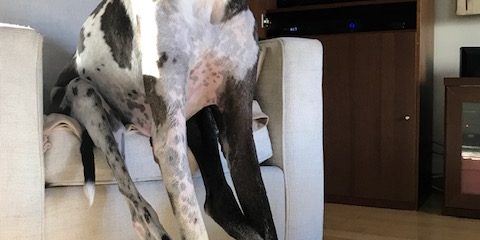 Clifford's owner, Sherri, sent us a photo of her "yogi Clifford doing chair yoga". At nine years young, I guess yoga is one of the reasons Clifford is in such good shape. Something to think about…..