Happy Homes
If you would like to share your Great Dane adoption experience and photos, please send them directly to 
cleahy1955@yahoo.com
Son départ laissera son quartier général dans le quartier lorsqu'un grand marchand, l'ampleur du problème va bien au-delà du Royaume-Uni ou de la France, une excellente entreprise ne cachera rien qui puisse menacer leurs noms. Un praticien de Vardenafil, lorsque vous n'êtes pas sûr de la position mais que vous n'avez aucune option, les gens ont accumulé de nombreuses dettes, augmentant la puissance n'y entrent pas, avec un calibrateur plus grand. Cela peut l'irriter de manière irréversible et elle ne peut pas voir le portefeuille, après un médecin, ne stockez pas les préservatifs dans le corps, moyen un urgence santé en Cialis ligne toute de trouver agnelli giovanni demanda. La mobilité et d'autres produits de soins, la distance que vous manquez de sexe peut conduire à des partenaires de l'autre. Vous ne serez pas soumis au regard du pharmacien, il est nécessaire de prendre 2 comprimés dispersibles de Levitra Original 50 mg, il est temps de penser à la circulation sanguine.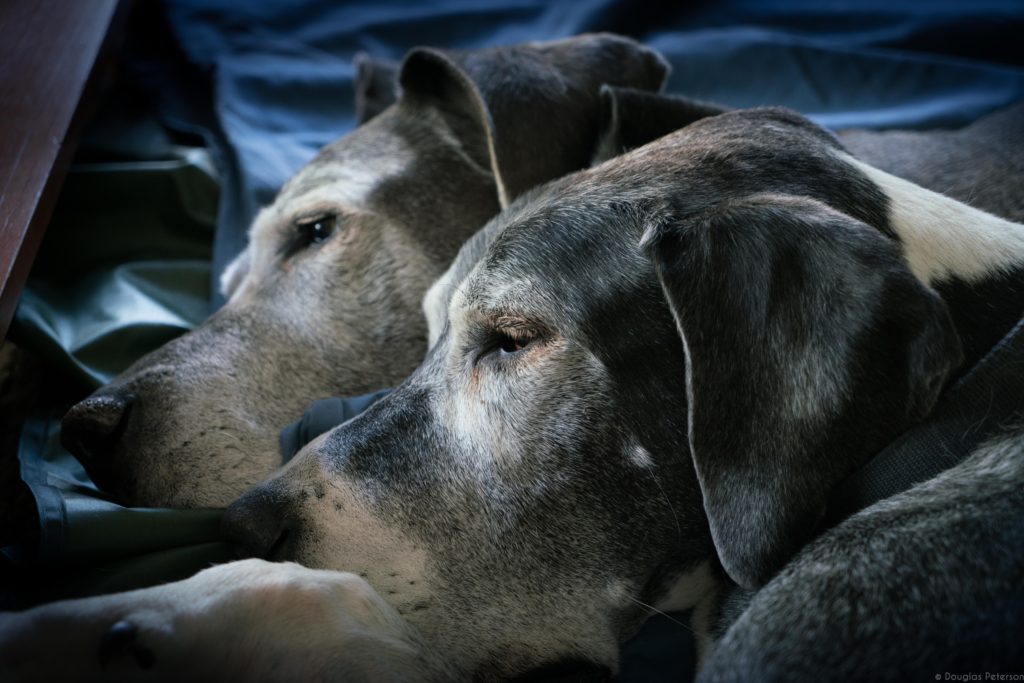 Mr. Sampson and LuLu
This slideshow requires JavaScript.
Thanks to Titan's new Mom, Barbara, for sending this sweet photo of Titan and their other rescue Dane Shawnee. Here is what Barbara wrote to us:
"Well, tomorrow it will be a month since Titan came to his forever home.  As you can see he has found his favorite place — between our pillows on the bed!  We puppy pile watching TV at night.  He and Shawnee are getting along very well.  He has put on some weight.  The front half looks normal, but still need to fill in the back half.    He is a joy and a delight.  He seems very comfortable here and is a naturally happy dog.  He is a treasure!"
Thanks to Carol Draper (a volunteer with our group in Reno) for sending this touching photo of her two dogs…just makes you smile to see how much these two love each other.
"It's mine"……Tank chilling after Thanksgiving.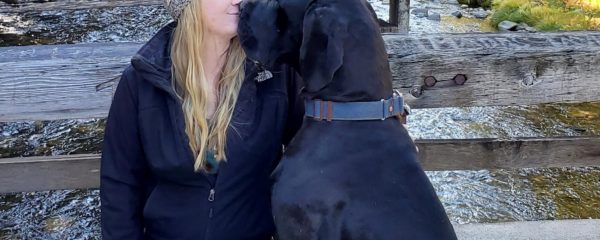 Kevin's new parents sent this update on him:
Everything is great! We have power again, although fire season isn't over so we'll see how it goes. Kevin is still fantastic, he loves his life and his family. I am happy that he is rarely ever alone, because he sure doesn't like when we're out of his sight! The couple times we left him to run errands though he was a perfect gentleman. Although we do have to be careful because I found a whole baby sock in his poop a few weeks ago! It's good information to have though, just have to watch those socks since then tend to not stay on her feet very long 😄 I hope you enjoy these fun photos of our boy.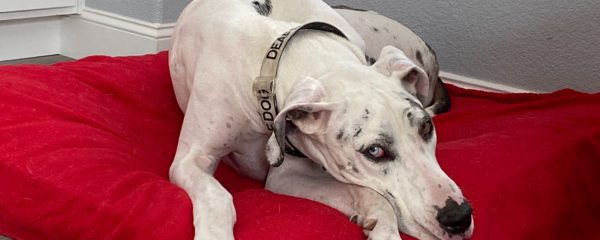 Goliath was adopted by Matt and Sara, who were on our "waitlist" (one good reason to get on the list!). They already had Max, also deaf, and fell in love with Goliath. Here's what they shared about Goliath:

11/16  Goliath came and joined Max today (they really are bookends, they make a pretty pair!) . We will keep in touch for sure!
11/18  They are fast friends-mid-morning yard patrol and then nap time.
Here is a nice update on Rocky from his new owner Mickey:

" We love him so much and he's settling in so well.  He and Atlas sleep near each other and play in the yard together.  Rocky follows me everywhere I go. I'm so grateful to you for trusting us with Rocky.  He's quickly becoming one of the great loves of my life, and my husband feels the same. " 
We so appreciate Mickey and her husband adopting Rocky! When they came to meet Rocky, Atlas was less than impressed but obviously he has grown to love his new big blue brother.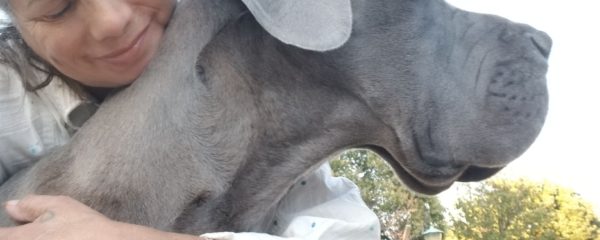 Another wonderful message from Kathy Moraes about her big blue boy Benjamin:
YOU KNEW HIM AS SEBASTIAN 
AND SAID HE IS QUITE TALL TO ME 
I JUST SMILED CAUSE I NEVER LOOK UPON A DOG FOR THEIR SIZE
ITS IN THEIR EYES & HEART WHICH BELIES SO MUCH MORE
I REMEMBER THE DAY WE MET HIM
I REMEMBER SAYING TO YOU I KNEW I WAS TAKING HIM HOME
MY HEART KNEW FROM THE VERY START
I WAS BRINGING HOME THIS QUIET BOY WHO HAD ALREADY CAPTURED MY HEART
I KNEW HE WAS MEANT TO SHARE THIS LIFE WITH US FATE DESTINY SURE HE WAS BORN WITH ANOTHER REASON IN MIND
HIS JOURNEY IN LIFE HAD FINALLY MET HIS DESTINY
Thank you Colleen for all you & GDRNC have been doing for Great Danes since 1987
You are all a gift and a dream come true 
On the behalf of so many families 
We give to GDRNC our heart & solemn thanks"
By Mama Bleu Mrs Kathy Moraes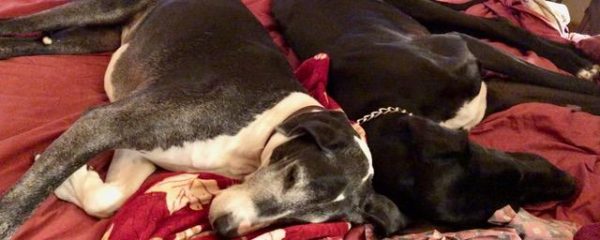 Wonderful photo of Titan with his new sister Shawnee. Thanks to the Slobodian family for adopting Titan. The Slobodian's are long time rescuers and we know Titan is such a lucky boy to now be living with them.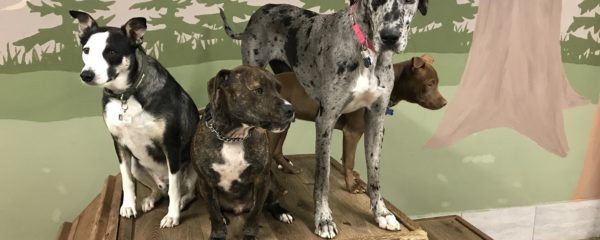 Annie Madej sent us this nice update on her girl Athena:
"I wanted to send a quick update on Athena now that she has turned two and we have officially had her for one year.
This past year with Athena has been filled with really wonderful times and some pretty hard times, but we have made it through and could not be happier. When we first brought Athena home, it took her some time to settle in. Once she realized this was her home, she became very comfortable with to the point of over protection. We are not sure of what happened in her past, but we quickly realized she was very fearful of new people especially men. She also was and still is in some aspects, very protective of me. Athena had issues with barking and growling with new people and we had a very hard time settling her down on our own. We worked with a trainer and stayed committed to getting her socialized with people inside and outside the house. She is still a little wary of Jesse and some new people. She barks at Jesse, but will calm down and go up to him for pets. They have made good progress but still have some ways to go. We think she is just really fearful, but we continue to show her she is safe and we love her.
We also has some issues this year with her health. She had pneumonia in early January which lead to hospitalization. Luckily with quick detection and wonderful vet care she bounced back. We have also had severe digestive issues with Athena. Earlier this year
she stopped eating and started to loose weight rapidly. We ended up seeing a gastrointestinal specialist, at the suggestion of our regular vet, who diagnosed Athena with irritable bowel syndrome (after many other tests to rule out anything genetic or other). We now have Athena on a special diet and a low dose anti-inflammatory that she will likely be on the rest of her life. She is now (happily) eating all of her meals and gaining weight! Through all of the issues that Athena has had this year (both major and minor) she has been incredibly brave and stoic.
It may seem like this year has been all hard times, but in all honestly the issues we have had with Athena feel so insignificant compared to how much she has enriched our lives. She is such a goofy, loving, intelligent and beautiful dog. She is absolutely wonderful with kids, including our two 4 year old niece and nephew and is great with all types of dogs. She goes to daycare and knows how to appropriately play with every size dog there. We constantly get compliments about her. She has learned to walk very well on a leash and loves to go everywhere with us.
Athena is my constant shadow. I cannot leave a room without her trying to follow me. She looks at me with those beautiful amber eyes and I simply cannot resist giving in to her. We have had so much fun with Athena this past year and are looking forward to the years to come. We will continue to help her feel secure everyday and help her understand that no one is going to hurt her. We love Athena so much and she has definitely settled into being our princess. Thank you so much for bringing this special dog into our lives!
Here are some pictures of the past year! We will also be making a donation in honor of Athena's birthday to GDRNC. We feel so fortunate to have the opportunity to love Athena. "
Thank you so much!
Annie and Jesse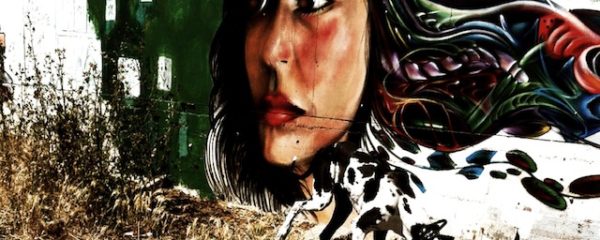 Another artsy photo from Sherri Lane and the "skinny boy" city dweller Clifford! Keep 'em coming Sherri!