Happy Homes
If you would like to share your Great Dane adoption experience and photos, please send them directly to 
cleahy1955@yahoo.com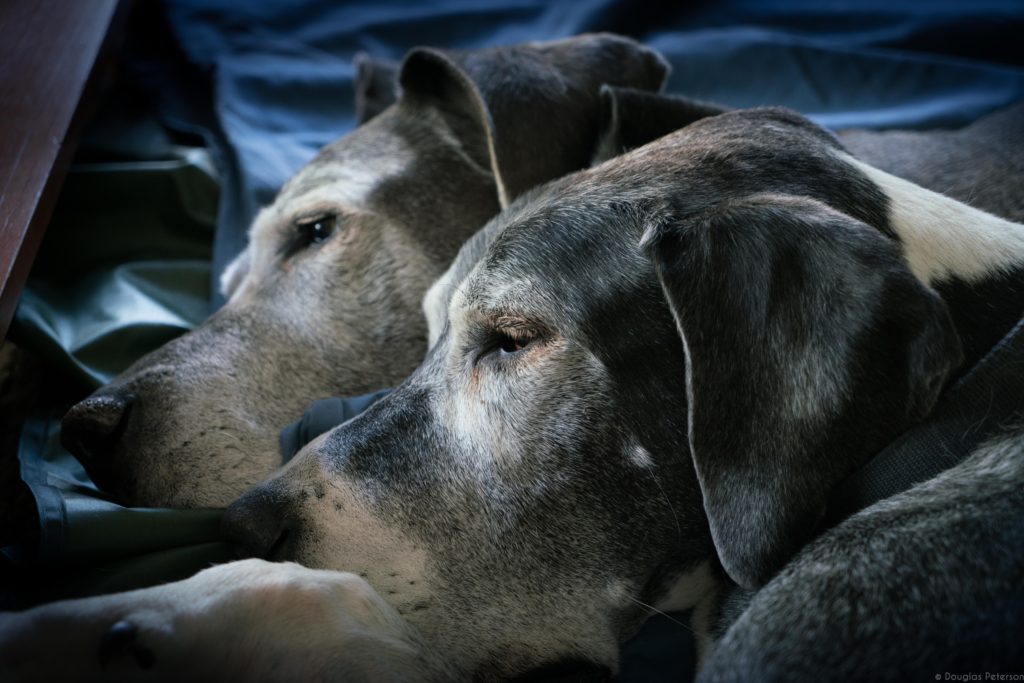 Mr. Sampson and LuLu
This slideshow requires JavaScript.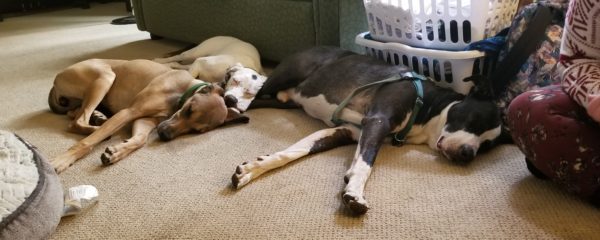 Cheryl, who lived in Paradise, recently had adopted a Great Dane from us named Sage. Karen Martin contacted Cheryl when she heard about the tragedy in Paradise, to find out that Cheryl had lost her home to the fire and was staying with friends.
Cheryl, ever the resilient teacher, sent us this note and wonderful photos of Sage with her new friends in their temporary housing.
Here is what Cheryl wrote:
"Thank you both for offering to take Sage if I needed it. It's great to know I have that option, but I think it will be easier on the dogs if we can stay together (as long as it is in a reasonable setting).
I found out today that I still have a job. Now I just have to deal with FEMA and the insurance company and find long-term housing. Meanwhile we are staying with a very dog-friendly family, and both my dogs are adjusting remarkably well. In fact the family likes my dogs so much they are now considering getting a great dane of their own.
Sage has been amazing–not at all as skittish as the dog I was expecting. She has also gained some weight and is eating well. I've attached a few pics so you can see for yourselves. The first is Sage and Rowdy with their new friend Trooper after a long day of playing. The second is Sage with her new friend Juliet.
Please keep us in your thoughts and prayers. The whole community here has pulled together in amazing ways, but we have a long way to go."
Our thoughts are definitely with Cheryl and her Dane children during this really tough time. We can only imagine what she is going through.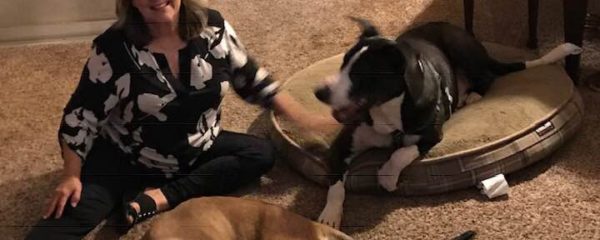 Sage's owner Cheryl, sent us this update on how Sage is doing in her new home:
"age is fitting in just great! Rowdy is so much happier and Sage seems happy too. I don't think she is nearly as shy as described. She is responsive, playful and willing to explore. She is also fine with the cat (who runs the house)
Here are a few updates on Sage's progress:
1) I took the Sage and Rowdy together for a short drive last night. Sage couldn't wait to get into the car. Colleen had mentioned that one of her previous family's complaints was that she wouldn't get into the car. So far it hasn't been a problem here, and the dogs were fine together.
2) When my daughter's boyfriend came over, Sage was shy for about a minute before she ended up in his lap.
3) I did have to replace my TV remote. (Shame on me for leaving it out for a puppy to chew!) At least she didn't swallow any of it, and I learned my lesson.
Thank you for allowing us to adopt this sweet dog."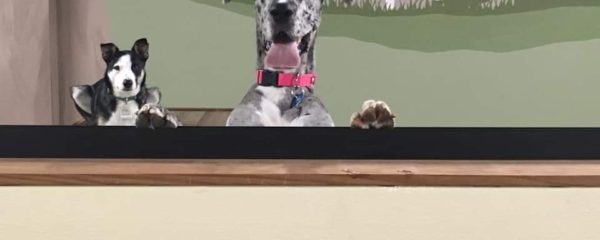 We got this adorable photo of Athena from her new owner Annie and had to post it. Thanks to Annie for adopting Athena! She obviously is happy!
"We are absolutely loving Athena and she makes a great addition to our family. We are so pleased she could find her forever home with us. I am including a picture of her being silly at doggie daycare with one of her smaller friends in the background.
Thanks for all your help!
Annie"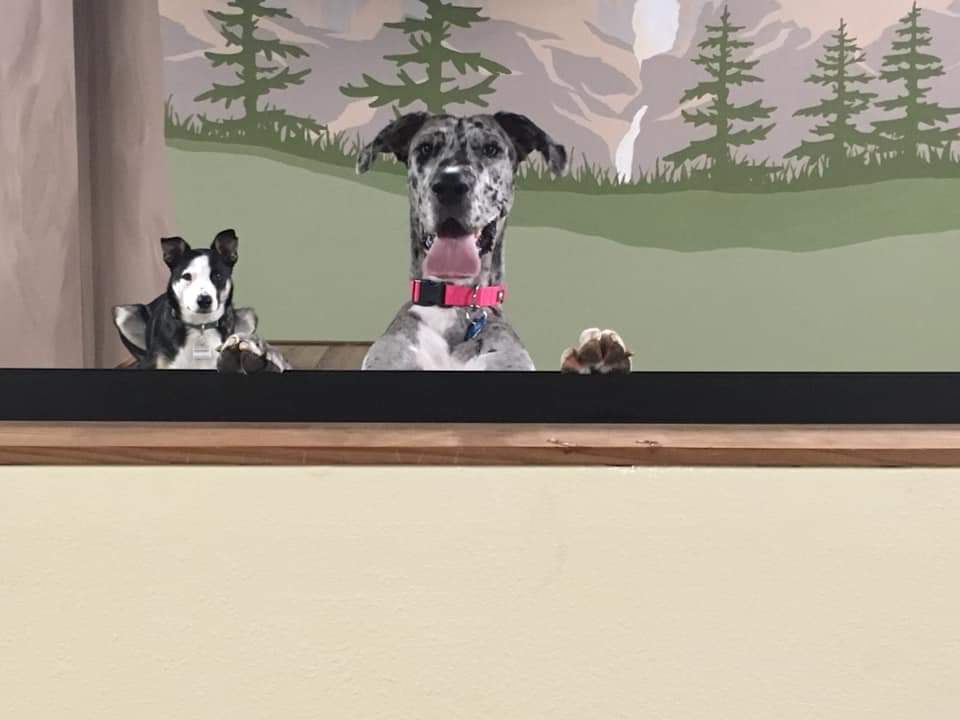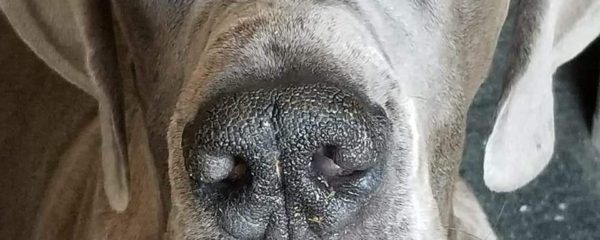 Kathy Moraes, long time Dane owner and adopter from Rescue, sent us these photos of her big blue boy on his second birthday along with this narrative:
"He's happy He is love
He is 2 today
As healthy as a family could hope for
… Benjamin he is full of spirit & light …. tranquil of heart…. playful pup …
Following Ma wherever I go… plays with Pop near everyday… loves the morning sun just like Sasha… standing where she always stood …
we love this boy of ours. He is our lives & loves reflection…
In 7 months how he has grown … blossomed like a giant sunflower…. his face ever facing the sun … a dog who loves life… loves being around children & people of all ages…. all animals … gentle patient & sound & balanced of nature & heart…
he was meant to share our heart and love…."
Kathy and Joe are the best. We feel lucky to have had them adopt from us over the years.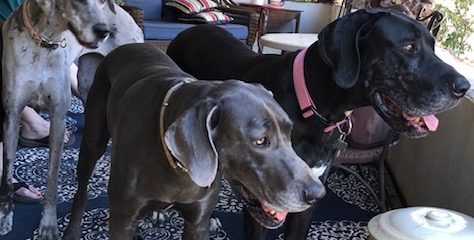 We received this cute photo from Jill Gutzman in Reno who had adopted two Dane girls from Karen. Here is what she wrote:
"Hi! My mother in law, Maxine, visited with her beautiful girl, Gracie (previously Ruby). The girls all got along and played so well. All these gorgeous danes were adopted from none other than the Northern CA Great Dane Rescue. What fun! We love our girls."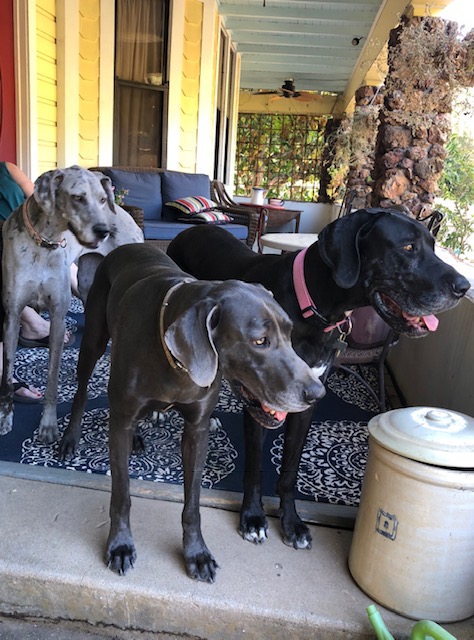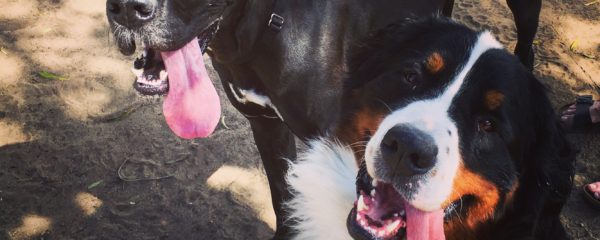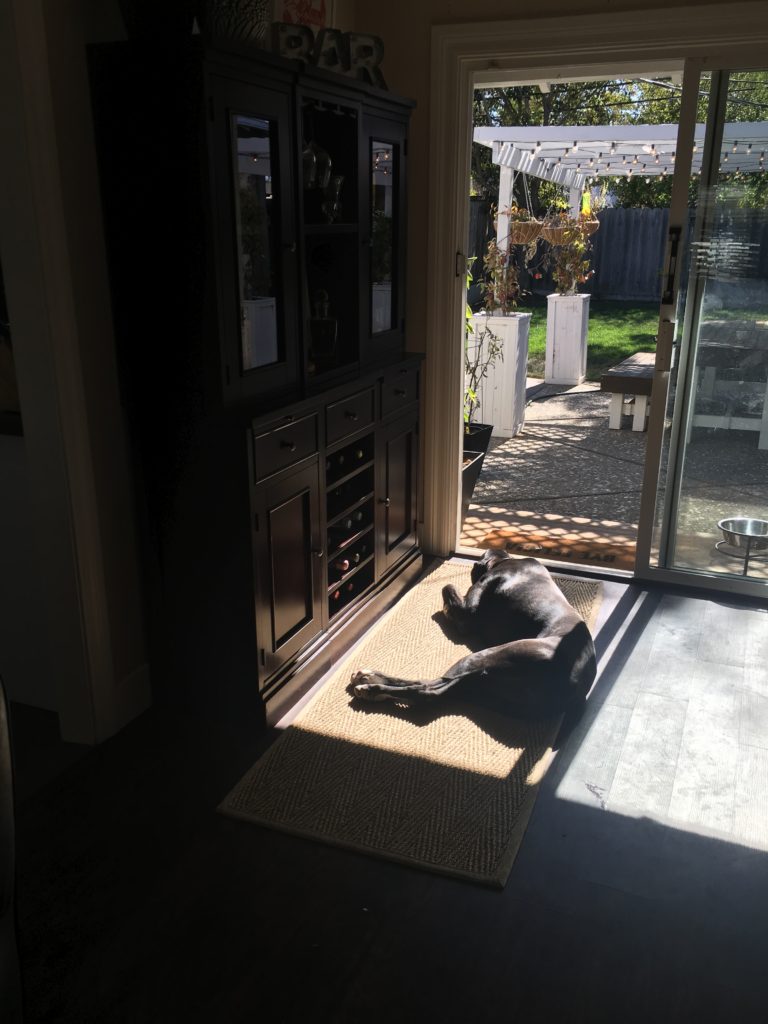 Thanks to the Knight family for adopting Greta and giving their big boy Gus a sister. All reports say she and Gus are a team!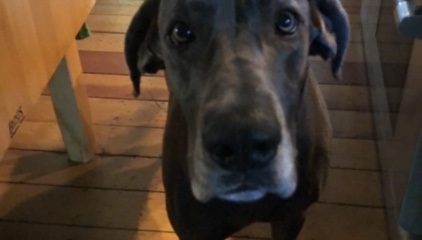 Jill Gutzman and her son Jack sent us these photos and text about their girl Ellie:
"I had to send this note to Jacks teacher:
So the dog literally ate the homework instructions. (Along with yet another dog bed) Can Jack please have another packet? I'll try to keep this packet out of the "shredder"."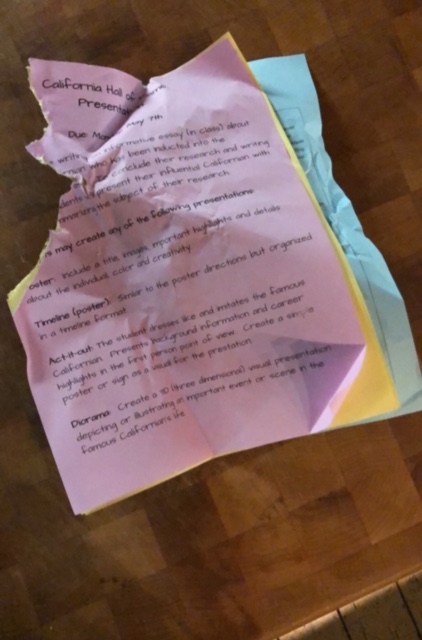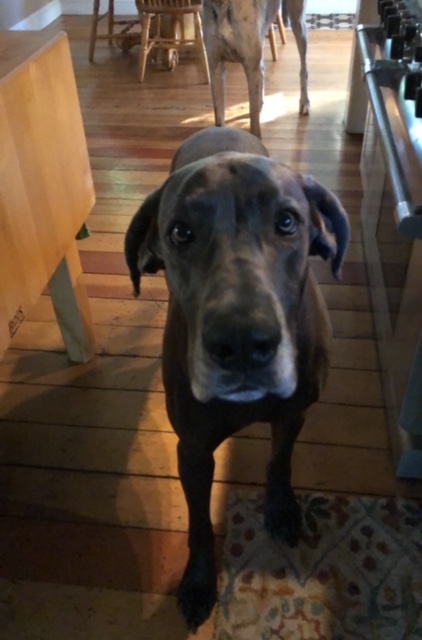 (Someone looks very guilty!)
No it's not the beginning of a bad joke, but an actual event! Tealy Barr, owner of the Barr Estate Winery in Paso Robles (home of the Dane Head wine – a great gift for Great Dane/Wine lovers) had a visitor recently. Leslie Miladinich and her husband decided to do some wine tasting at a Great Dane friendly winery, and met rescue girl Riley. The photo in this post is the two girls obviously dishing some good gossip about their humans. Such a fun time when rescued Great Danes can get together AND their people can drink! At least this sounds good to me……and Karen…..mostly Karen.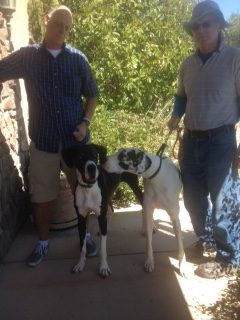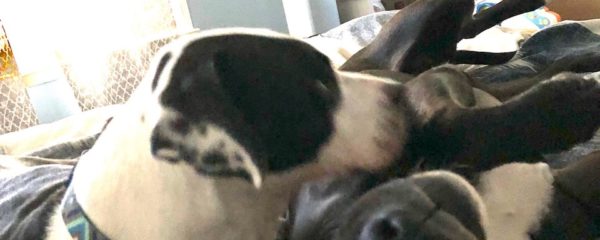 Cassie Lowe and her family were on our wait list for over a year waiting for the perfect child friendly Great Dane. She adopted Juno, now Lucy, from us. Here is what she wrote us:
"She is settling into our family PERFECTLY! Every week we see fewer and fewer potty accidents so we know she's feeling less anxious and settling in with us, too. She follows us around EVERYWHEEERRRRREE which we've learned to love about her 🤣
She is great with the kids. Our youngest, Patrick, especially loves to give her "lovies". We've not had the experiences that the previous owners indicated to you: hole digging, barking incessantly, etc. … she's truly a gem! Even more: she LOVES her den (crate). We haven't figured out how to get her to STOP chewing up her dog beds, but that's another journey…! LOL!
She seems to live to play with cannon (our other fur baby!). From the time they wake up to all moments they get in between, they are wrestling and playing! The kids think the way they run thru the house and crash into the walls as they run down the stairs is HILARIOUS!
After 2 kids- we are proud to say that LUCY is the first reason we've had to invest in baby gates! She stands so tall she can right to the food on the counter and baby's high chair – Sooo- we've had to create some boundaries in that regard…easy peasy. Lol!
Anyway – thank you again for helping our family grow. Lucy is a joy and we are blessed to love her in this life. We are the lucky ones.
On the whole, Lucy is great. We've had one couch casualty since she's been here – buuuuut, I guess it was time to upgrade anyway. She drinks from our bathroom faucet and mows they ice cubes. She is still learning how to watch out for people and not run us over and be right on top of our toes- but we know she'll get there. ❤️
Attached is a fun video of Lucy enjoying water play more than the kids & a picture of she and Cannon cuddling…enjoy!"
A big thank you to Cassie for dealing with some issues with her new girl Lucy. We love people who stick out the honeymoon phase (which can be rough some times) and end up with a really great new family member.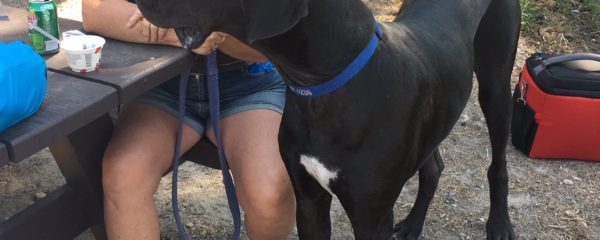 Karen Garner sent us these photos of her boy Moose. Adopted from us at six months of age, Moose is almost a year old and 145 lbs and 36″ at the shoulder. Karen is very happy with her big boy!