Happy Homes
If you would like to share your Great Dane adoption experience and photos, please send them directly to 
cleahy1955@yahoo.com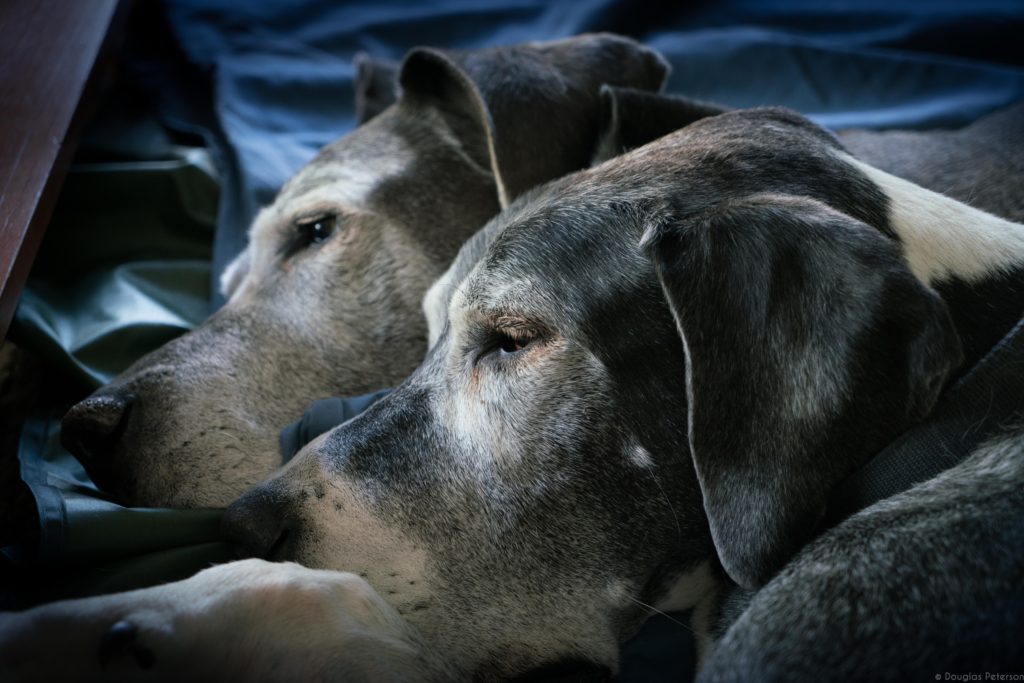 Mr. Sampson and LuLu
This slideshow requires JavaScript.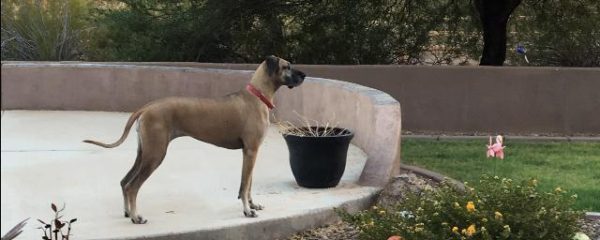 Lily's owners, Steve and Kathy, recently moved to Arizona and sent us these great photos and the paragraph on how Lily is faring in the heat:
"These pictures were taken a couple of weeks ago – Lily, our wonderful rescue Dane, surveying her new digs (but she wont go in the pool). She has demonstrated that she can, in fact, easily jump over the decorative adobe wall – that's why there is a 4 1/2 foot split rail fence outside of the decorative back yard. She's seven now, but just as aware of life as she always has been – a little grayer around the muzzle, but otherwise no sign of slowing down. She's always enjoyed laying in the sun, but in the last couple of months of 110+ temps, she usually only does it for about 8-10 minutes and then comes back into the air conditioning. When we were first here, it was only a mere 90, she lasted a lot longer. I think we're all looking forward to the plummeting to 75 degrees and below in the next month or so."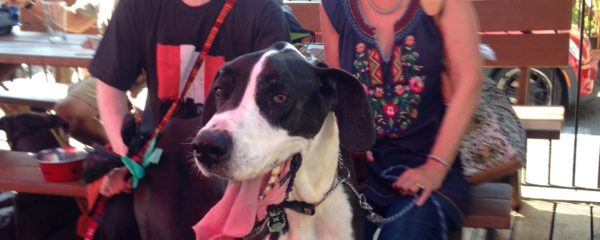 Photo of Emerson and mom Despina who attended our Donation Barbecue with husband John (not pictured). Thanks to Despina and John for providing Emerson a great home!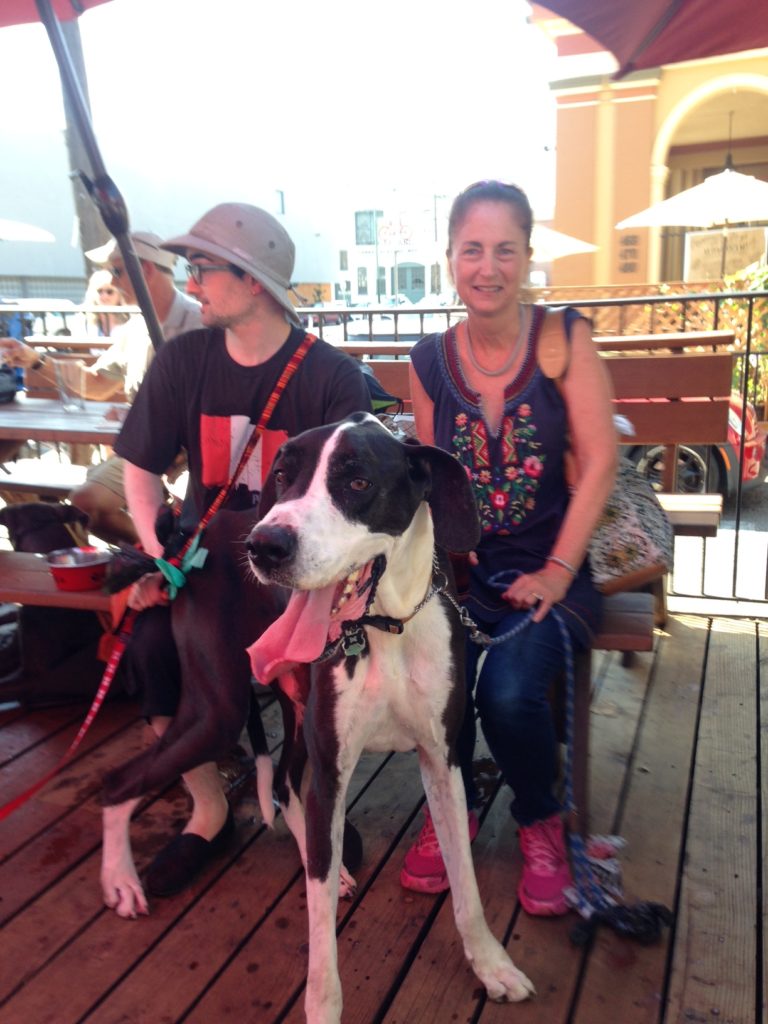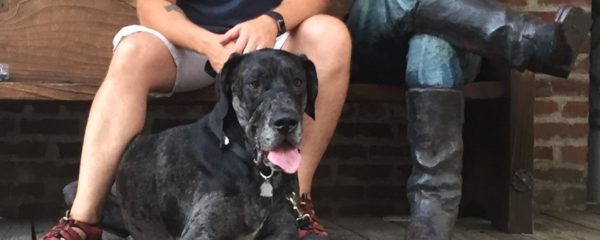 So nice to see the wonderful life that some rescued Great Danes now have! Thank you Michael for taking Blake everywhere with you.
Save the Date! Tomorrow, September 10th is our donation barbecue at the Beer Revolution, 464 3rd Street in Oakland in the Jack London Square area. Photographer Doug Peterson will be there to take photos of you and your dogs and we have free rescue tee shirts and other dog/Dane stuff to give away. Framed pencil Dane drawings done by the late Betty Thomas as well as a signed, limited edition (with certificate of authenticity) Great Dane print will be given away too. Collars, harnesses, dog bones, etc. Come and have lunch courtesy of the Beer Revolution, mingle with other Dane lovers, meet some Danes that have been adopted through Rescue and in general have fun. Weather is forecasted to be 72 degrees, which makes me SO happy. Event on the patio outside, come drop in anytime between 2 pm and 5pm and stay as long as you like. Any questions, my cell is 916 208-8444. Hope to see you there. Colleen (Parking meters are free on Sunday)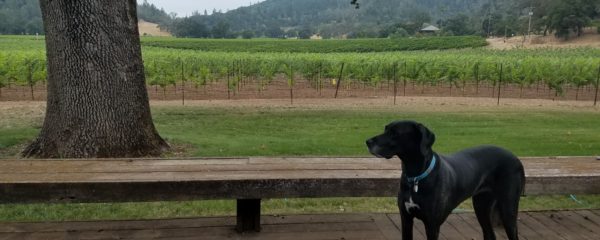 Stevie's Mom, Gayle, sent these photos of her princess! What a view! To remind you all, Stevie was found as a stray in horrible condition. The Cook family saw past that and adopted her and now Stevie obviously has upgraded her environment! That is the wonderful thing about Rescue. Stevie comes into our group with a tail that had to be amputated, filthy dirty, un-spayed and generally not cared for. Now she is living the life and is a cherished girl. We don't call her Princess for nothing!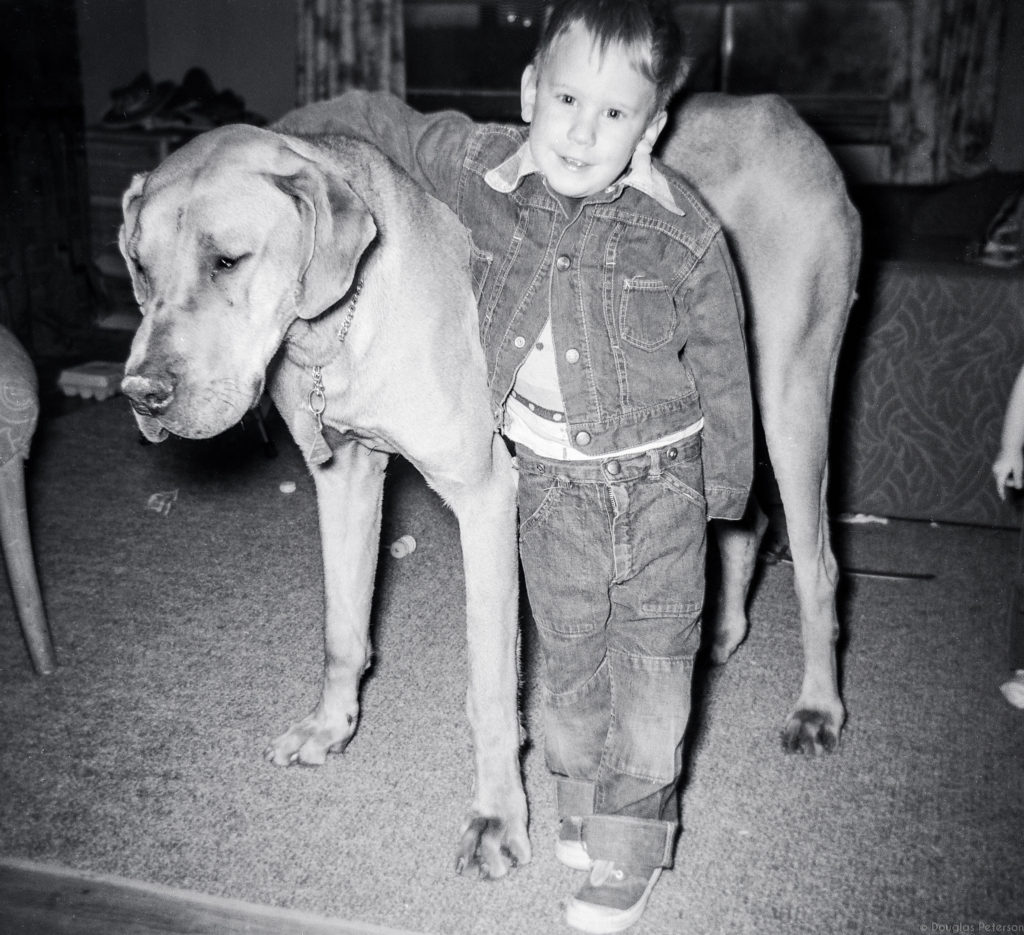 Who is that cute young man with his fawn Great Dane? Non other than our own Doug Peterson, photographer extraordinaire of our group. Doug is shown with "Duke" in 1957. Great photo!
Katie Stowe sent me this great 1973 photo of her and her first Great Dane. I have been meaning to post it on a Thursday and title it "Throwback Thursday", but I always seem a day late. So what the heck, I am just posting it today and you all please just pretend it is Thursday and enjoy this cute photo. Also see the other posts of "General" who is Katie's 6/12 year old boy she adopted from us. What a great dog he is!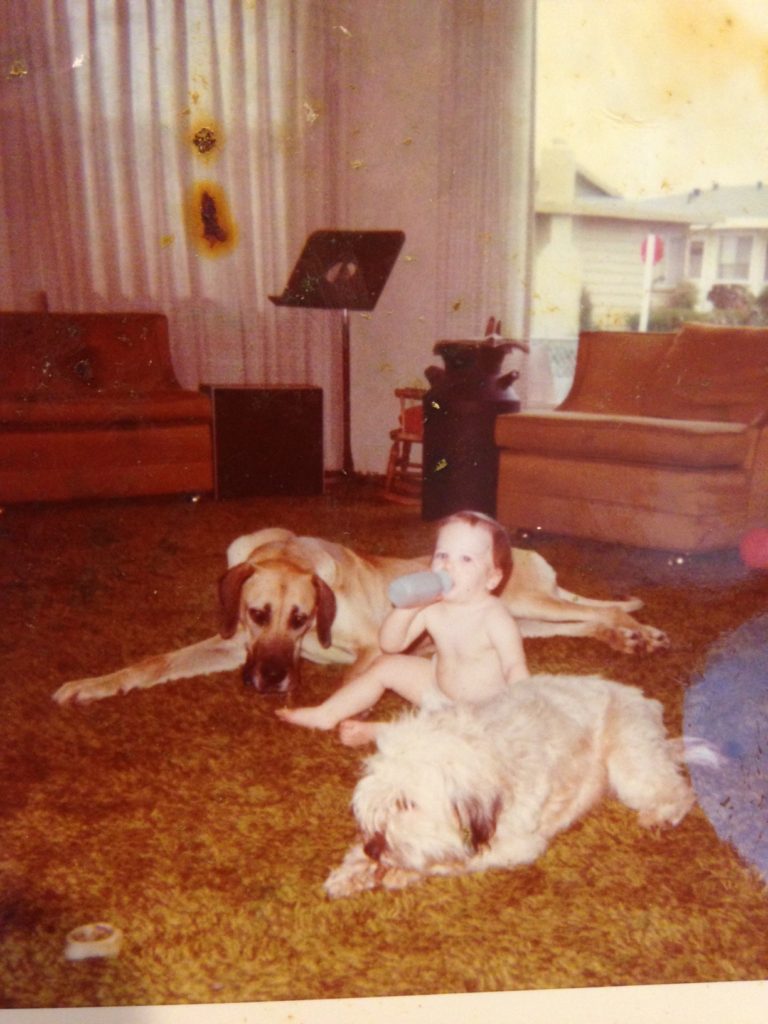 General who seems to love just about anyone!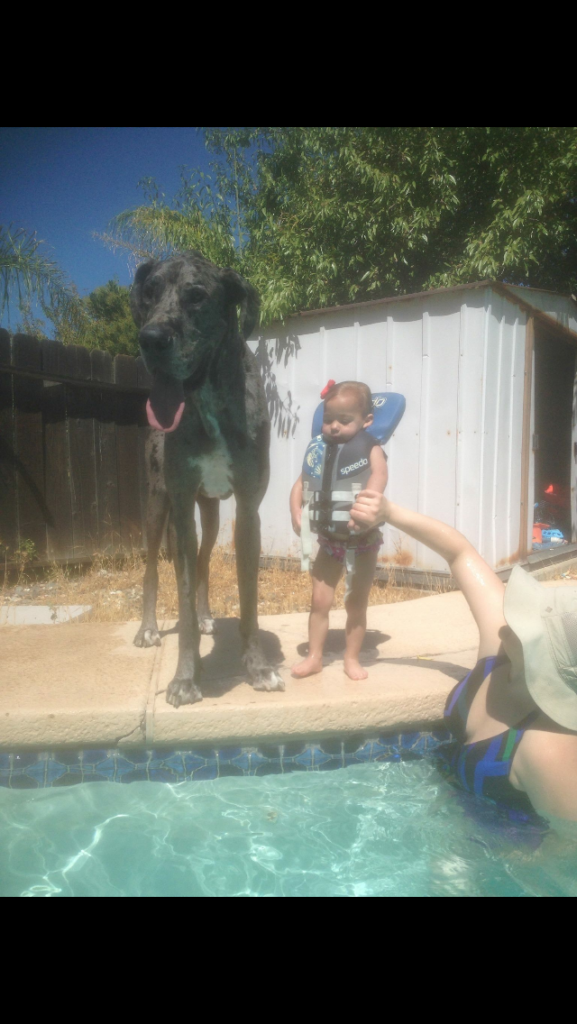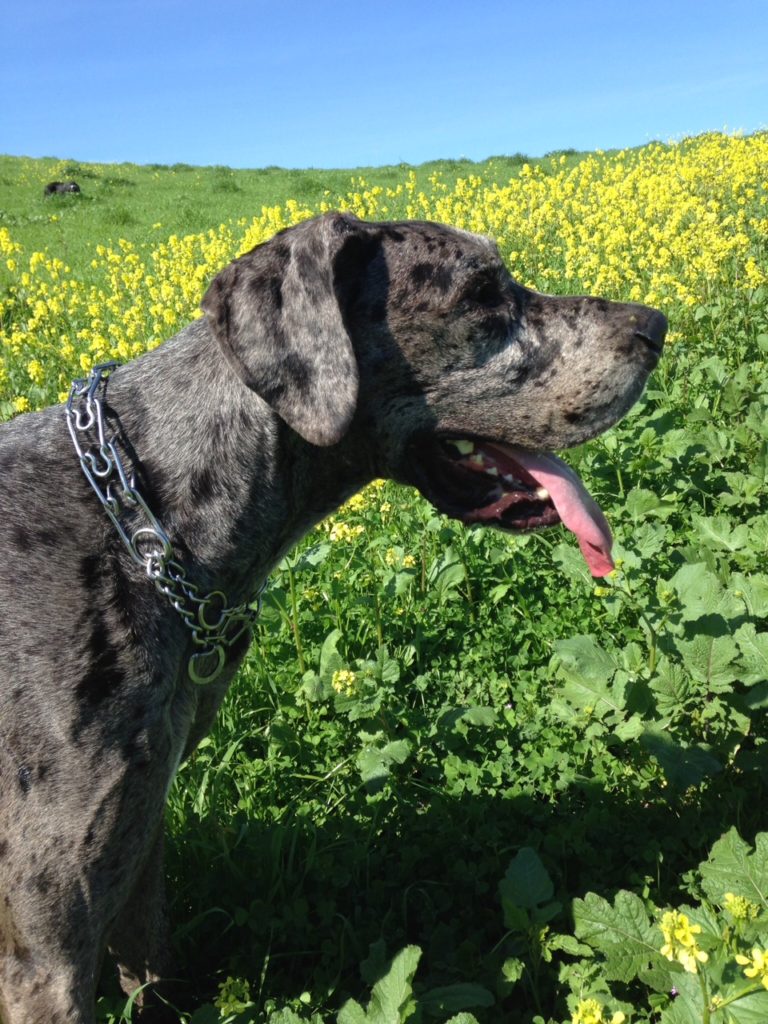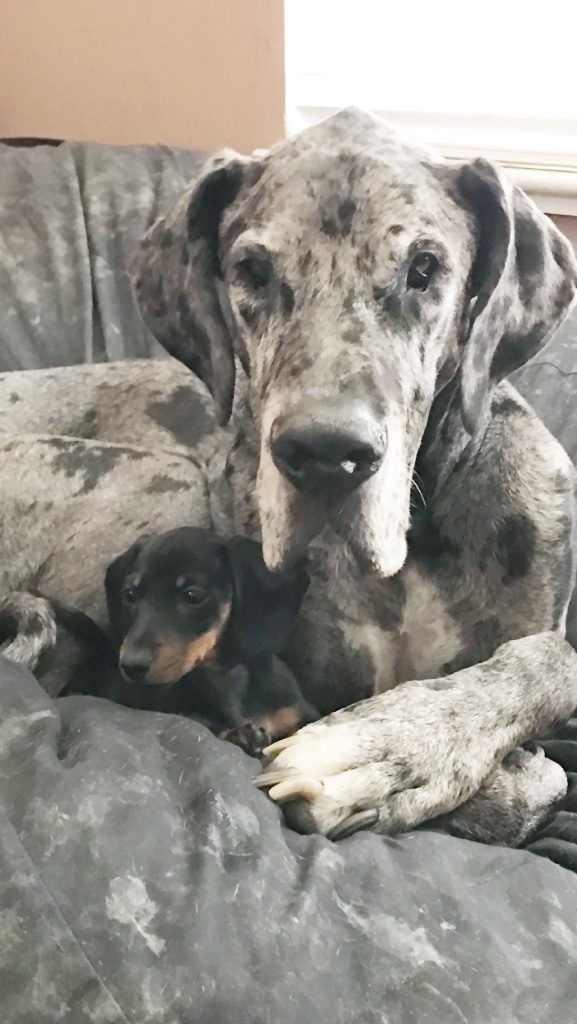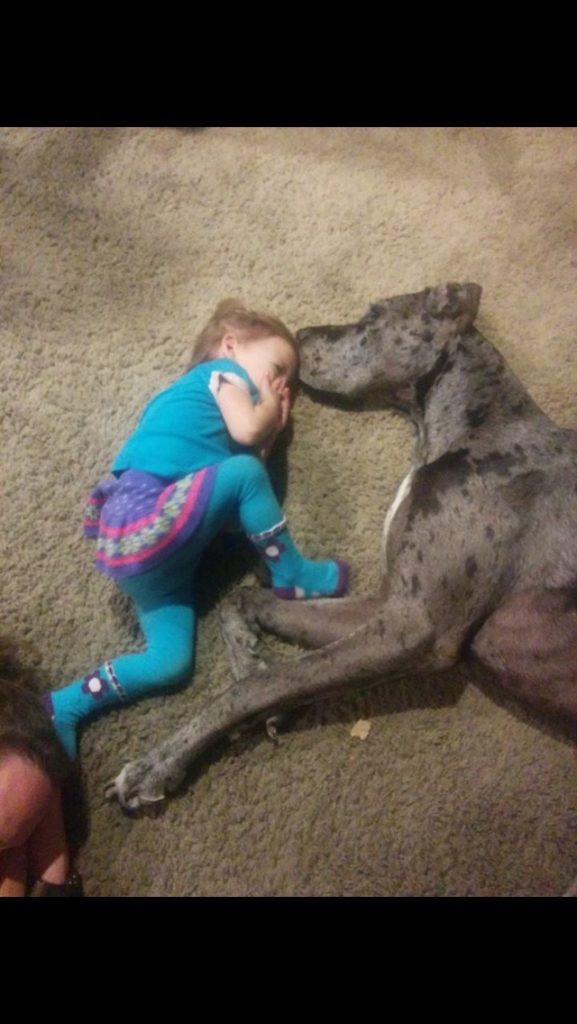 Tony Rovegno sent these great photos of his kids, Violet and Balou. Violet was adopted as a puppy from us (one of the very few we ever get in) and then Tony came back for Balou. Quite a blue matched set! Come meet Tony and Violet at the donation barbecue on September 3rd.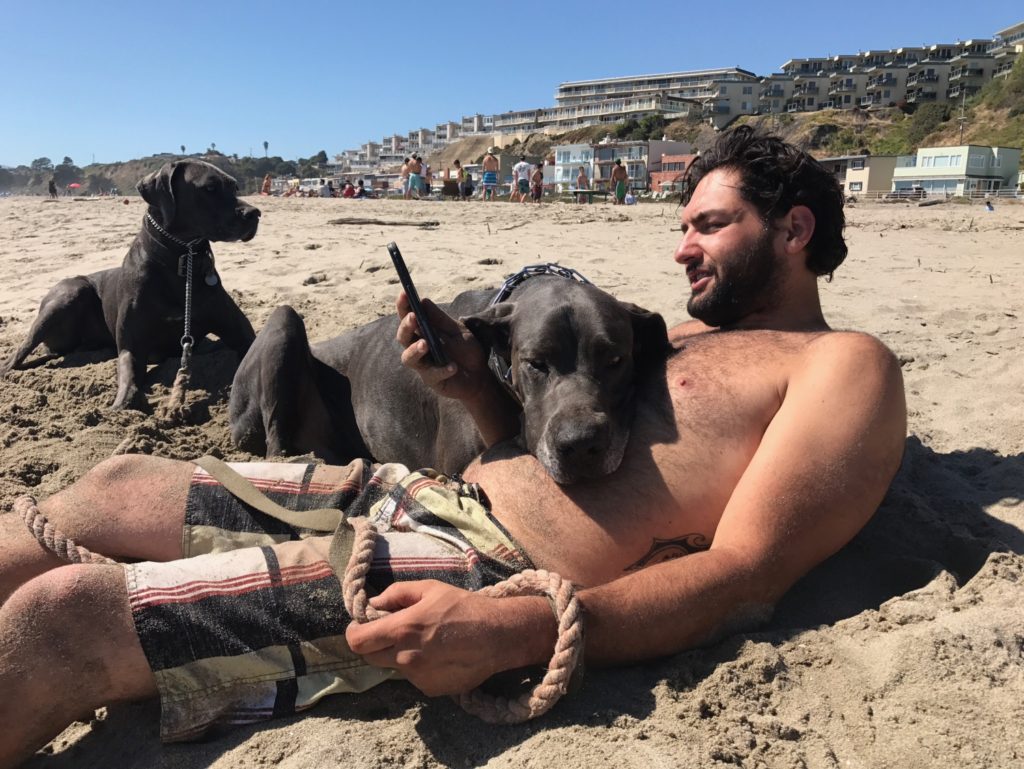 e!
Here are two cute photos sent to us by Jill and here is what she said: "The girls have settled in and seem happy. We are certainly happy. They are good through the night and they play during the day. They love to choose from the toy basket. Jack loves that they like to play. He's never seen two big dogs play and jump around like they do. So glad now I did not separate them. They get along so well. It melts everyone's heart to see Stella rest her head on Ellie when they are relaxing. Pretty sweet."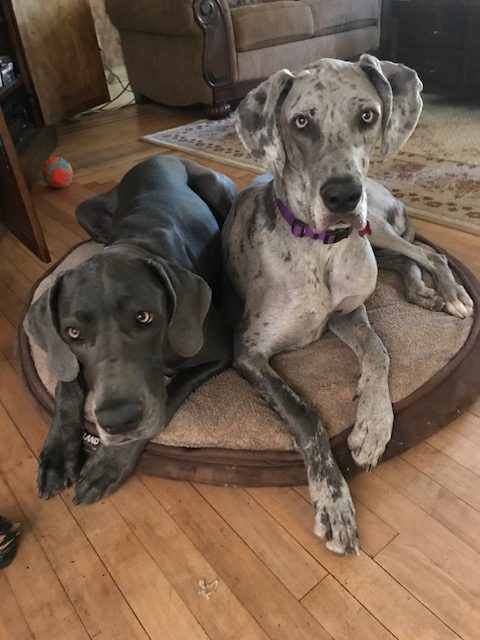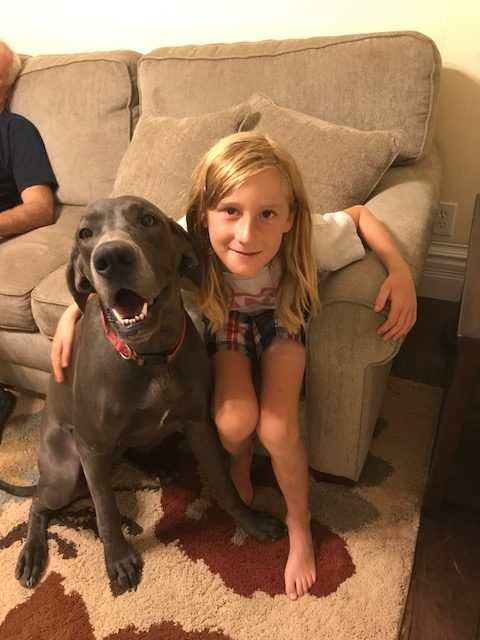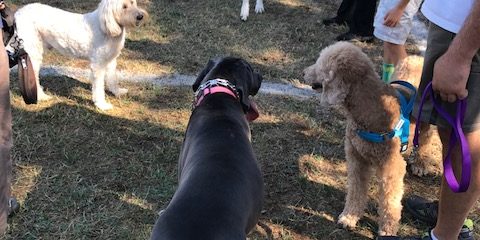 First they play with an injured deer, and now Stella and Ellie have many new canine friends. (I guess they will play with any species…) Here is the continuing saga of Stella and Ellie. (Thanks to Jill and Ron for these great photos).
"Today's walk was more fun than expected. We met Piper, the black and white Great Dane, who we played and ran with a bit. They all got along great. Then three other dogs showed up and everyone gets along great. Then another dog show up and he joins in too. We had one big play date! Everyone got along and had so much fun but the best part is we all walked there so we all live close and can get together again. We had all met at the high school. What fun! I'm so proud of the girls and so pleased they are sociable. Anyway, that's this mornings excitement"