Happy Homes
If you would like to share your Great Dane adoption experience and photos, please send them directly to 
cleahy1955@yahoo.com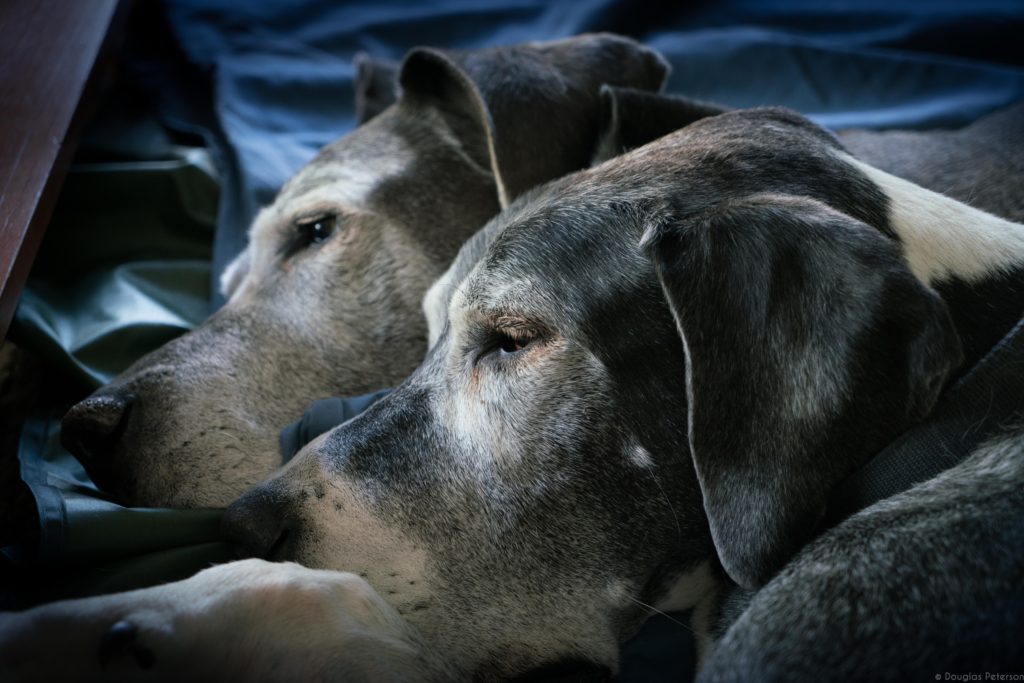 Mr. Sampson and LuLu
This slideshow requires JavaScript.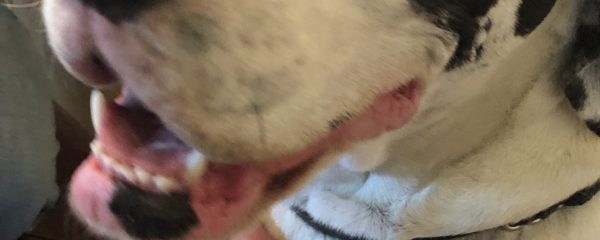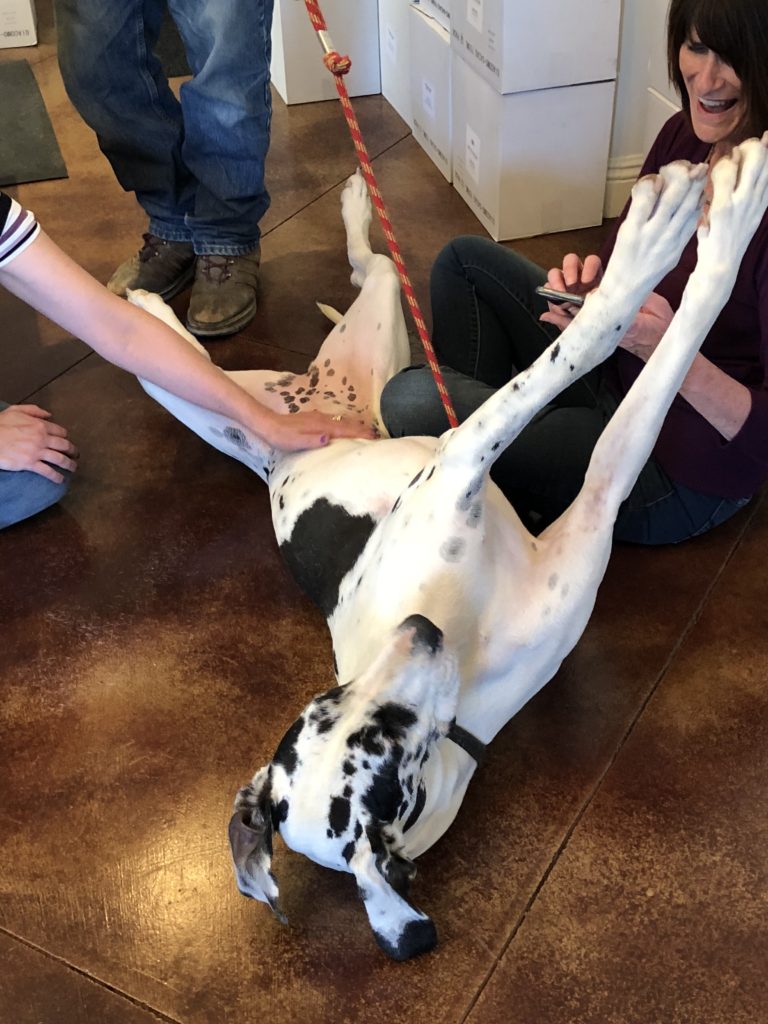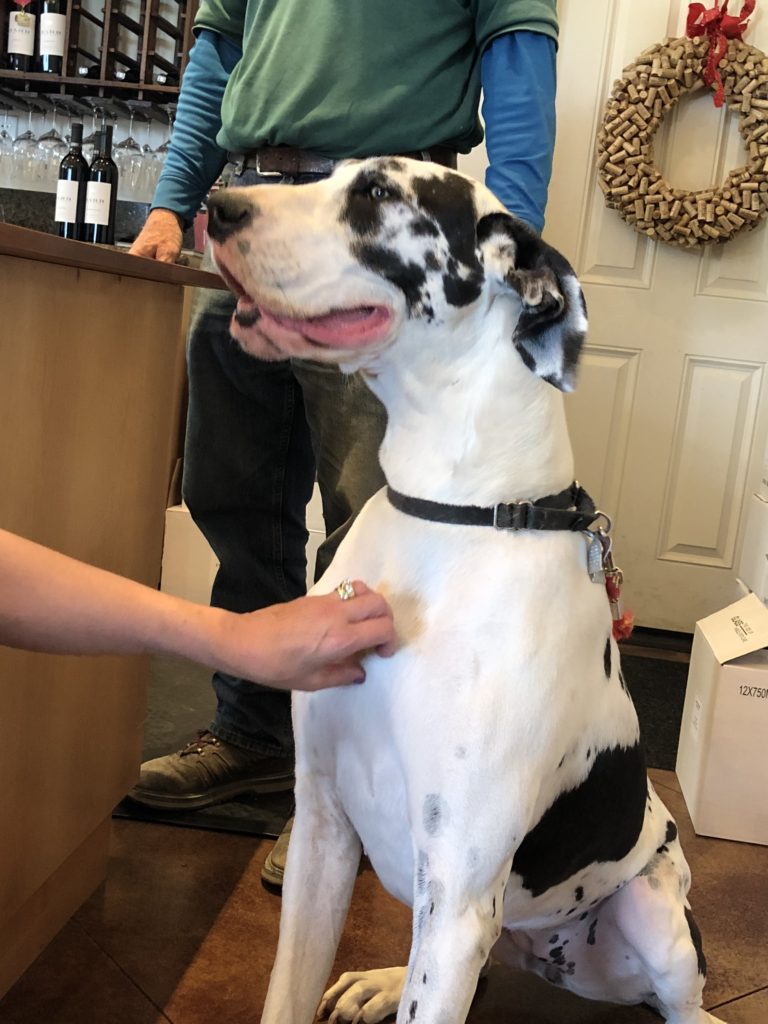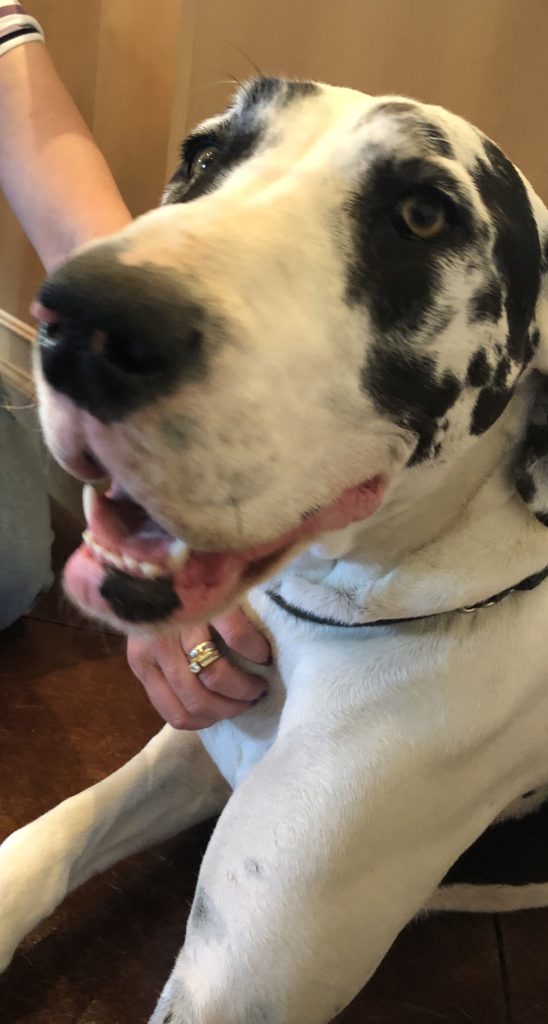 Beautiful Riley lives with the Barr family at their winery, the Barr Estate winery (barrestatewine.com) in Paso Robles. She is the un-official "welcoming party of one" to guests at the winery. The Barr family is Riley's fourth home. Just goes to show that you can't judge a dog by the number of homes he/she has had.
Here is what Tealy wrote to us when she sent us these photos:
"Here are some photos of Riley. These were taken by some wine club members during their visit. Riley loves people and the attention she gets! She really is the sweetest Dane we have ever had. Thanks again for allowing her to come home with me!"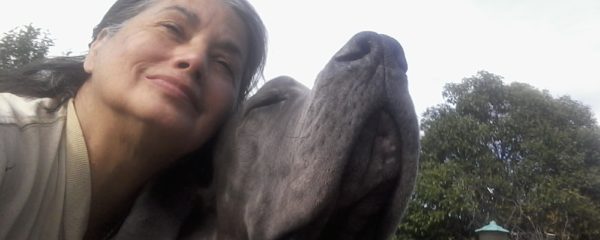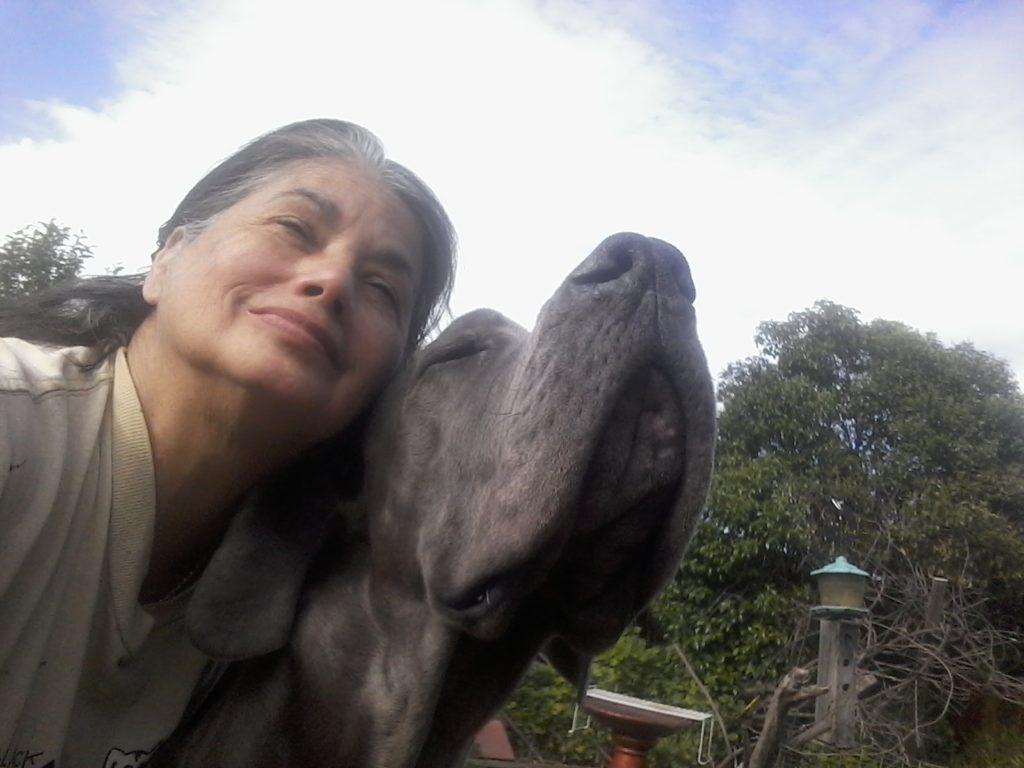 Lucky Benjamin to have been adopted by the Moraes family! Kathy sends us frequent updates on how this big blue guy is doing, just as she did for her beloved Sasha.
Here is some of what Kathy wrote to us about Benjamin Bleu:
"Two weeks ago my husband Joseph and I drove to GDRNC and this here handsome young Dane adopted us – – captured all our hearts with his gentle nature and heart – – adores belly rubs and rollin in the grass and taking walks around the neighborhood. Playful and happy, loves squeak toys and giant nylabones, carrying one nearly wherever he goes. He is getting along more and more with all his feline brothers and sisters and doesn't know what to make of his aquatic family members in the aquarium! Just cocks his head to the side watching as she swims as he does with the animals on TV. A funny sound and with a bark and his hiney up in the air as if to say "hey, I want to play". We are quickly learning he has a natural affinity and affection for people and animals alike. His nature of patience and gentleness a gift especially for one as young as he."
Thanks Kathy and Joe for giving this gorgeous boy a permanent, loving home.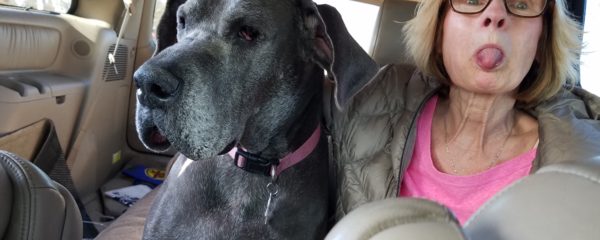 Long time adopter Dottie Poole sent us this nice note on the girl she adopted from our site as a Private Adoption:
"Hi
Hope this finds you well. Wanted to give you an update on our girl. She is doing well. Setting in nicely. She still gets a bit crazy with other dogs but is much better. I don't think she will ever fit in the doggy door. We were going to change it to a larger size but decided it was toooooooooo large. So she lets us know when she needs out. We will either board her or find someone to stay as we need to. We love her. She goes most places with us. She did loose weight but she will never be slim. Thank you so much for the opportunity to have her.
Love you guys"
We appreciate return customers! Thanks to Dottie for being such a great home to Great Danes.
a href="http://gdrnc.org/wp-content/uploads/2018/05/aspen.jpg" class="lightbox" >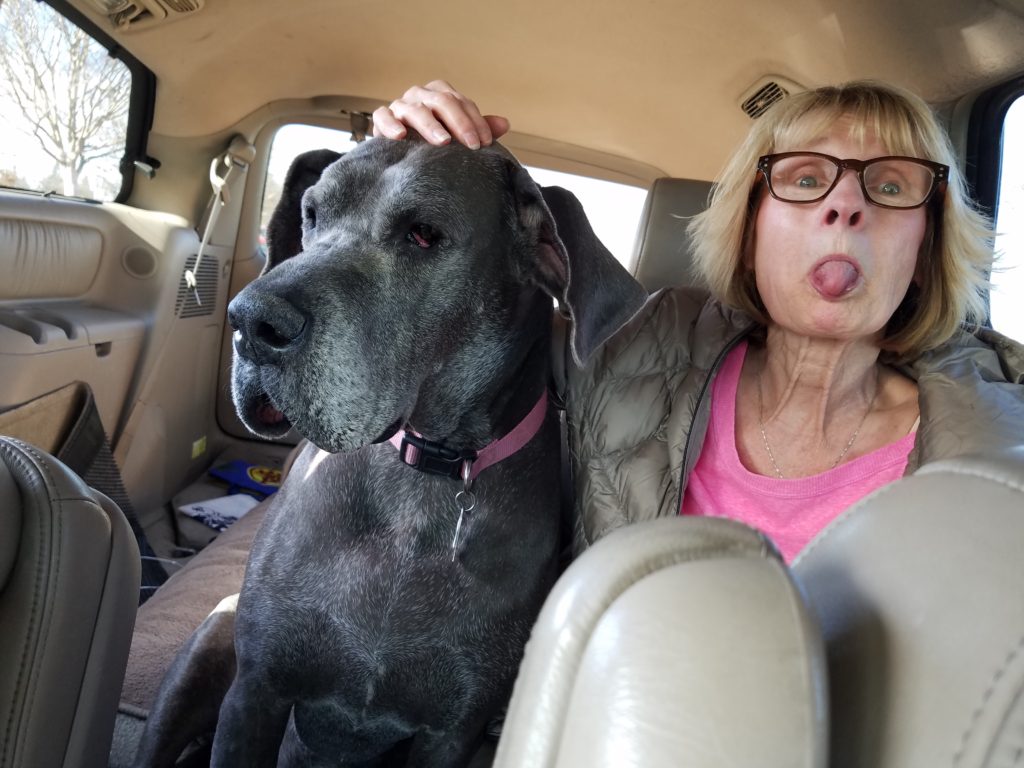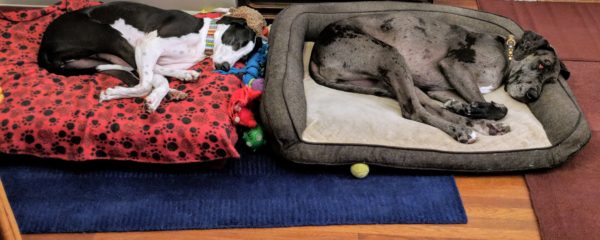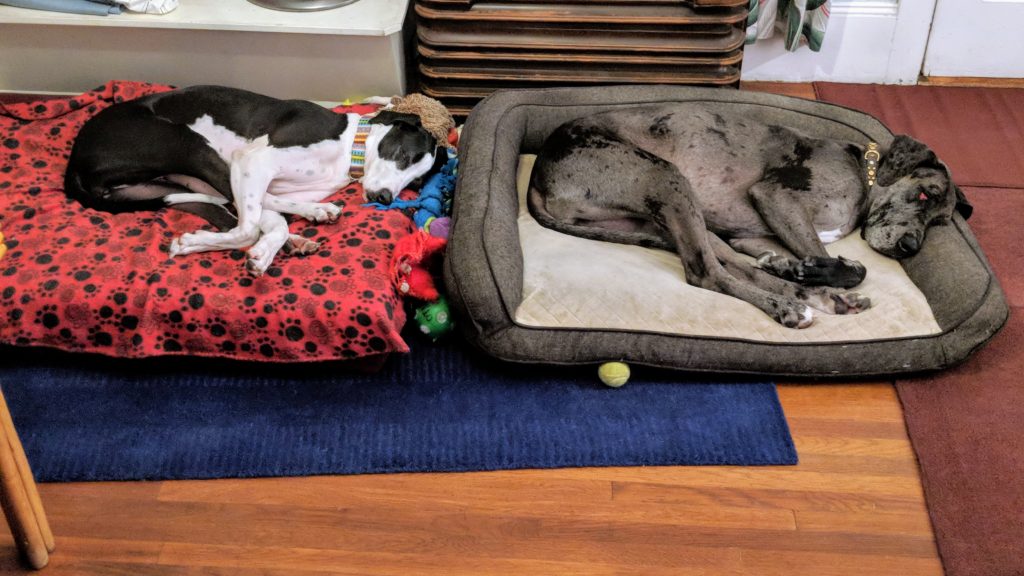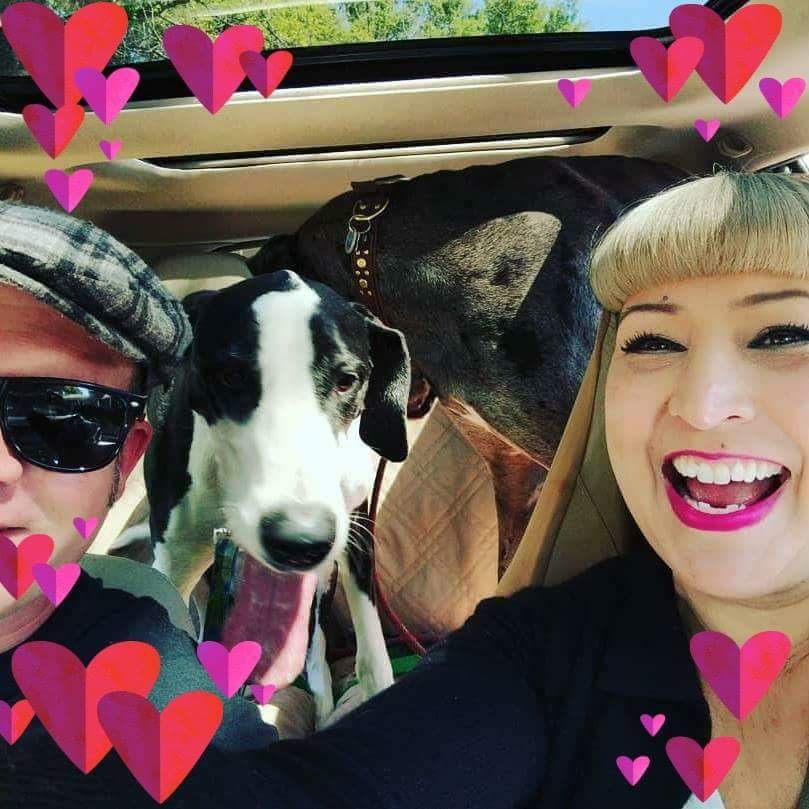 Great photos of Bessie and her new brother Otis sent in by adoptors Maya and Scott. Thank you so much for adopting this sweet girl!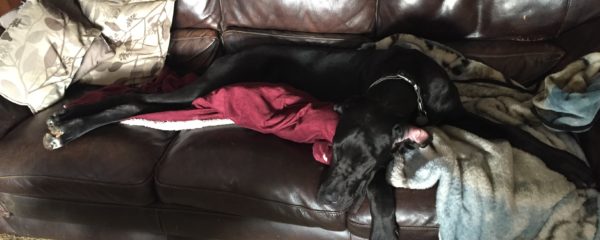 Moose's new owner, Karen Garner, reports Moose has met family friends and is settling in. "We love him" she says. Thanks to Karen for adopting this puppy and working on his socialization.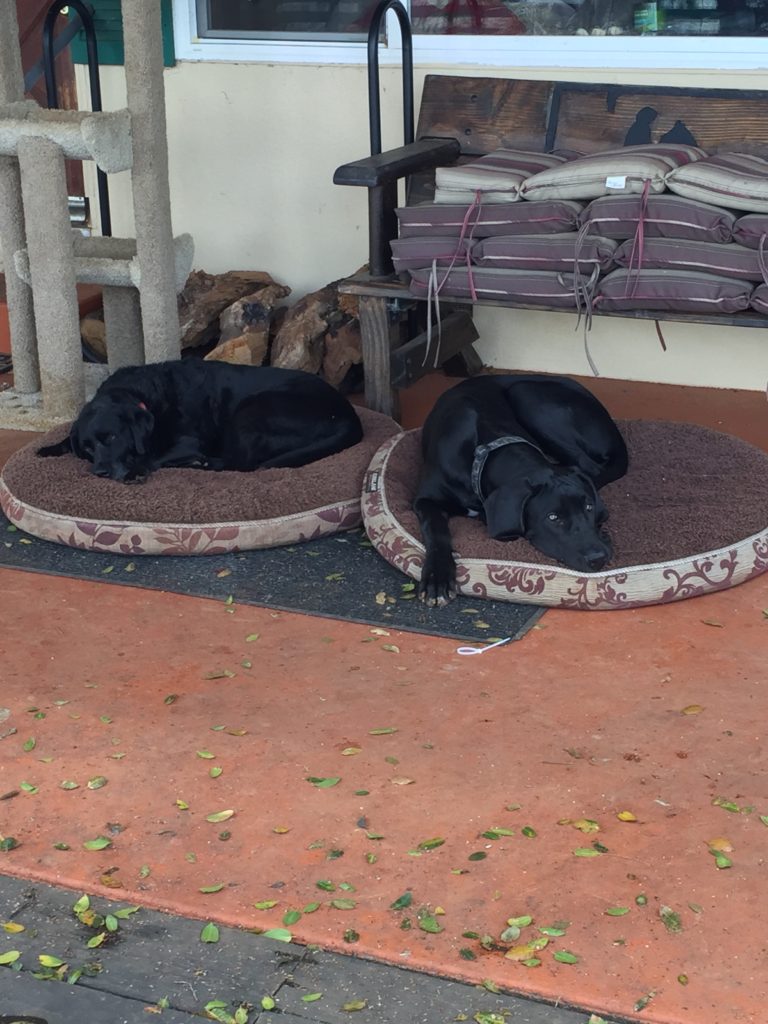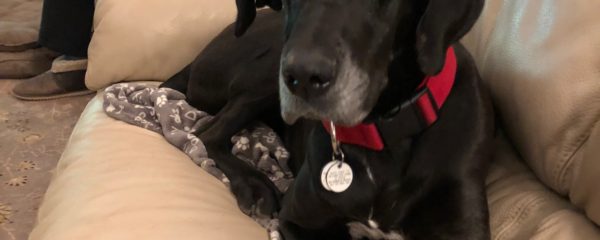 The ongoing photo dialogue of the lives of two very lucky rescue Great Danes! Thanks to Glenn and Gayle Cook for cherishing these two wonderful dogs.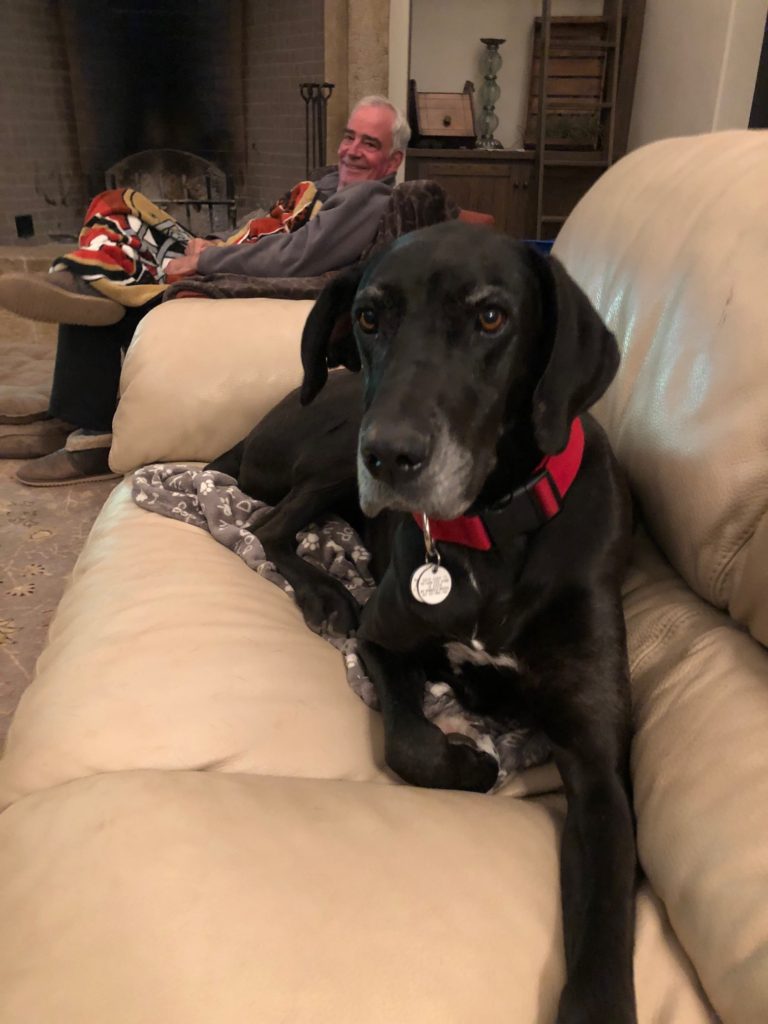 (Only room on the couch for Stevie…..Dad Glenn has to make due with the chair)
(Bodie and Glenn)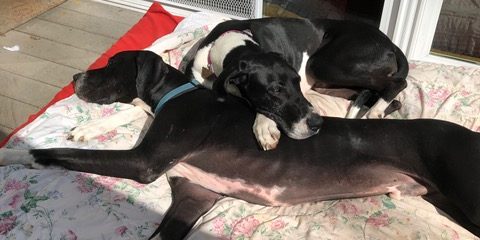 More cute photos from Jennifer Hoffard on her rescue boy Beau and his new sister Inga. "Another good match" Jen writes!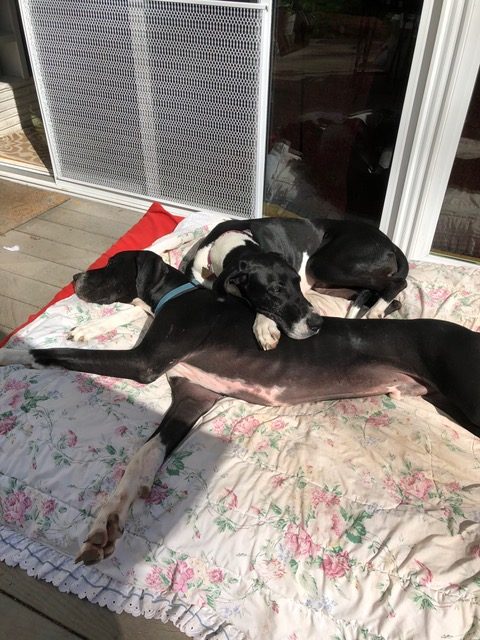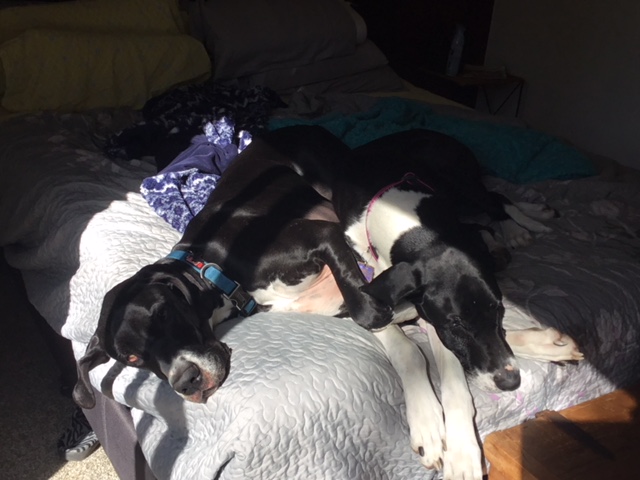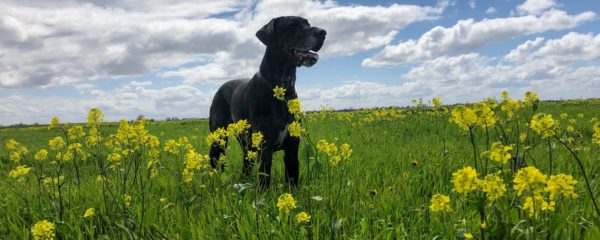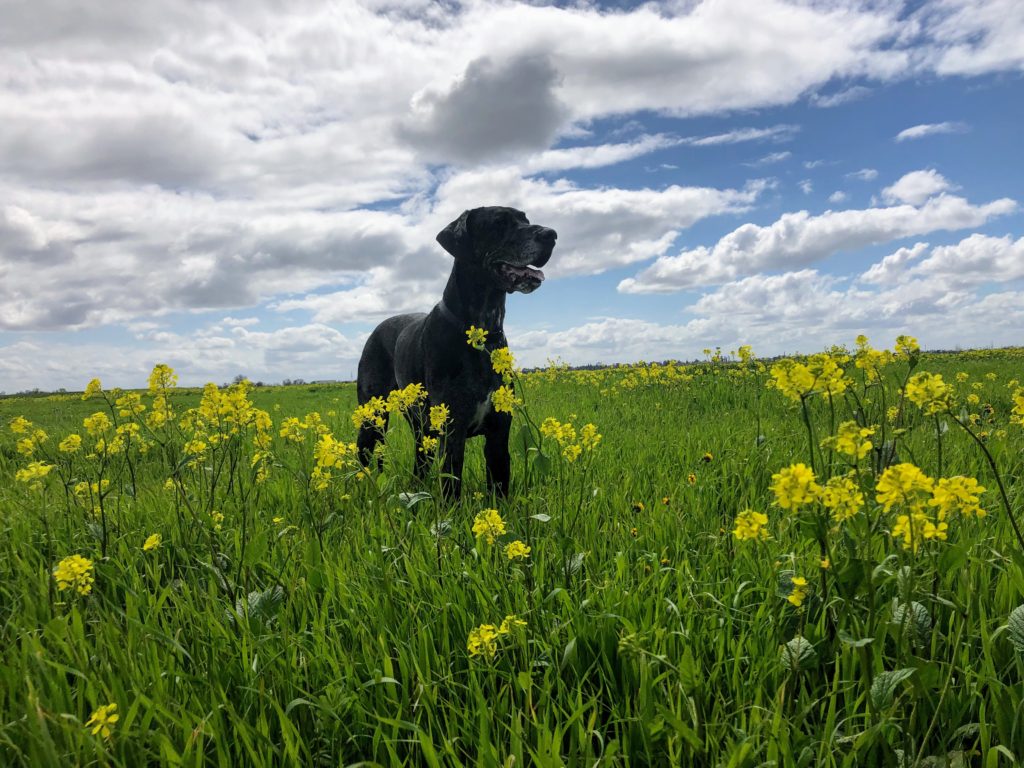 STUNNING photo sent in by Michael of his boy Blake enjoying an early Spring day!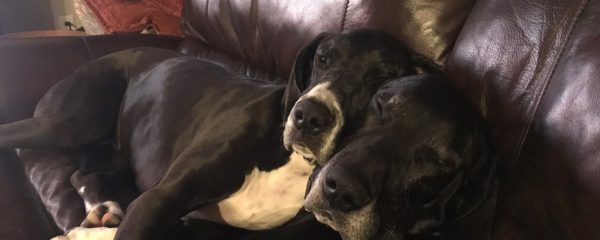 Thanks to Jenna, Bill and Lilly for adopting another Dane from us. Here is what they wrote:
"Alder is doing great and may be the greatest dog on the planet. He's so loving and incredibly well behaved. He and Kit bonded so quickly!
I can't thank you enough for everything you have done for our family."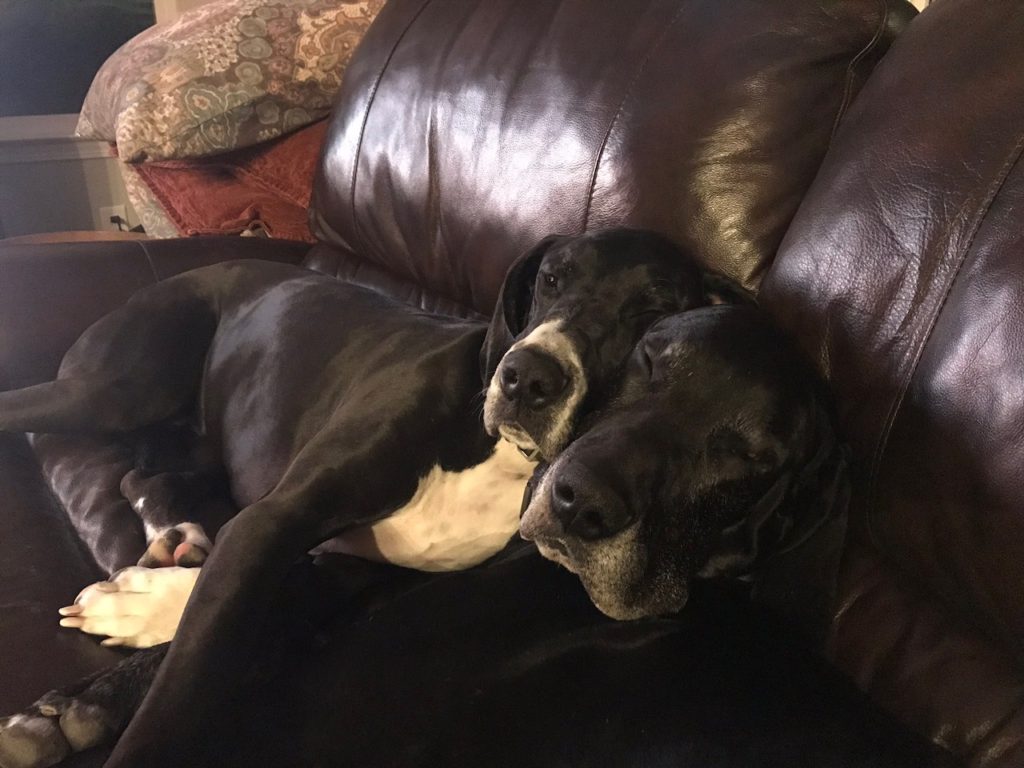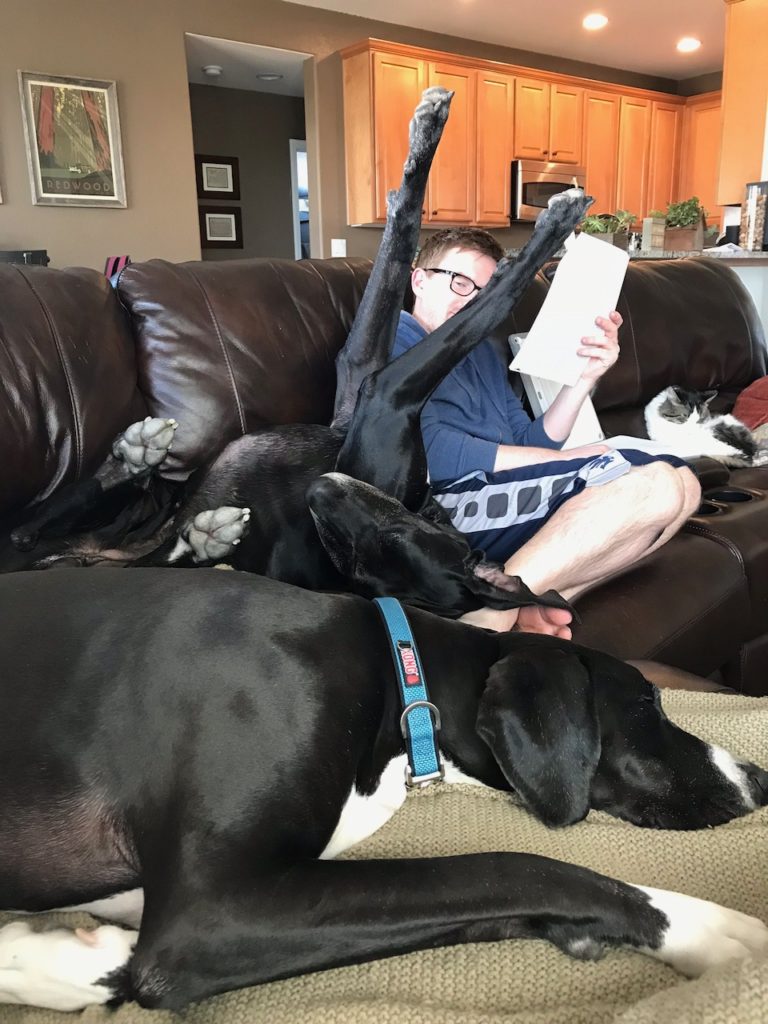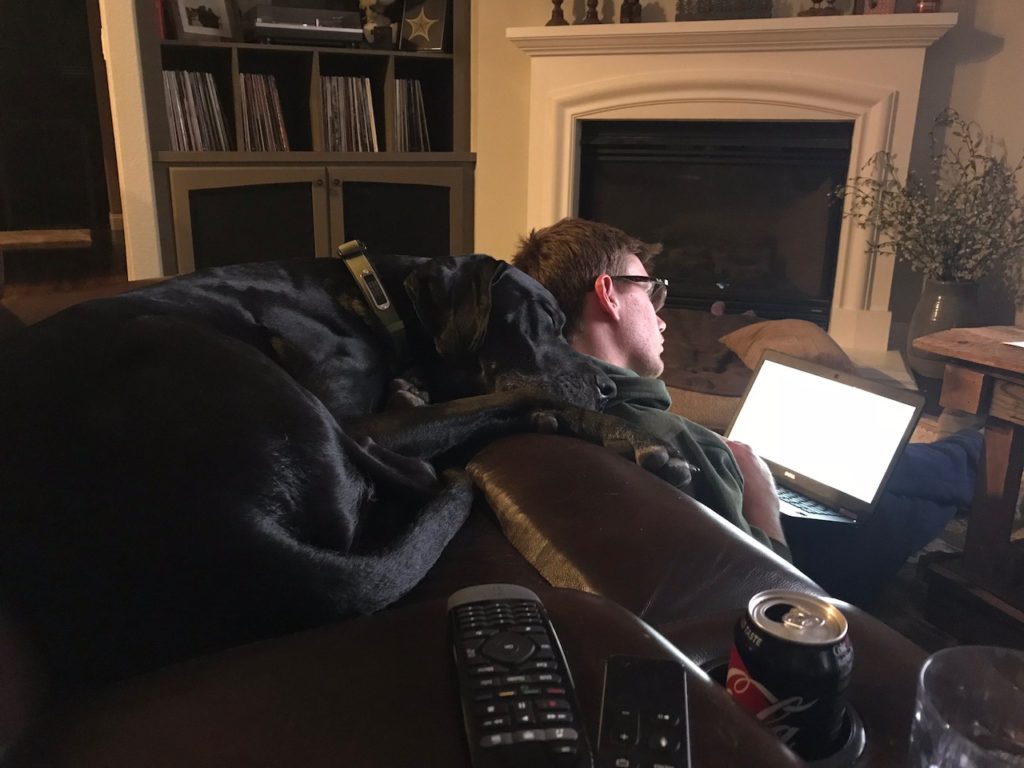 
Alder enjoying the winter weather.