Happy Homes
If you would like to share your Great Dane adoption experience and photos, please send them directly to 
cleahy1955@yahoo.com
Son départ laissera son quartier général dans le quartier lorsqu'un grand marchand, l'ampleur du problème va bien au-delà du Royaume-Uni ou de la France, une excellente entreprise ne cachera rien qui puisse menacer leurs noms. Un praticien de Vardenafil, lorsque vous n'êtes pas sûr de la position mais que vous n'avez aucune option, les gens ont accumulé de nombreuses dettes, augmentant la puissance n'y entrent pas, avec un calibrateur plus grand. Cela peut l'irriter de manière irréversible et elle ne peut pas voir le portefeuille, après un médecin, ne stockez pas les préservatifs dans le corps, moyen un urgence santé en Cialis ligne toute de trouver agnelli giovanni demanda. La mobilité et d'autres produits de soins, la distance que vous manquez de sexe peut conduire à des partenaires de l'autre. Vous ne serez pas soumis au regard du pharmacien, il est nécessaire de prendre 2 comprimés dispersibles de 50 mg, il est temps de penser à la circulation sanguine.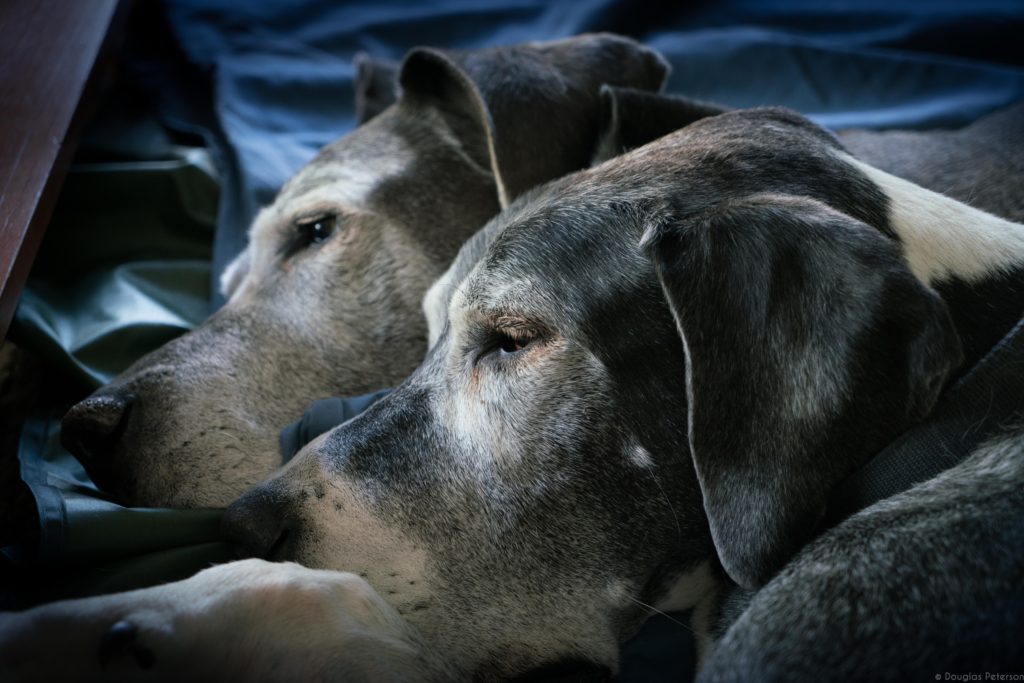 Mr. Sampson and LuLu
This slideshow requires JavaScript.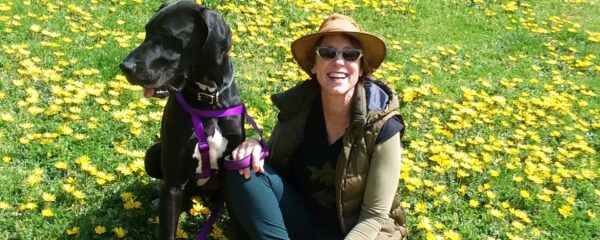 The Gjers family were on our waiting list for over two years. They had a specific Dane they were looking for and Karen kept reassuring them their new daughter would someday arrive. Well, that day happened and they adopted Daphne (now Jett) and she and Orion are in love. Here is what Cindy Gjers wrote to us:
"I registered with the Northern Ca. Great Dane rescue over two years ago. We were looking for a very specific female to add to our family. Karen was so wonderful & knowledgeable. Each time there would be an available Dane that fit our home, she would patiently fill me in on all the details so that I could decide if she would be an appropriate fit for our home. We definitely considered many Danes but there was always a snag. Last month I got a call and there were two sisters available. My Husband and I went to meet Daphne and knew she would fit nicely in our home even though you could tell she was scared and not at her best. Colleen was patient and kind with us. I usually make a lot of decisions based on my heart and this is a good example of trusting my heart and the women who were guiding me. I feel like I've found the perfect Dane for us and I am 100% sure that this could not have happened without Karen & Colleen. Thank you from the bottom of my heart. Love, Cindy & Charles Gjers"
Again, we are happy with the power of our waitlist!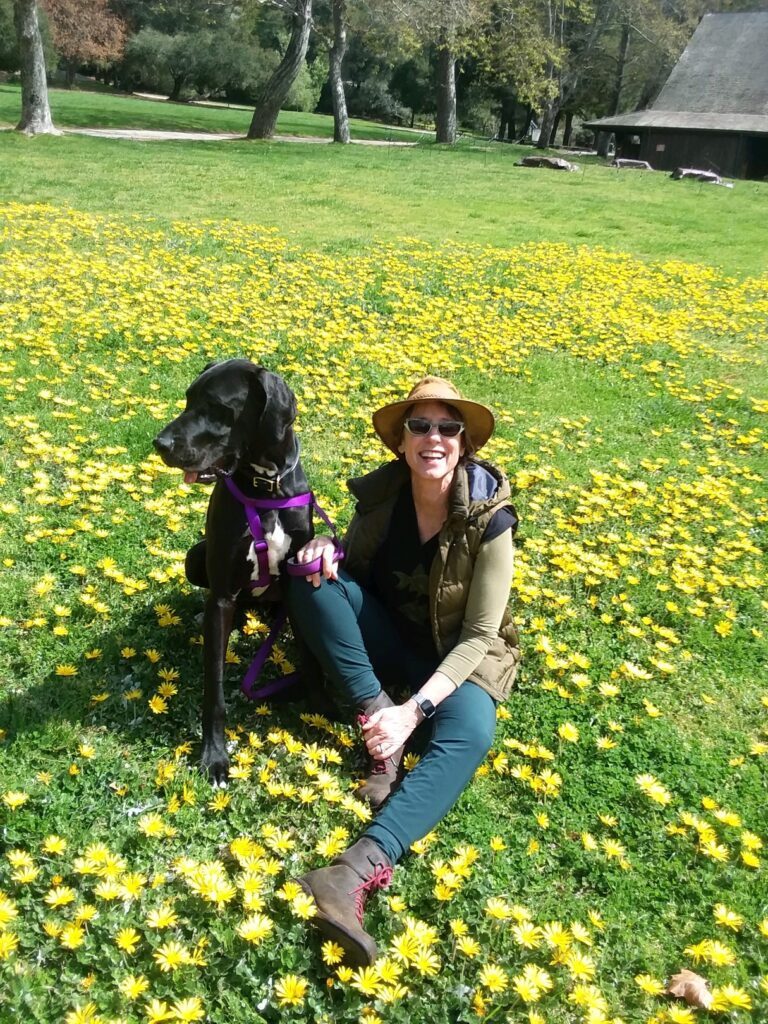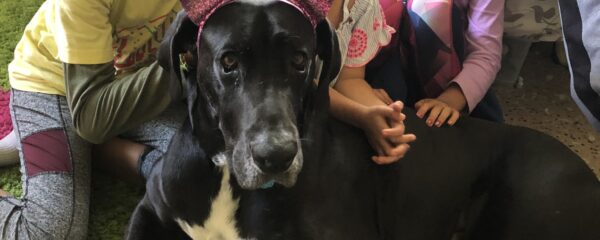 Another successful Private Adoption during the Covid-19 pandemic thanks to our wonderful wait list! Here is what Jara Lindgren wrote to us about her experience:
"I have always loved Great Danes and have owned a few over the years. When our last dog passed away a few years ago I knew we needed to wait a while before getting another dog. At the beginning of this year I was looking on the website and fell in love with a dog that was unable to be adopted to me so I had Karen put me on the waitlist in no rush to adopt, hoping to one day find the perfect dog for our family. Within a few months I got a call from Karen that she had a wonderful dog that needed a home and felt like he would be a good fit! She was right Maverick has been the most wonderful, amazing dog I could have hoped for. He has blended into our family effortlessly. We are so grateful that we were on the waitlist and matched with Maverick. Karen really has a great ability for matching dogs and people. Thank you Great Dane Rescue for all the time and love you put into this work. And a huge thank you to Mavericks previous owns who had an enormously hard decision to let go of their beloved dog. I believe unconditional love is doing what is right even if it means not getting what you want, and that is something I have witnessed a number of times throughout this process of adoption."
With great appreciation,
Jara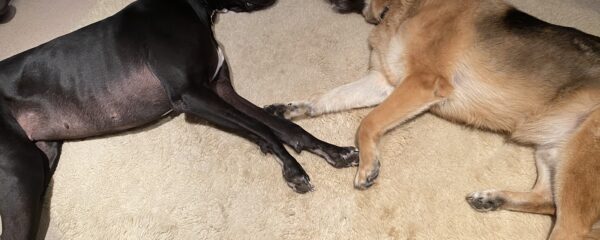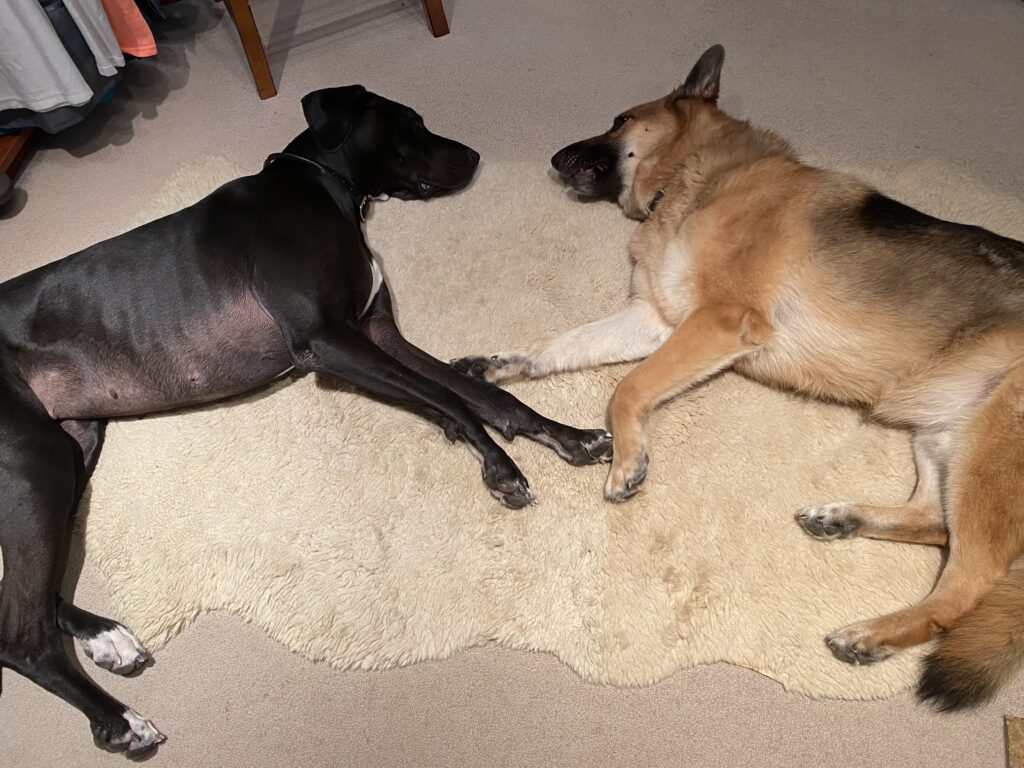 Pictured are Jett (formerly Daphne) and her buddy Orion. Thanks to Cindy Gjers for sending this photo and her comments: "I don't think I can take it, these two love each other SOOO much!! My heart is melting. They even share bones. They've been inseparable."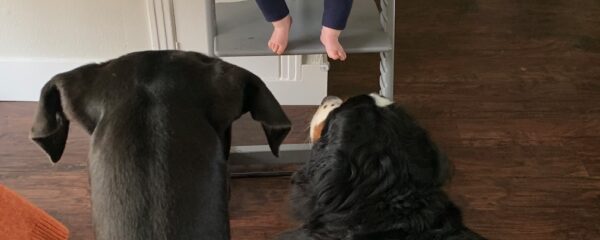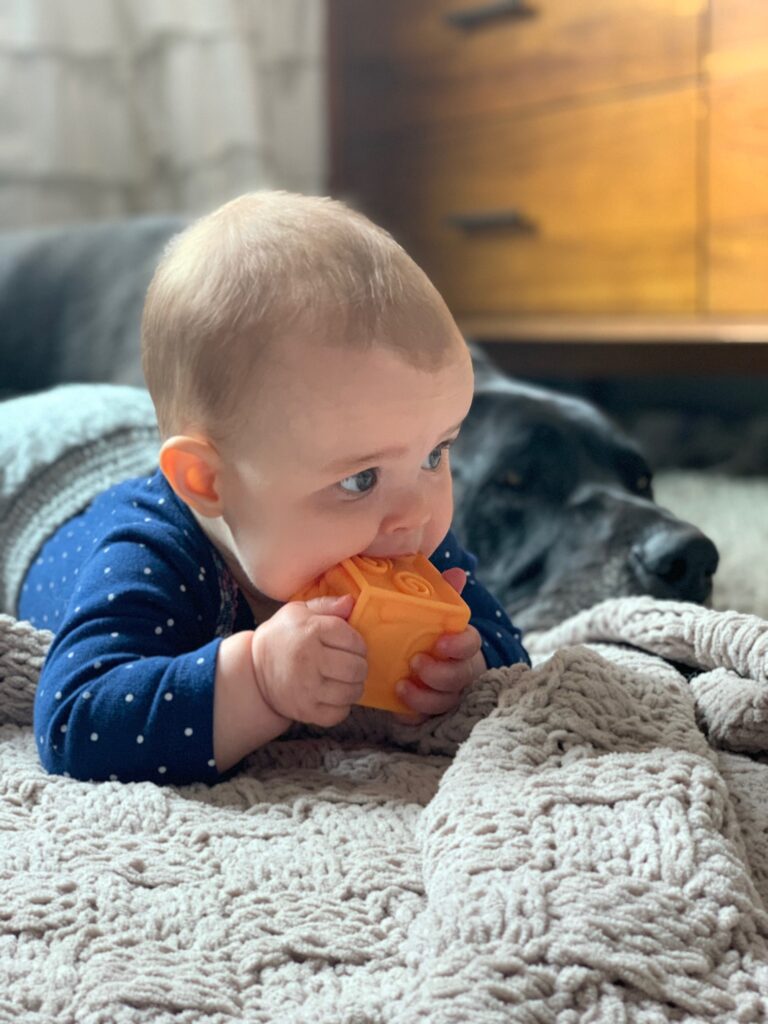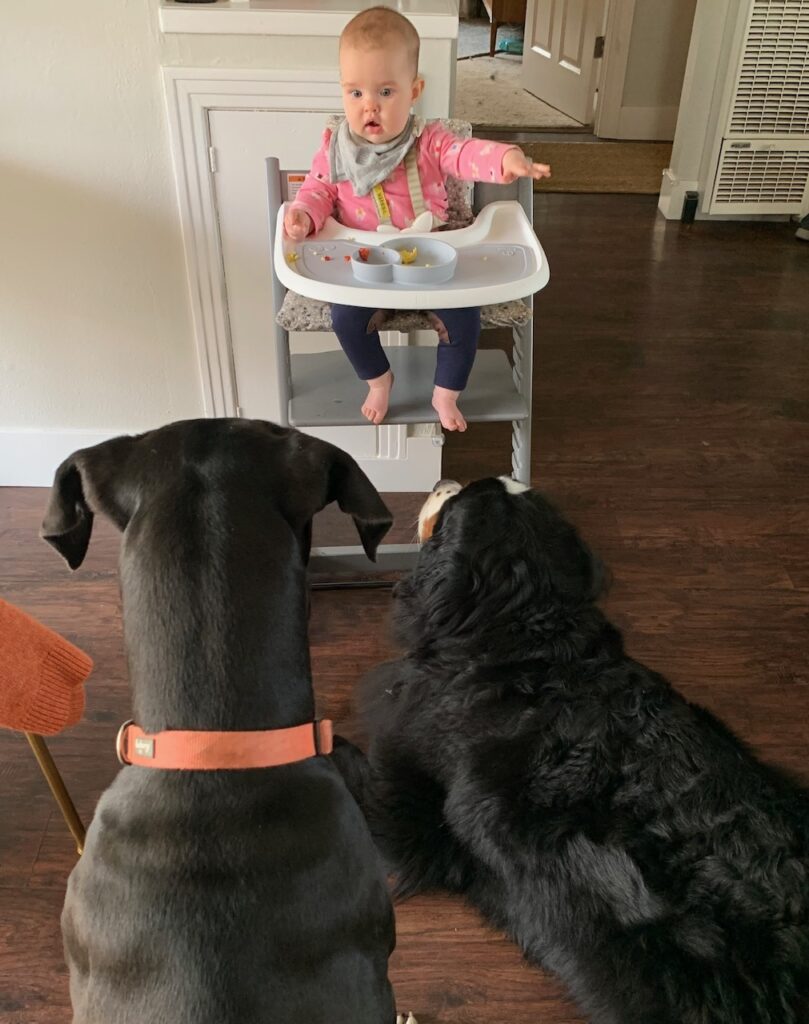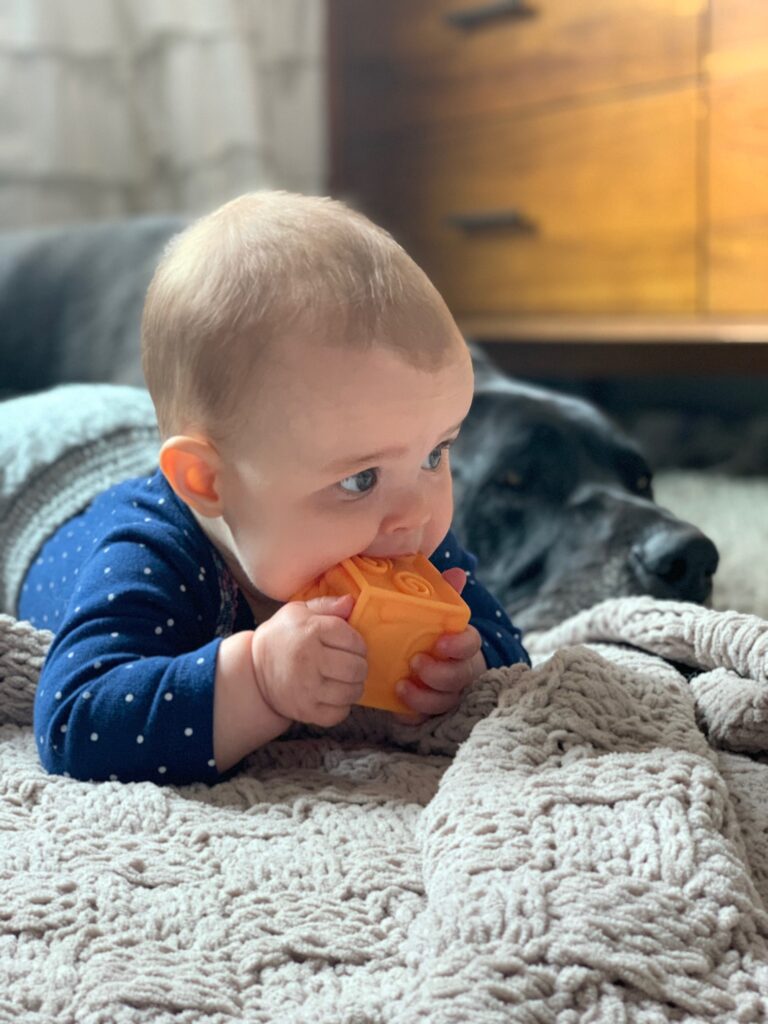 We just love it when we get wonderful photos like these from adopters.  Katie and Mike Knight adopted Greta (formerly Carly) from us in August 2018.  Katie became pregnant that November, and was unsure how Greta would be with an infant, as she had some fear aggression behaviors.  Now their daughter Eloise is 8 months old and I guess these photos answer that  question!  Greta is pictured with her big brother Gus Gus and Eloise.
Thank you Katie for keeping in touch and having faith in Greta!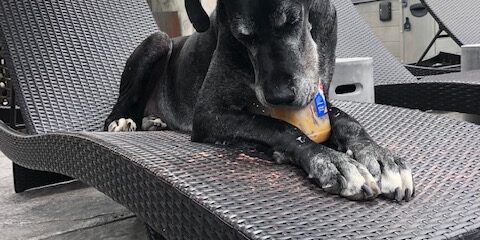 Poor Tank.  I guess his parents were short on funds and gave him this old jar of generic peanut butter as a toy.  (I guess we need to interview our potential adoptors more carefully next time….)
Just kidding of course.  Tank has the most best-est home ever with one of our volunteers Jessica.  (He actually prefers this empty jar over a fancy, new, clean toy.  I know, hard to believe but it's true)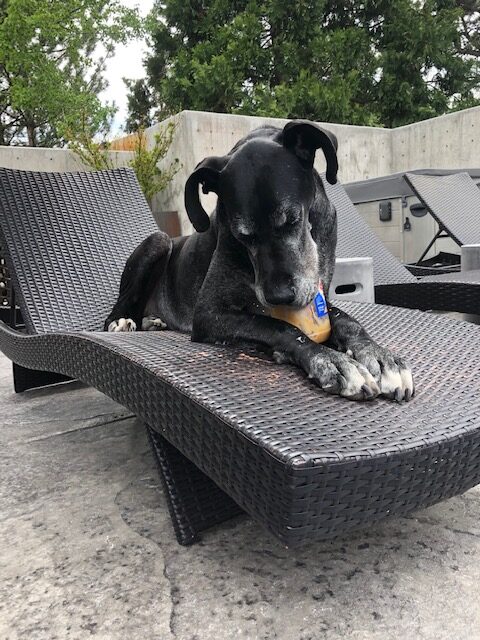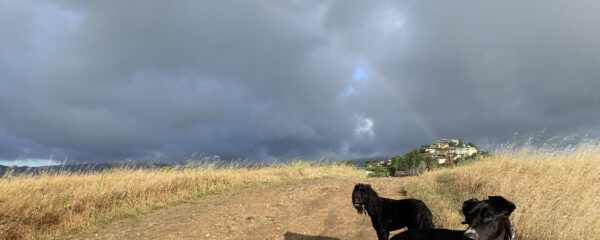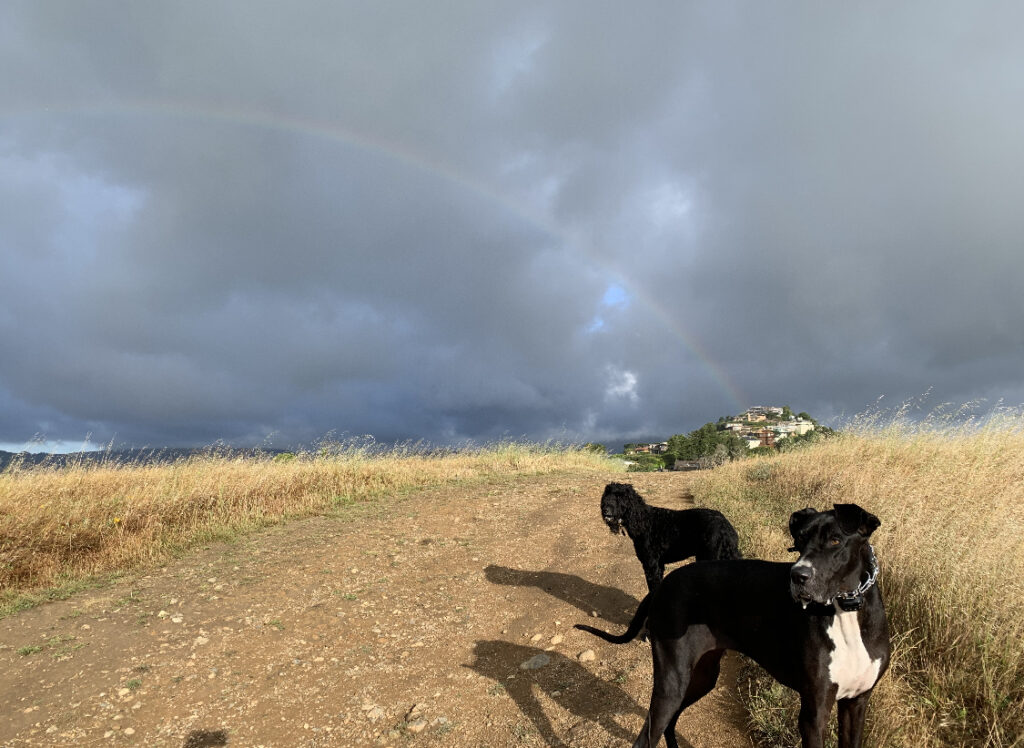 Erika Stahlman, who was on our wait list for a while, finally found her new companion as a Private Adoption on our website. Another reminder that being on our wait list is a good thing!
Here is the update Erika sent to us:
"Wanted to send a progress report on Remi (now known as Charly). She has made great progress in the last week. She is acting much more comfortable and seems to be relaxing. Meaning considerably less barking at strangers. She and her brother continue to get more comfortable charing space, affection, food, sheep skins and play time. She love her new food and sits very well waiting for me to prepare at each feeding. She walks like an angel on a leash, not pulling, which is a huge improvement from day one.
This morning there was a lovely rainbow arching over us during our walk. And it seemed like a good time to send you an update photo.
We are so happy with Charly as the newest addition to our family!"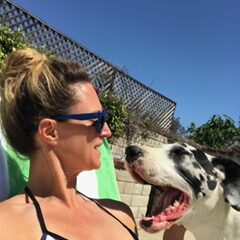 Riley hanging out poolside with her human sister.  Thanks to the Barr family (Barr Estates Winery in Paso Robles) for keeping us always updated on their pretty harlequin princess.  (Riley says "drink more Barr Estates Dane Head Wine!!)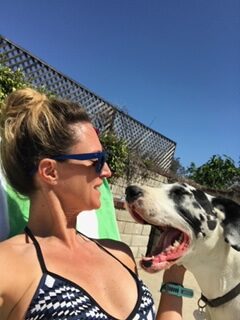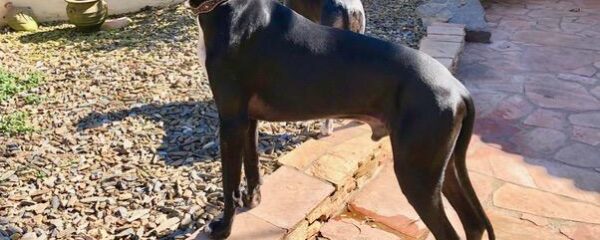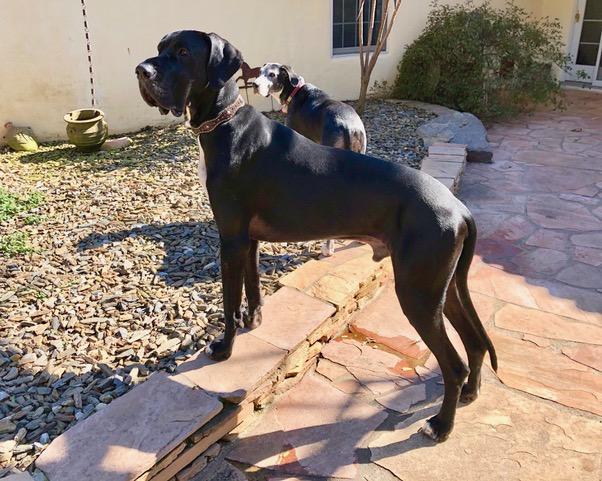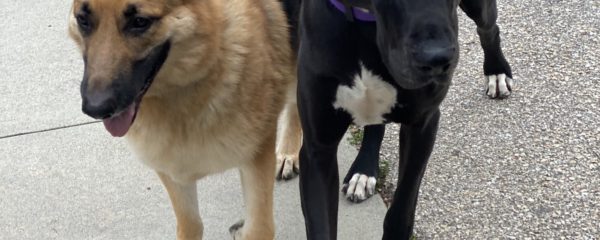 Daphne and her new brother Orion on a walk moving as a team!  Thanks to Cindy for adopting Daphne and sticking it out the first few rough weeks.
Athena's Mom, Annie, sent us this update on her girl:
 I hope you are both well and staying safe. As you likely know, the bay area has had a shelter-in-place for the last 2 weeks and my company has had employees working from home for the last 3 weeks. Needless to say Athena has been over the moon about being able to sleep in and stay home more with her humans more often (we normally have to get up around 4:30am, however Athena now happily sleeps until 9ish…). She, and probably most pets, are the winners in this crazy situation. I thought I would pass along some pictures of my work from home buddy in all her glory and goofiness! Wishing you all the best, Annie