In Memoriam
Our condolences to Despina and John on the loss of their sweet boy Emerson who died suddenly from a stroke. Here is what Despina wrote about her special guy:
"Emerson was just about to turn 5 when he died on April 29, 2019. He was a sweet, gentle soul whose favorite thing in life was going to the beach and jumping into the ocean. "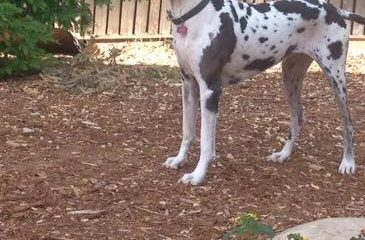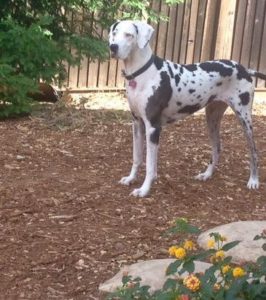 Dana recently let us know her girl Lexie passed away. Here is what Dana wrote to us:

"We adopted sweet Lexie from you 5 years ago and two weeks ago we had to say goodbye to her. I still remember the pitiful "coming soon" picture on your website of her at the Yolo Animal Control where she weighed in at 71 lbs because the previous family had starved her almost the death. I couldn't sleep that night thinking about her sad eyes and emailed you the next morning as I knew she had to be ours. I worried that she'd have lots of health problems from her abuse but all we did was feed her and give her lots of love to return her to the heathy state you see in this photo.
"Lexie could have easily held a grudge against all humans due to her being mistreated but instead she was the sweetest dog who gave unconditional love to us each and every day. We will miss her more than words can express and want to thank you for helping get her out of the terrible situation she was in so we could make the last 5 years of her life so much better than her first 5 years were."
The McNulty family.
We remember Lexie and the horrible condition she was in. It takes a special person to see past the physical and adopt a Dane that needs a loving home. Thank you Dana!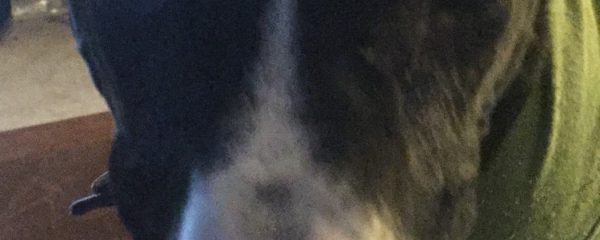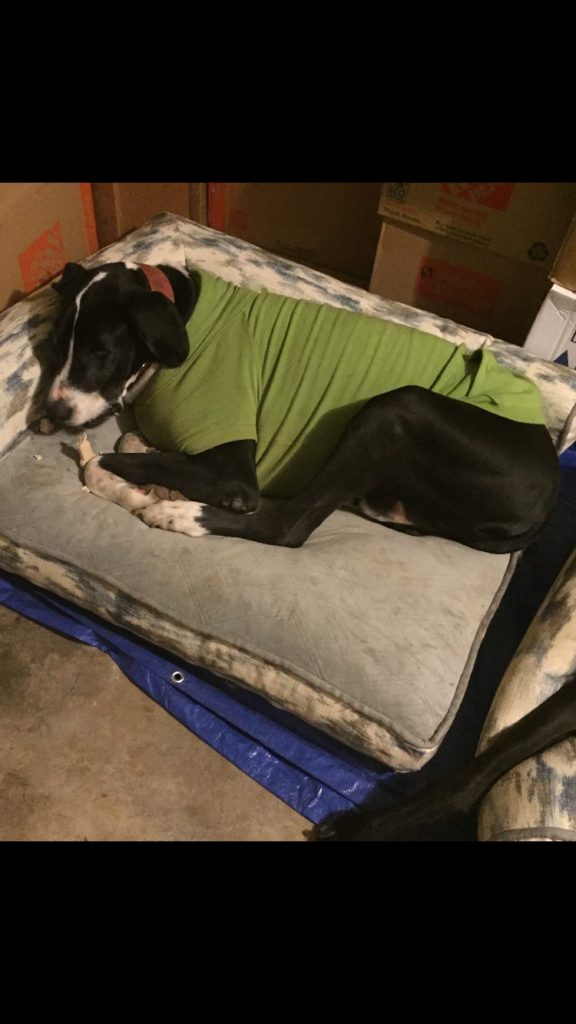 Our condolences to Judy Kiefer-Meyer and Bentley on the loss of their beloved Oreo.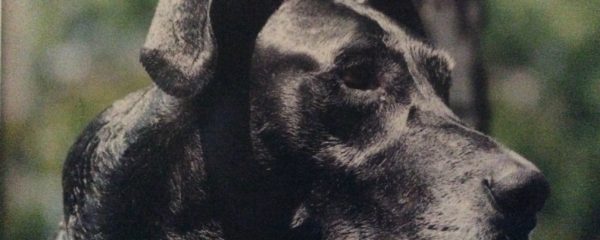 Our sincere condolences to Jim Simpson on the loss of his special boy Luke. You may remember we recently asked for help in finding a wheelchair for Luke. One of our members stepped up and brought him a wheelchair she used for her own Dane who had passed. Unfortunately, Luke just was not strong enough to keep going. Jim contacted us to let us know he had let Luke go.
Here is what Jim wrote to us:
"Luke's pretend birthday was 02/14/2010 (Leya's was 04/01/2010). He was such a love and I just feel empty without all of my babies. Luke passed very gently in my arms, very much ready and very much at peace.
He never once did a single thing wrong in his life time. No chewing shoes, no accidents, never once did he ever not do what I asked of him. Although it took a few years, he did recover from the abuse at the Mill. Although, I'm pretty sure that Leya bossed him out of that one.
Words will never describe how grateful I am to Lori Lynne for coming to our rescue. I am forever grateful to both of you.
I've attached a photo of Ben (my first rescue) as well as a photo of Luke and Leya in their favorite "Yin and Yang" position. And even though my girl bossed him around so much, they absolutely loved each other. Thank you for trusting me to adopt all three of my babies. I will never forget the experience of being guardian to each one of them."
These three Danes were very lucky to have lived with Jim. A better Dad is not out there!
Please keep Jim in your thoughts during this difficult time.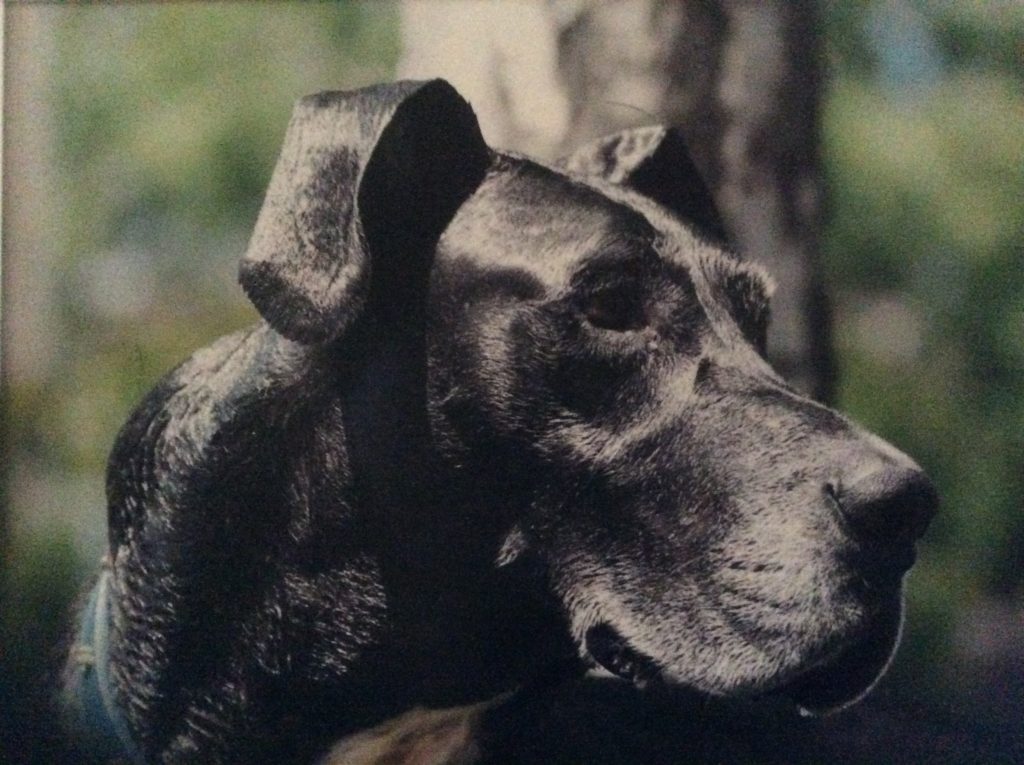 (Luke)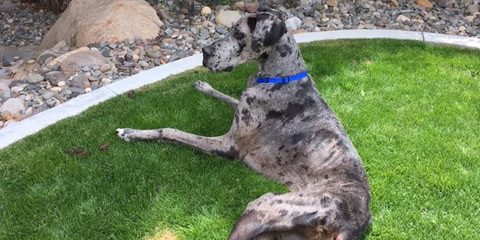 Our condolences to the Mason family on the sudden loss of their very special boy, Leo. Leo was just five years old when he passed and Maureen had adopted him from Rescue approximately two years ago. Leo came into foster care with Karen in Reno weighing just 95 lbs. He was a sad, skinny boy. Karen got him up to 108 lbs on a special diet. He never seemed to be able to surpass this weight. The doctor did numerous testing on Leo to try to explain his weight, but nothing came back abnormal. But this did not stop Maureen Mason from adopting him. She saw past his weight and loved the wonderful boy inside.
Prior to his passing, Leo was diagnosed with Addison's disease and unfortunately stopped eating, and a day and a half later passed. He was happy and active in his loving home for almost two years.
To add to their sadness, the family had recently lost their other Dane, Bella Katie, to heart failure at the age of seven. Katie was a shy girl that flourished under Maureen's care. She was loved and cherished for almost three years by the Masons.
This is a special family that loves Danes, and are willing to go the extra mile for a Dane that need a home. Maureen said this is the first time in many years they are dog-less.
Photos Below:
Leo in foster care.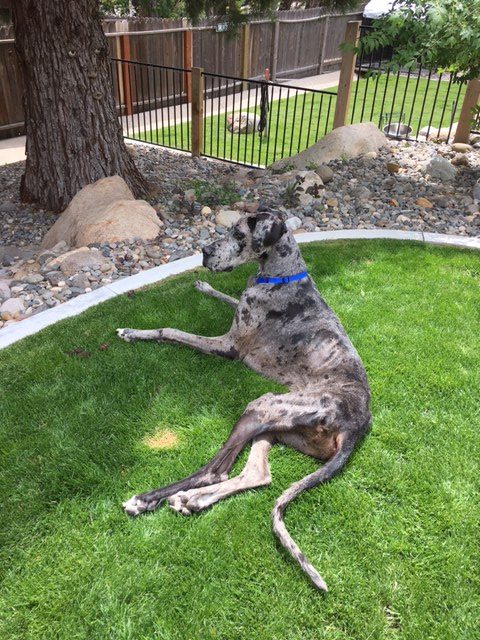 Bella Katie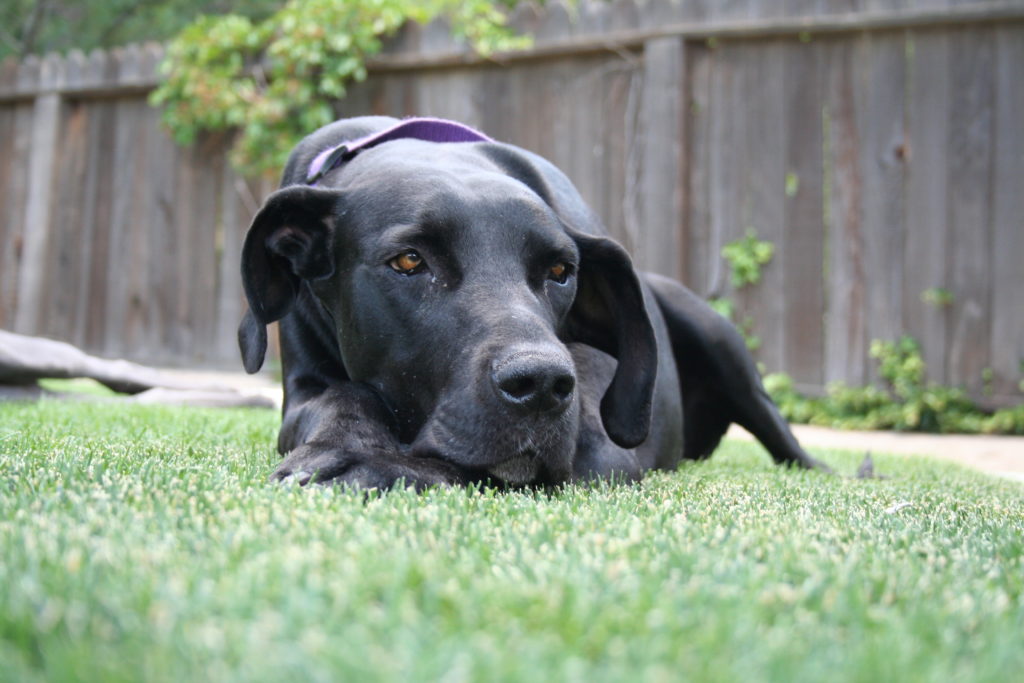 Leo and Bella Meeting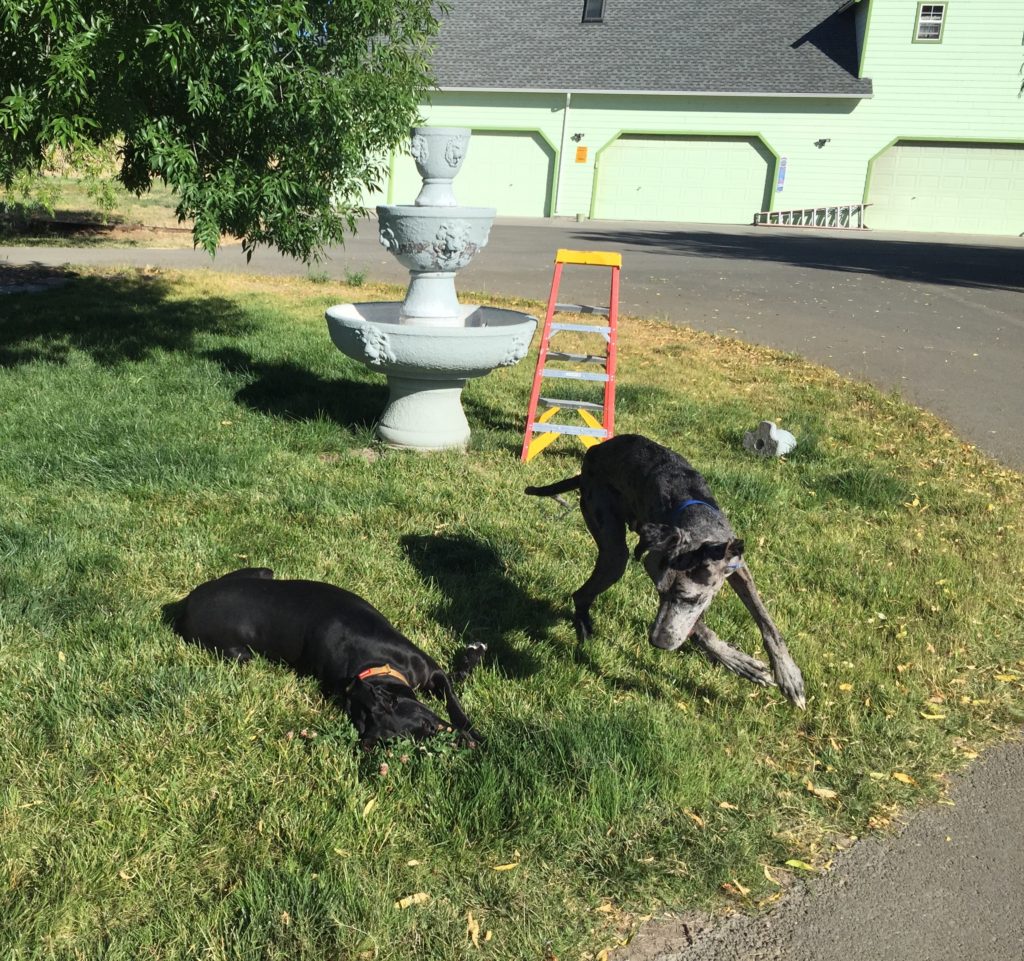 Our own Doug and Peggy Peterson lost their sweet girl Lulu on Wednesday. She was either 13 or 14 years of age and Doug and Peggy did everything they could to keep her with them as long as they could. Two better owners you could never find. They loved her with all their hearts and what a wonderful life they provided for her.
Our deepest condolences to this very caring couple on their loss.
We asked them to write a memorial to Lulu and here is what they wrote to us:
"We adopted Lulu on July 22, 2008, just a few weeks after our Danes Max and Chloe died 5 days apart. We loved her from the moment she bolted out of the kennel and tried to jump in the truck! She had been a stray, and the vet guessed she was 3-4 years old. She was so skinny! But full of life, and so happy to have a home. We brought Sampson home from GDRNC the next day, and Lulu went to work letting him know who was in charge. She was a handful, and we called Colleen every day for the first two weeks to get advice on how to manage her very assertive behavior. She learned quickly and became one of the best dogs we have ever had. She adored squeaky toys, running at the lake, rawhide chews and meal times; she and Sampson became inseparable friends. She was surprisingly funny and was the happiest dog ever. She had pneumonia last year, and the vet told us to prepare ourselves for her death – then called a few hours later to say she had miraculously recovered and to come get her! But age was catching up to her, and by the end of last year she needed a halter to help her stand up, and to walk. We knew the time was here when she wasn't interested in dinner or cookies. Even at her last hour, she was a great ambassador for Rescue, visiting the staff at the vet's office and giving everyone there a final kiss. Our home isn't the same without her and we will forever cherish the years we had together.
Sobbing,
Peggy and Doug"
Their other Great Dane, Sampson, will grieve for the loss of his girl too.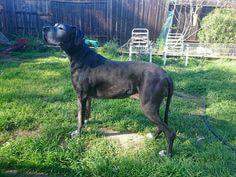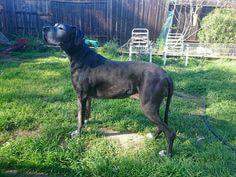 Miss Lady Sasha Dane – 15 Dec 2005 – 19 Jan 2018
Our sincere condolences to Kathy Moraes for the loss of her beloved girl Sasha. Here is what Kathy wrote to us about Sasha's passing:
"Sasha passed on due to complications from Degenerative Myelopathy – a condition in which affects the myelin sheath in the spine. 9 month ago diagnosed – these past 9 months walking slow though at a steady pace – helping her to maintain a healthy and happy mind and life – even in her condition – still enjoyed her morning sunshine – barking at the dogs in the neighborhood from her backyard – loving her numnums and rubdowns – as time was passing her DM was becoming more apparent. I could see her trying to maintain her demeanor and dignity – it all climaxed Friday afternoon collapsing in her backyard, collapsing on the grass – immediately taking her to the vet. She could barely walk – I held her in my arms and said farewell and I whispered little prayers – whispered in her ear I love you Sasha. "Ta" as I called her and touched her very softly behind her ears and God welcomed her into the kingdom of heaven."
Kathy and her family gave Sasha such a wonderful life. You can see many photos of Sasha on our website. We are so sorry for your loss Kathy.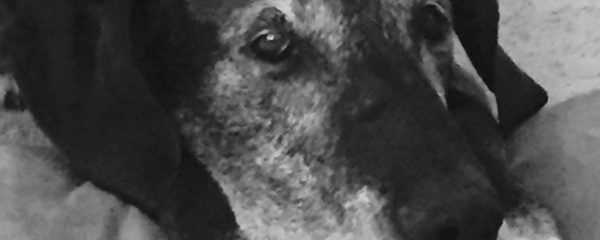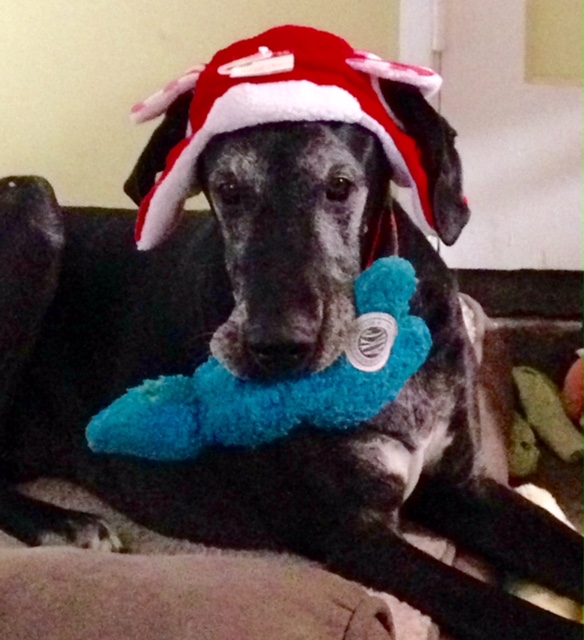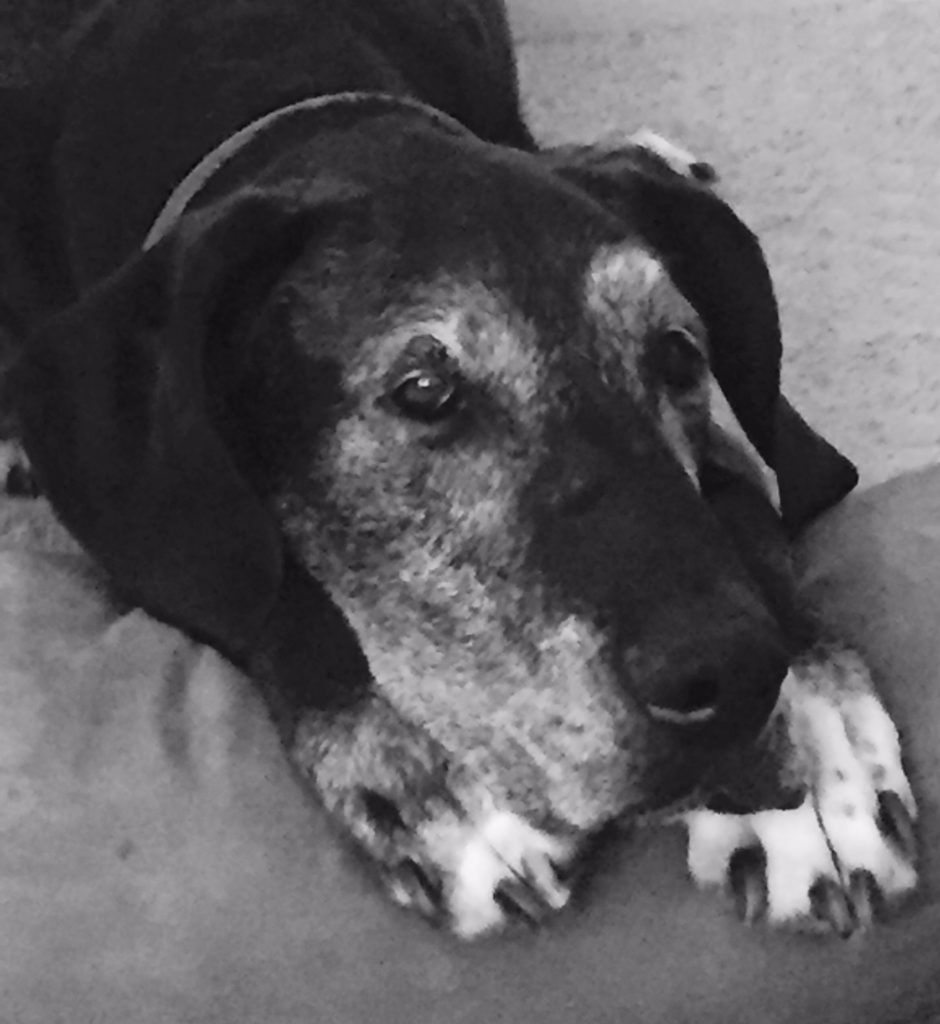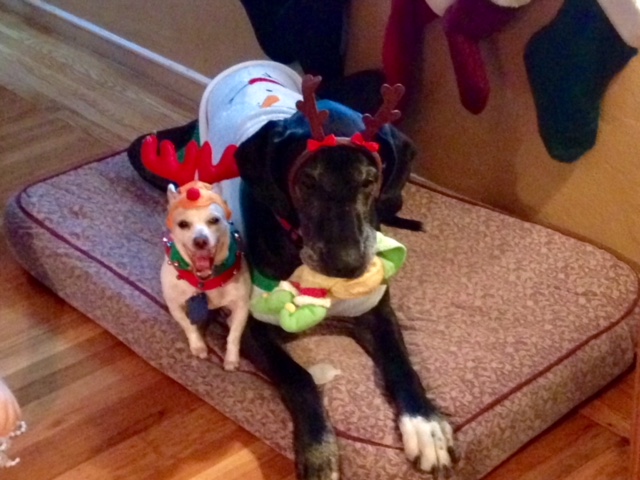 Lorrie Ranck sent us these touching photos of her boy Dash. Here is what she wrote: "We adopted Dash through private adoption via GDRNC, when he was 4 years old. He had serious separation anxiety and a medical issue. We are privileged to have had this sweet soul as part of our family until October of this year. At 12 years old, he was struggling to walk and let us know it was time to say good bye. His goofy self is missed by all."
Our condolences to Lorrie and her family. We thank them for giving Dash a loving home.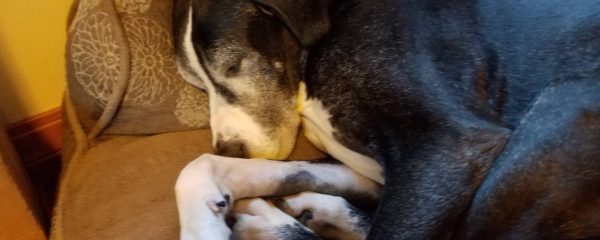 Our condolences to Dottie Poole and her family on the loss of her dear boy Jett. Dottie is a long time adopter and we appreciate the love and care she gave Jett throughout his life, and especially in his final days. Here is what Dottie wrote to us about Jett:
"We said goodbye to Jett on Tuesday. He had a tumor engulfing his greater trochanter, pelvis. It was getting more painful for him to walk or sit or lay down. It was heartbreaking to watch and even more heartbreaking to let go. He gave us so much love and laughter. I have so many great pictures an am not good at loading them from phone to mail. So many wonderful memories. I miss him so and am so glad we shared his life. He was so good for all our family. Even the neighbors were stopping by to make sure Jett was OK when he wasn't doing so well. Everyone loved him".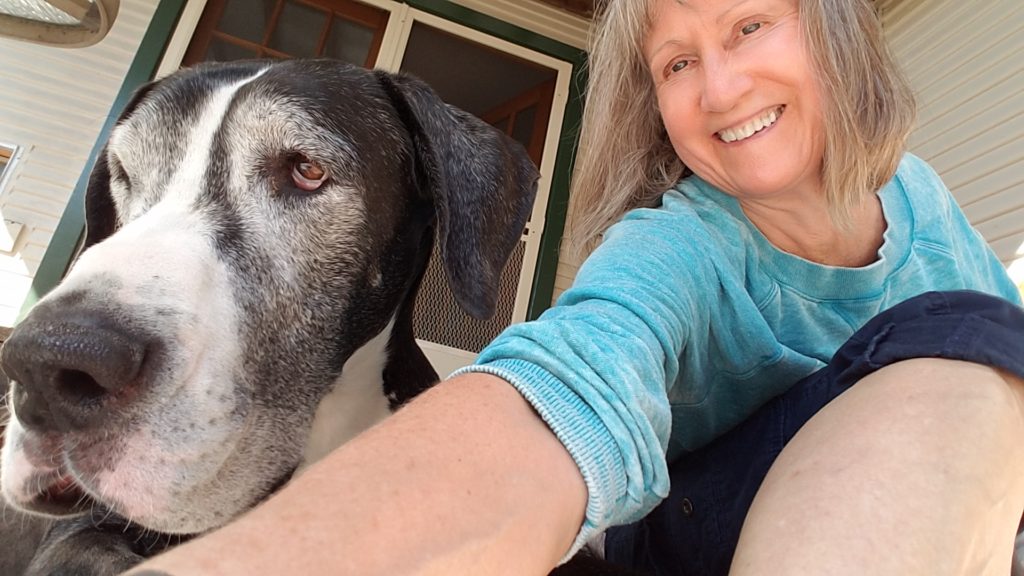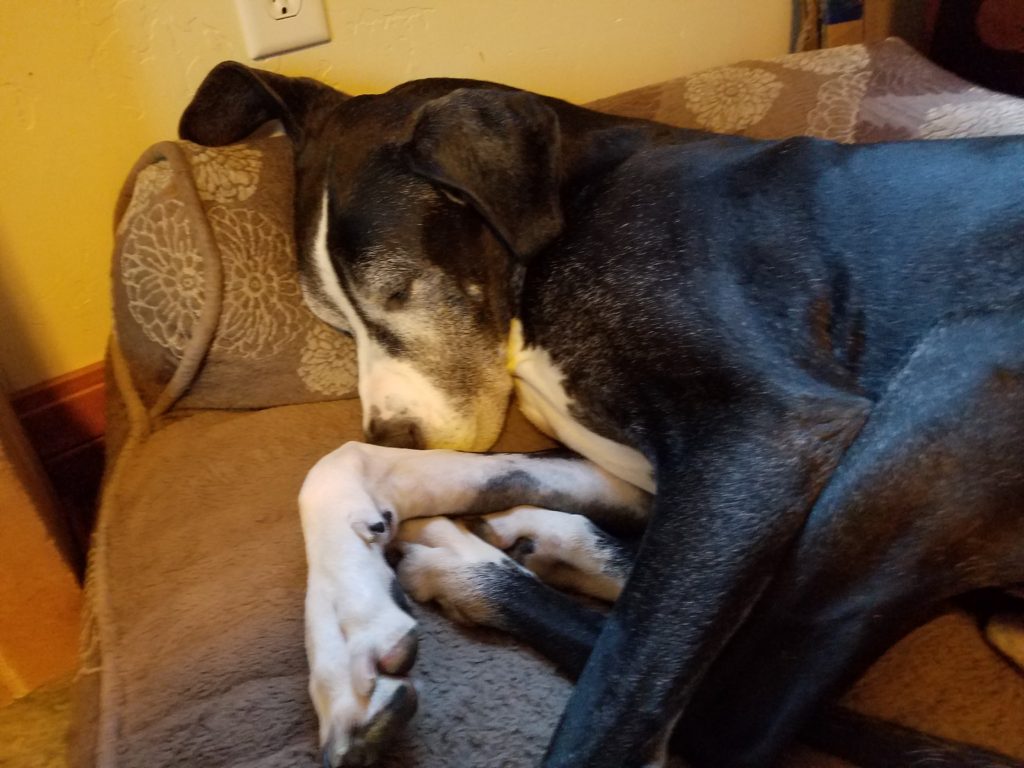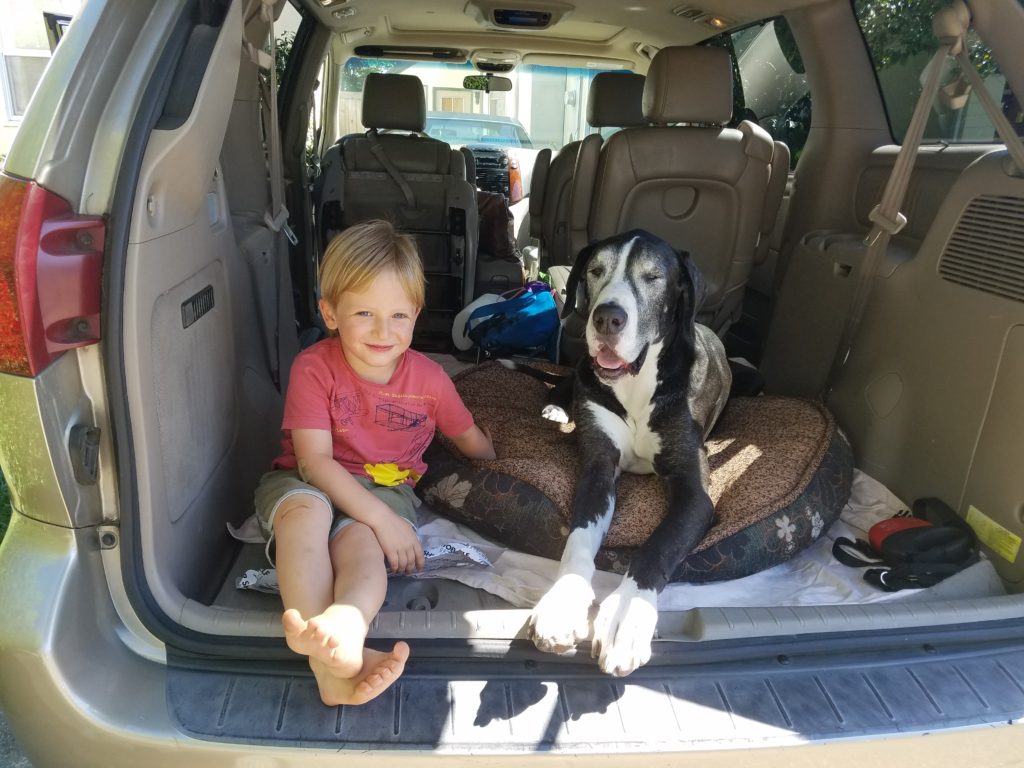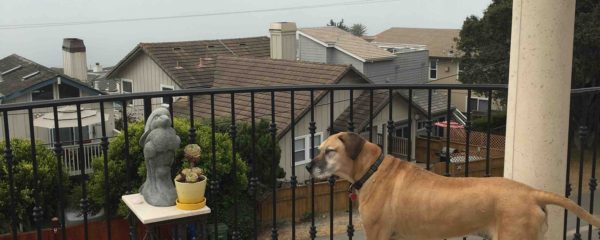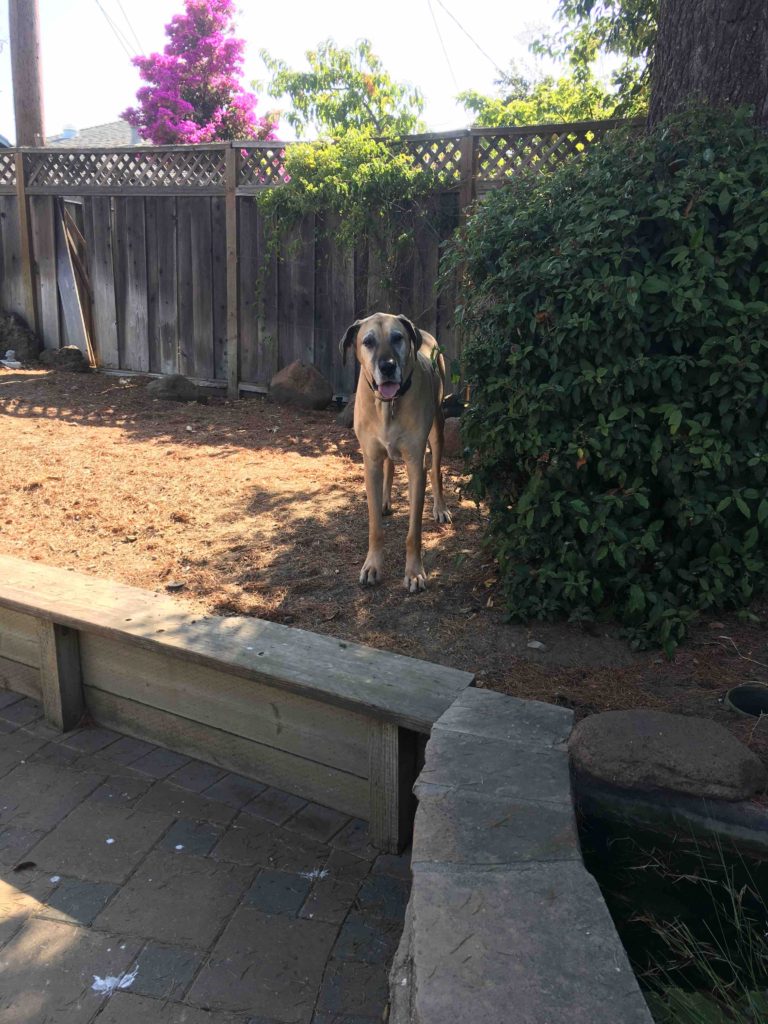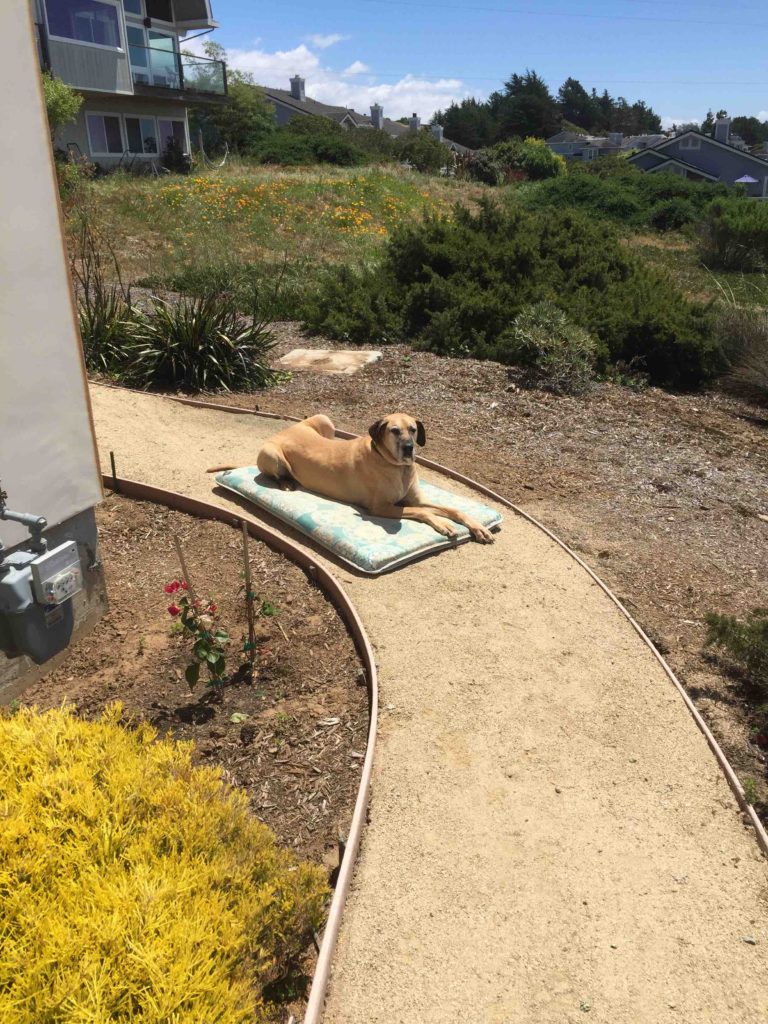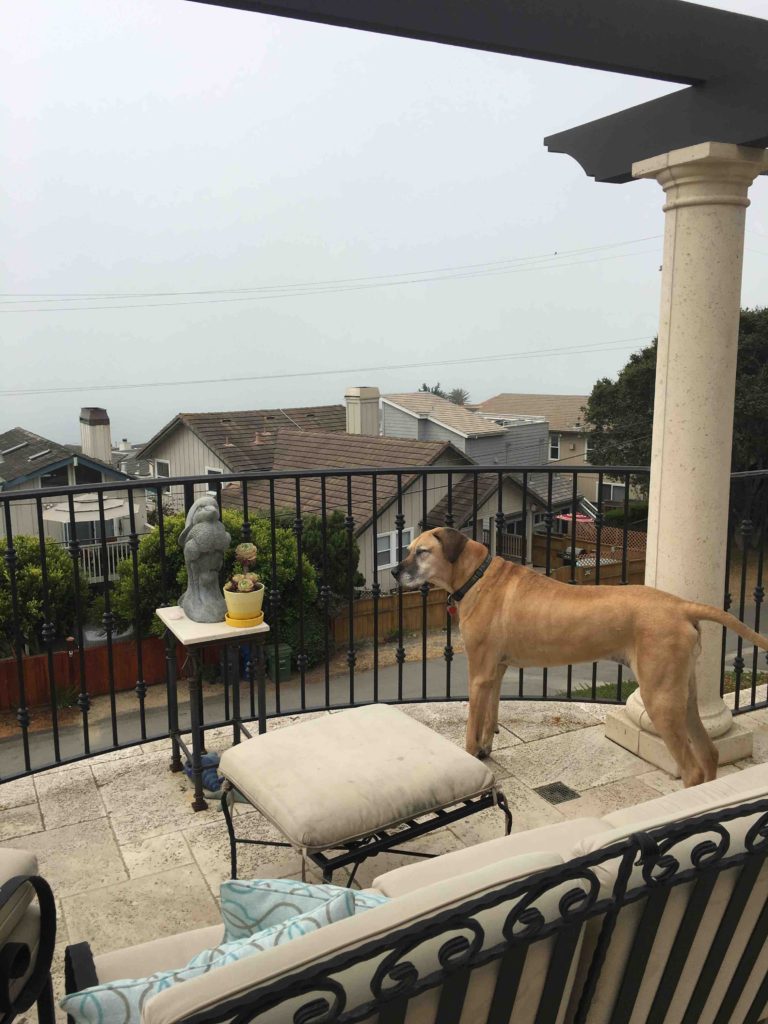 Melissa wrote to us this sweet note to let us know of the passing of her beloved Olympia. Here is what she wrote to us:
"We adopted Olympia as a private adoption advertised on GDRNC website. She was about 5 1/2 years old when we got her and she passed six years later on 8/12/17. We knew she was a special soul the moment we met her. LOVE. We adopted another Dane vis a friend three years ago – a one year old harlequin Dane mix called Ruby – Ruby gave Olympia renewed life and joy for the last three years. Ruby definitely misses Olympia just like us!"
The happy ending to this tribute is that Melissa and her husband Don just came and adopted "Hank" from us last week. So now Ruby has a friend again!