In Memoriam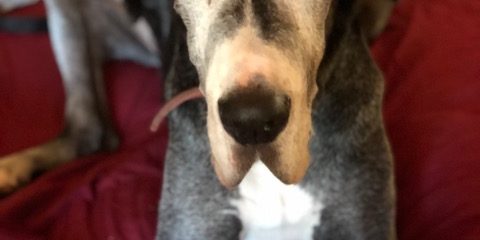 Our condolences to Barbara and Scott on the loss of their ten year old boy Cochise. We will miss all the cute photos Barbara always sent in of Shawnee and Cochise. Here is what Barbara wrote:
Today was the saddest day Our old man drifted away On a soft cloud bristling with treats With his legs still swift Where his tail still beats To the rhythm of his humor And the food schedule
He left too soon We howl at the moon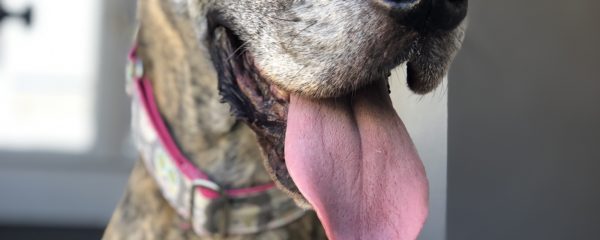 We received this sad note yesterday from Sinee and her family letting us know of MIllie's passing. Millie came into rescue as an older puppy with her brother. Millie was lucky enough for the Halladay family to come meet her and take her home. Here is what Sinee wrote:
" I am writing you with the heaviest heart to share that we lost Millie last Friday, September 20, 2019. It was a very sudden loss as we were out on our walk and she collapsed on the sidewalk. She was 2 months short of celebrating her 7th birthday with us. Our family is devastated but wanted to take a moment to thank you for choosing us to love her 6 plus years ago. She made our family complete. We cherished every moment we were blessed to have with her. Thank you for doing all that you do. All the best, Sinee, Eric, Austin and Amara Halladay "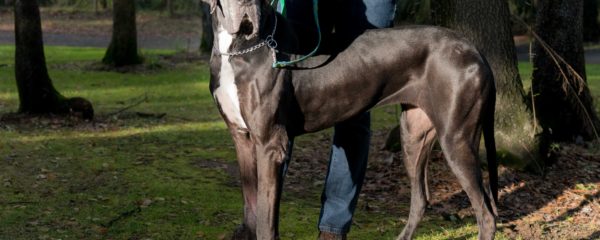 Please read the touching tribute we posted just previous to this from Maggie's mom Julie.
Here is Maggie's story:
Maggie came into rescue a dirty mess. Double ear infection, staph infection on her face and she required a complete mastectomy because of mammary tumors. We placed her in a home but when she, 7 months later, developed Canine Leproid Granuloma (CLG) she was returned. We spent months diagnosing/treating Maggie. During this time she endured countless biopsies, surgeries and vet visits, and never showed anything but a superlative temperament. Just a sweet, loving girl. The vet said amputating her ear (which was ground zero for the CLG) would be "curative", meaning we could avoid months of antibiotics and topical medicines and all the vet visits if we removed the ear and the granulomas. So Maggie became the one eared Great Dane, but this never interfered with her good looks. Julie Meyer saw this one eared girl and recognized her inherent beauty and adopted Maggie. We thought Maggie was cured and would live a normal life after this, which is what we told Julie. We were wrong. About a month or so after her adoption, a new CLG lump appeared and continued to come and go throughout her life. She also developed allergies and was on allergy injections, as well as her horrific bout with pneumonia which Julie mentioned in her memorial. Throughout her time with Maggie, Julie accepted whatever came her way and just loved her girl. She never complained or blamed Rescue for adopting out this "lemon" of a dog. She just felt the joy of living with Maggie. When the lymphoma came on suddenly and virulently, we all hoped chemotherapy would help buy her some time. It really didn't and Julie made the call to say goodbye to Maggie when she started to go downhill. I wish everyone could have met Maggie. I'm not exaggerating her status as Best Dog In The World. She really was. I cannot say enough good things about the angel known as Julie Meyer. 99% of people out there would not have suffered through all the medical problems Maggie had, but Julie did. My eternal thanks goes out to this amazing, wonderful woman. I will never forget Maggie and her example of what we all love about this special breed. Rest in peace sweet girl.
Post ear amputation
Dressing up for Christmas
Gorgeous Maggie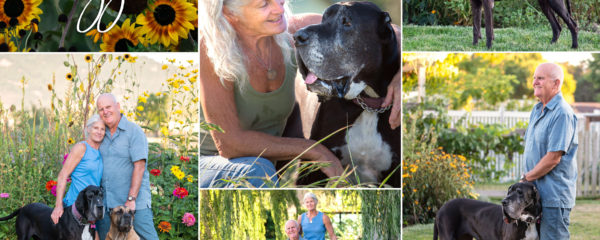 Thanks to Julie Meyer, Maggie's mother, for sending in this touching tribute to her girl. Maggie truely was the best dog in the world.
Maggie Meyer:       B: 12/15/12  D: 9/23/19
Where do I start when describing the years I've had with the most beautiful Dane ever? She came into our lives in the spring of 2015 and warmed our hearts with her sweet and mellow spirit. She loved everyone, human, canine, feline and equine. I could trust her with all the animals and fowl on our little farm.
She had the most strong devotion to me in particular, which I returned equally.
She was my best-est girl.
Maggie suffered from medical issues before and after I adopted her, she never let that her drag her down. Pneumonia almost took her from me not quite 2 years ago, but excellent vet care and her fighting spirt gave us this extra time. She was far too young to die from Lymphoma, and I will miss her always. My gratitude knows no limits to Colleen and Great Dane Rescue of Northern California- who supported Maggie and me unwaveringly through all her health issues.
If the best dogs could live forever- she'd never have left me.
Cause, she was the absolute Best.
Love you always my darling girl.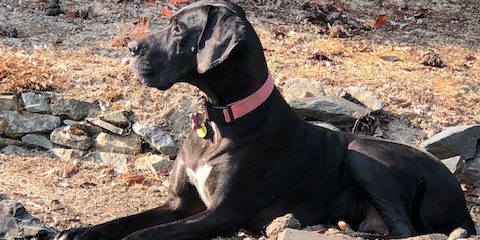 Our sincere condolences to Maxine Gutzman on the loss of her beloved Gracie. Everytime we post a memorial, we think back on our own Dane losses and our hearts go out to others who lose a beloved Great Dane. Here is what Maxine wrote about her girl Gracie:
"This is one of of my greatest sorrows. My love Gracie passed away September 3, 2019. She truly was the love of my life.  She got me through the passing of my husband and two huge moves. Every night I tucked her in with her blankie in my bed. She slept beside me for the last four years.  We always traveled together. She had wonderful manners and was always invited to my friends with me.  I am so heartbroken.  After spending thousands I couldn't save her."

Gracie
Our condolences to Despina and John on the loss of their sweet boy Emerson who died suddenly from a stroke. Here is what Despina wrote about her special guy:
"Emerson was just about to turn 5 when he died on April 29, 2019. He was a sweet, gentle soul whose favorite thing in life was going to the beach and jumping into the ocean. "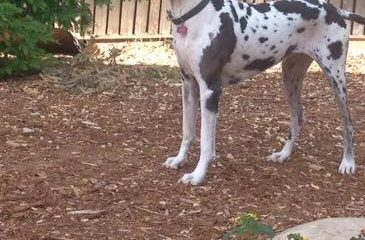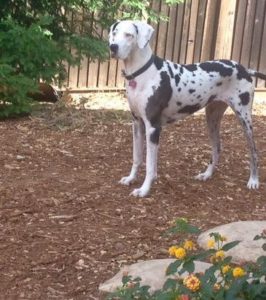 Dana recently let us know her girl Lexie passed away. Here is what Dana wrote to us:

"We adopted sweet Lexie from you 5 years ago and two weeks ago we had to say goodbye to her. I still remember the pitiful "coming soon" picture on your website of her at the Yolo Animal Control where she weighed in at 71 lbs because the previous family had starved her almost the death. I couldn't sleep that night thinking about her sad eyes and emailed you the next morning as I knew she had to be ours. I worried that she'd have lots of health problems from her abuse but all we did was feed her and give her lots of love to return her to the heathy state you see in this photo.
"Lexie could have easily held a grudge against all humans due to her being mistreated but instead she was the sweetest dog who gave unconditional love to us each and every day. We will miss her more than words can express and want to thank you for helping get her out of the terrible situation she was in so we could make the last 5 years of her life so much better than her first 5 years were."
The McNulty family.
We remember Lexie and the horrible condition she was in. It takes a special person to see past the physical and adopt a Dane that needs a loving home. Thank you Dana!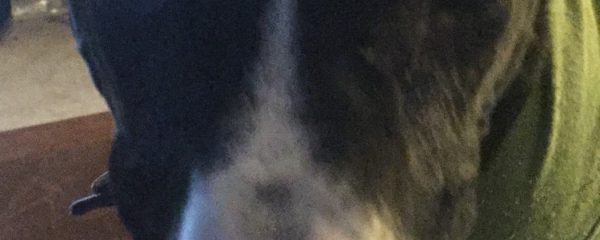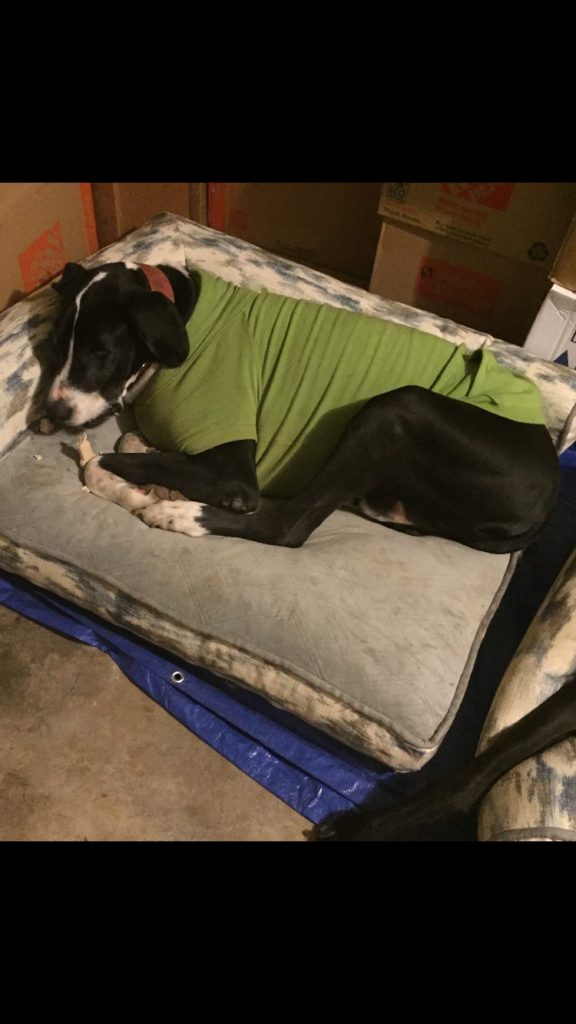 Our condolences to Judy Kiefer-Meyer and Bentley on the loss of their beloved Oreo.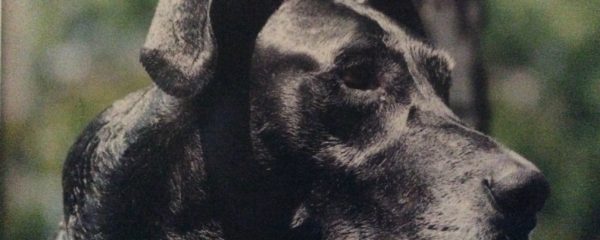 Our sincere condolences to Jim Simpson on the loss of his special boy Luke. You may remember we recently asked for help in finding a wheelchair for Luke. One of our members stepped up and brought him a wheelchair she used for her own Dane who had passed. Unfortunately, Luke just was not strong enough to keep going. Jim contacted us to let us know he had let Luke go.
Here is what Jim wrote to us:
"Luke's pretend birthday was 02/14/2010 (Leya's was 04/01/2010). He was such a love and I just feel empty without all of my babies. Luke passed very gently in my arms, very much ready and very much at peace.
He never once did a single thing wrong in his life time. No chewing shoes, no accidents, never once did he ever not do what I asked of him. Although it took a few years, he did recover from the abuse at the Mill. Although, I'm pretty sure that Leya bossed him out of that one.
Words will never describe how grateful I am to Lori Lynne for coming to our rescue. I am forever grateful to both of you.
I've attached a photo of Ben (my first rescue) as well as a photo of Luke and Leya in their favorite "Yin and Yang" position. And even though my girl bossed him around so much, they absolutely loved each other. Thank you for trusting me to adopt all three of my babies. I will never forget the experience of being guardian to each one of them."
These three Danes were very lucky to have lived with Jim. A better Dad is not out there!
Please keep Jim in your thoughts during this difficult time.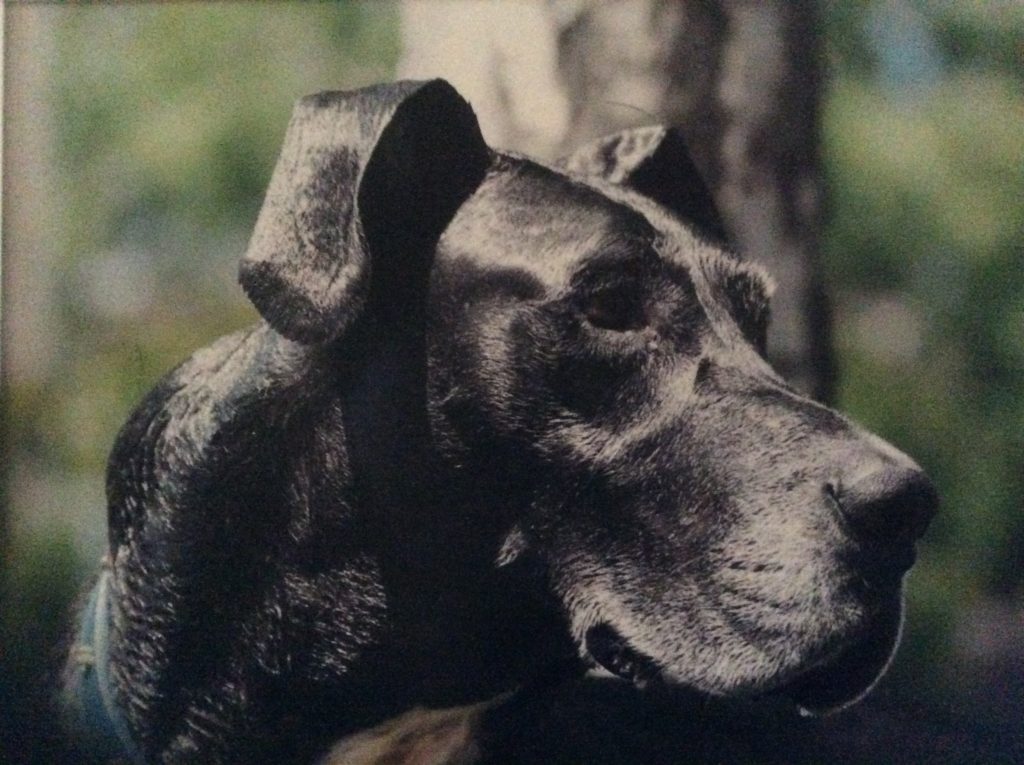 (Luke)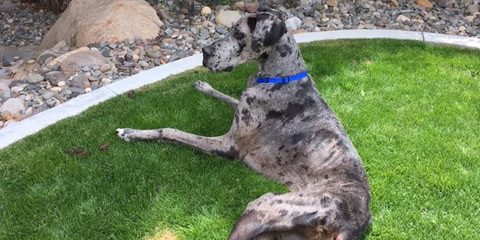 Our condolences to the Mason family on the sudden loss of their very special boy, Leo. Leo was just five years old when he passed and Maureen had adopted him from Rescue approximately two years ago. Leo came into foster care with Karen in Reno weighing just 95 lbs. He was a sad, skinny boy. Karen got him up to 108 lbs on a special diet. He never seemed to be able to surpass this weight. The doctor did numerous testing on Leo to try to explain his weight, but nothing came back abnormal. But this did not stop Maureen Mason from adopting him. She saw past his weight and loved the wonderful boy inside.
Prior to his passing, Leo was diagnosed with Addison's disease and unfortunately stopped eating, and a day and a half later passed. He was happy and active in his loving home for almost two years.
To add to their sadness, the family had recently lost their other Dane, Bella Katie, to heart failure at the age of seven. Katie was a shy girl that flourished under Maureen's care. She was loved and cherished for almost three years by the Masons.
This is a special family that loves Danes, and are willing to go the extra mile for a Dane that need a home. Maureen said this is the first time in many years they are dog-less.
Photos Below:
Leo in foster care.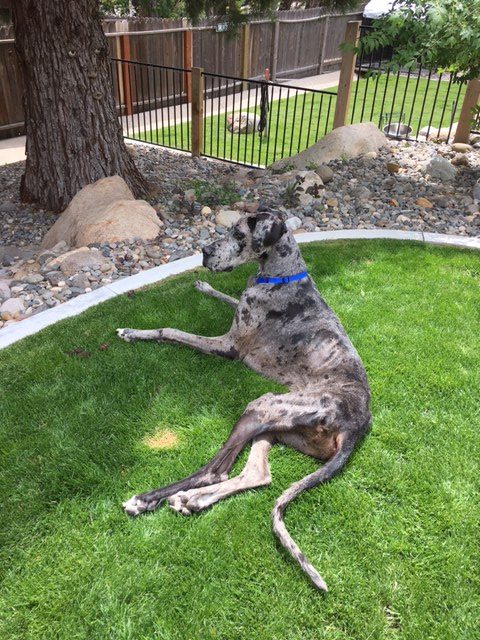 Bella Katie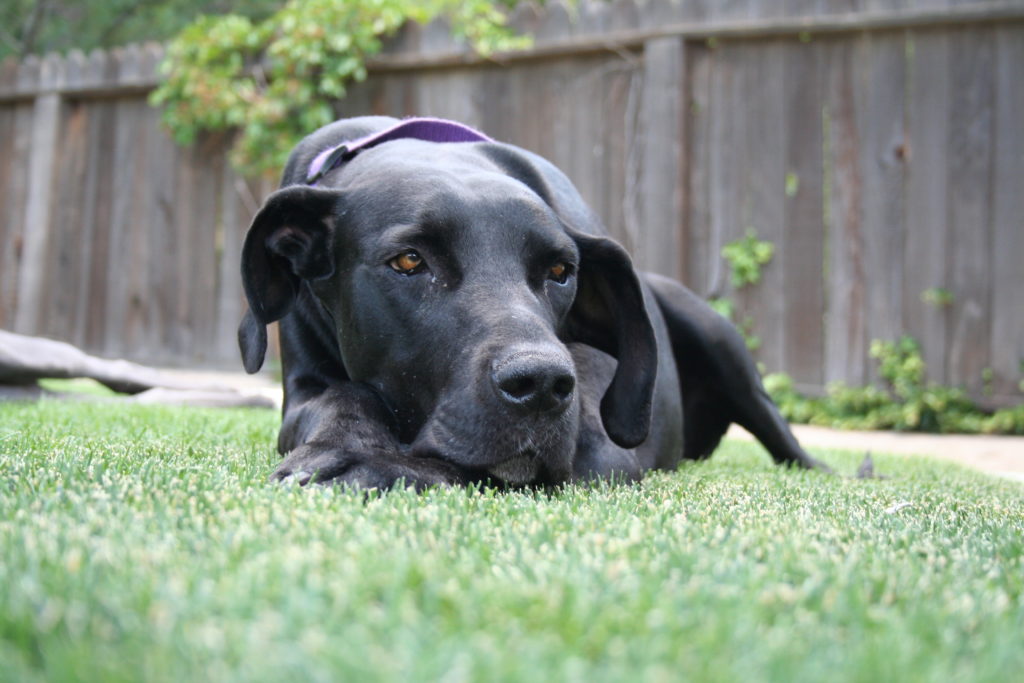 Leo and Bella Meeting