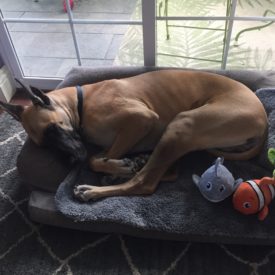 Dory – Adopted!
Dory (formerly Dolly) is in her new home and is settling in. Dory came to us months ago a very unsocialized, skittish girl. After a failed attempt in a new home (owners felt she was not bonding with them quick enough), Karen and her Dane boy Michael, took Dory into their home to get her ready for a new home. Karen worked hard on Dory's socialization and was able to find out more about this pretty fawn girl to determine the exact home she would do well in. After a few months with Karen and Michael, the Mason family came and adopted her. The Mason's had recently lost their Great Dane they adopted from us named Leo, and were ready to give Dory a chance. Here is what Maureen Mason wrote to us when she sent us this cute photo:
"She's doing great. Eating well. She and I have really bonded. Now she's getting comfortable around Gary. Still a bit skittish around Ryan but we're working on it. She did chase the chickens so we'll have to work on that. Dory is a sweet girl. I've started taking her for longer walks in the outer acreage."
Thanks to the Mason family for not expecting a perfect Great Dane, but could see the potential in Dory.