Happy Homes
If you would like to share your Great Dane adoption experience and photos, please send them directly to 
[email protected]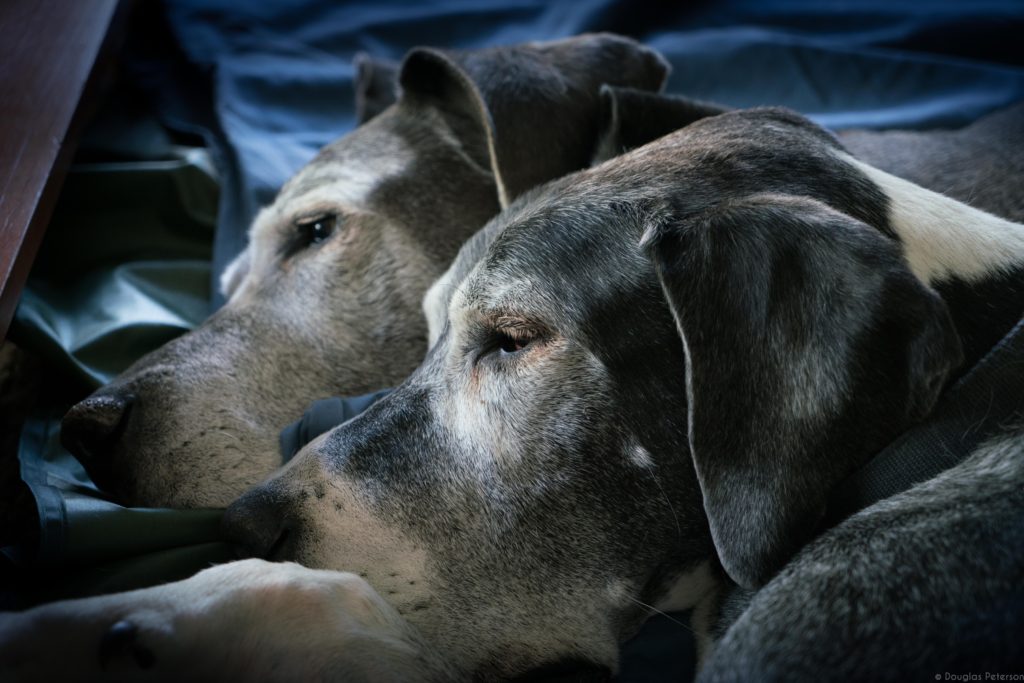 Mr. Sampson and LuLu
This slideshow requires JavaScript.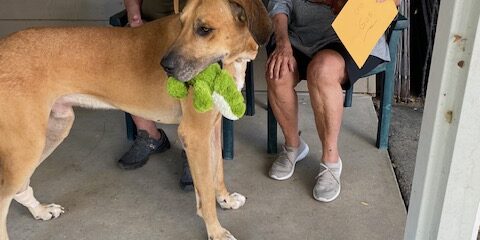 Otto's new parents brought him the green stuffed toy as a "welcome to the family" gift. Now all three are on their way back to Nevada to show Otto his new home!
Stevie was adopted first, then the puppy Bodie came into Rescue and followed Stevie to the Cooks home where they are living what every dogs life should be! Stevie, the black girl just turned ten, and the harlequin clown Bodie is five. Stevie had a horrible life before coming into Rescue and then she went to the Cooks who spoin her like she should be. Bodie is just the goofy boy who loves to stretch out on the couch in any position he likes!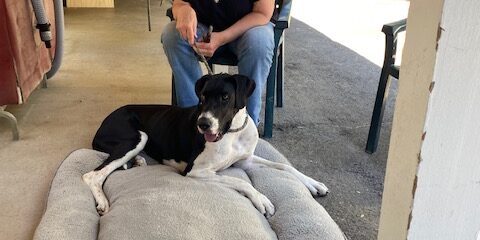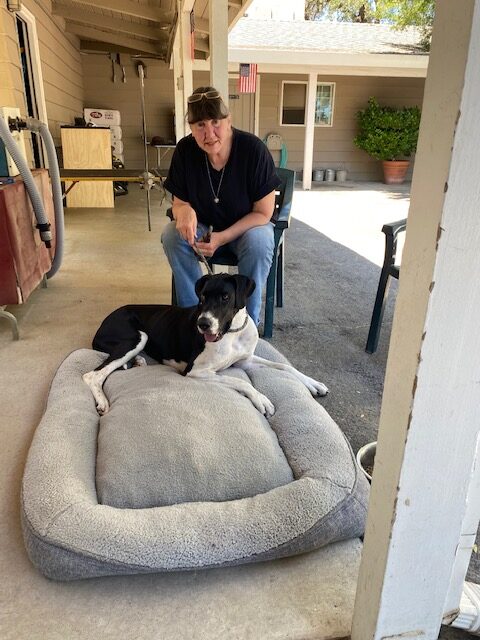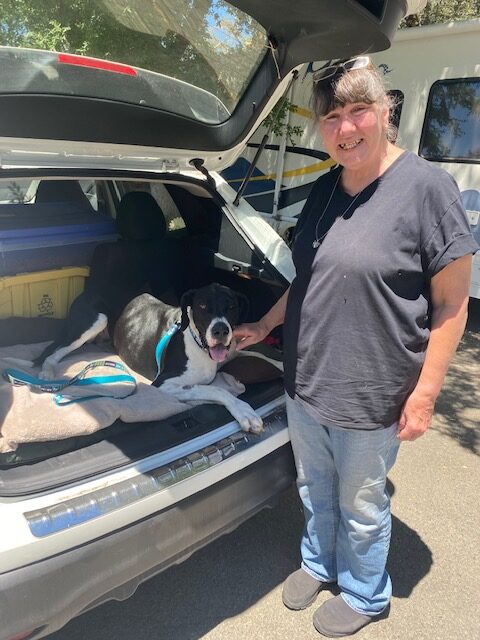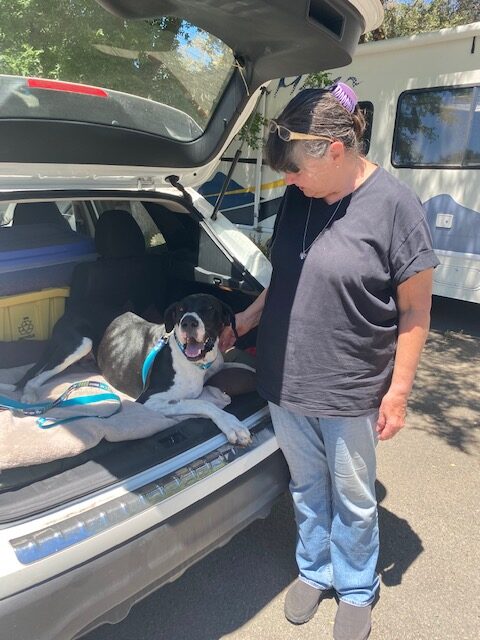 snoopy (Gladys) was lucky enough to be adopted by Georgia, long time Dane owner who reports Gladys is a dream Great Dane and has settled in well. Thanks to Georgia for making the long drive to add Gladys to her home!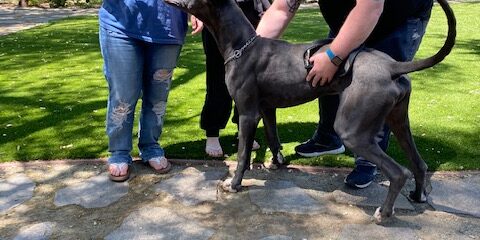 Thanks to the Carlson family for adopting our big boy!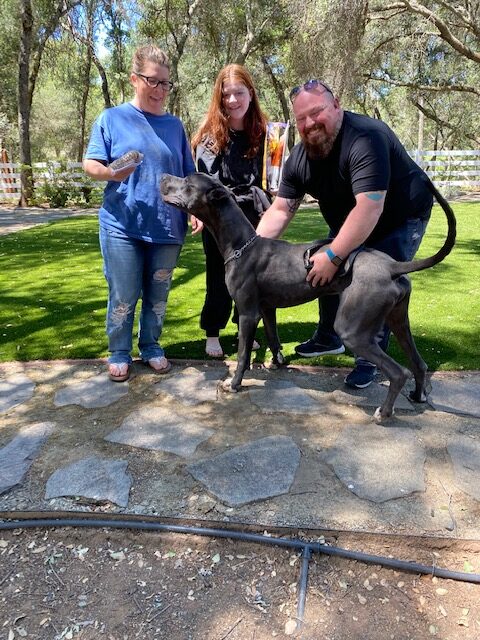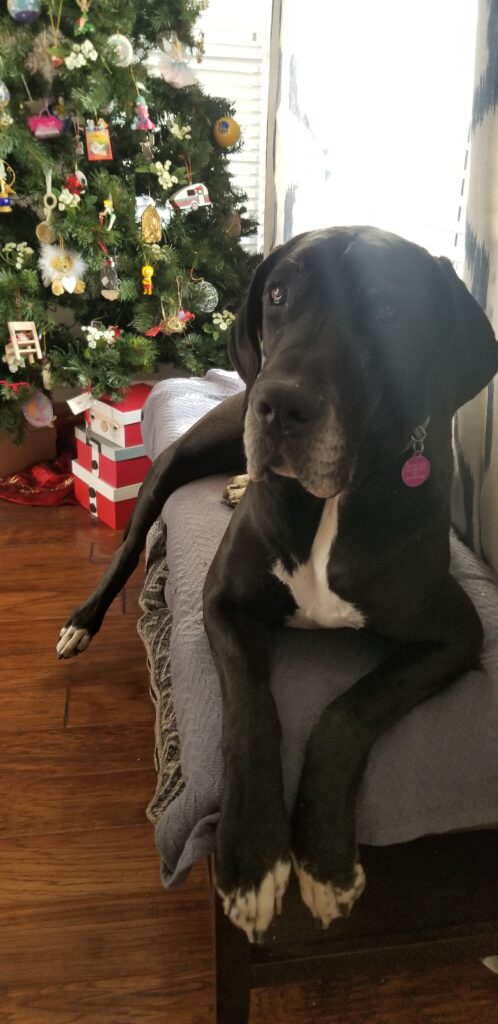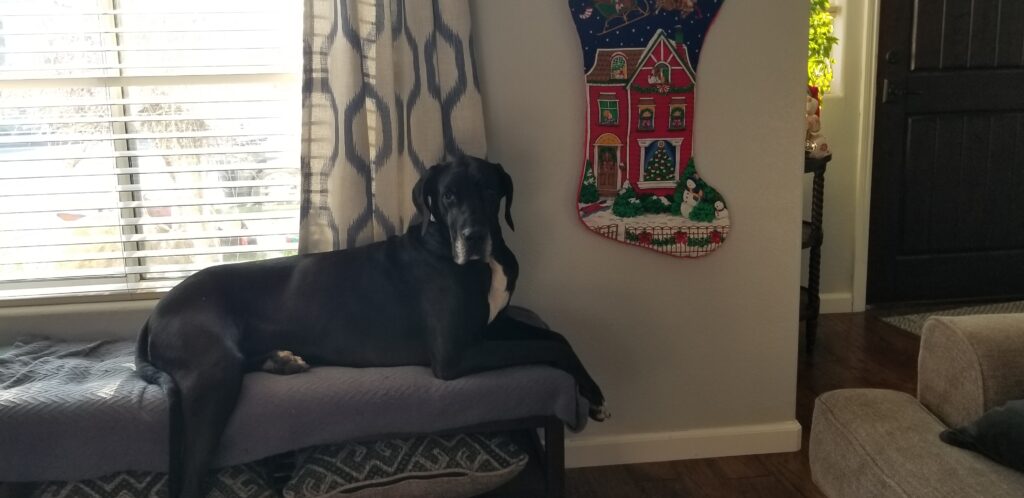 March 14thwwas Missy's "Gotcha Day" Elaina is a long time rescue dog owner and friend to our organization. Missy Mittens took some time to settle in, but Elaina persrvered and made it work. she never gave on her M and M.
Here is what her great owner Elaina Hernandez wrote to us on her Gotcha Day:
"2 years ago I picked her (Missy Mittens) up from the Rescue Kennels.
In the past 2 years with us Missy has completed and passed 2 times her Canine Good Citizen (we test yearly to keep up)
She still enjoys fungility classes and mastered the tunnel. We still go on sundays to our Continuing good manners classes.
She continues to go to doggy daycare with her hairy little brother and WITHOUT him to help with her separation anxiety. She also stays home once a week at home with out her little hairy brother to help with her separation anxiety and this has helped. And a few meds to help sometimes but in the past 3 months we've been able to leave her with either me or her dad without any meds and with Ricky gone. Shes coming along nicely but we still are constantly working either anxiety
Shes made lots of friends humans and doggies. I love seeing her get excited when she see them.
She celebrated her 4th Birthday November 11
She got to go to her dad's favorite place.. south lake tahoe for the first time and she loved people watching and getting pets from strangers
Shes survived her dad having a stroke and our house remodel.
Shes settled nicely in her new forever home we love her so much!
Thank you for letting me adopt this bug headed girl!"
Elaina Hernandez
Thanks to long time GDRNC adoptors Carl and Jeanette for adopting Joey.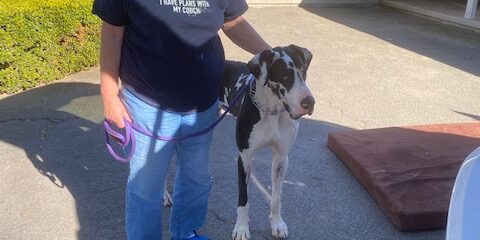 Thanks to Nancy and Sean for making the long trip to adopt Bailey!
It took me awhile to post Coco's going home photos! But Baxter is in a great home and very happy as you can see from these current photos: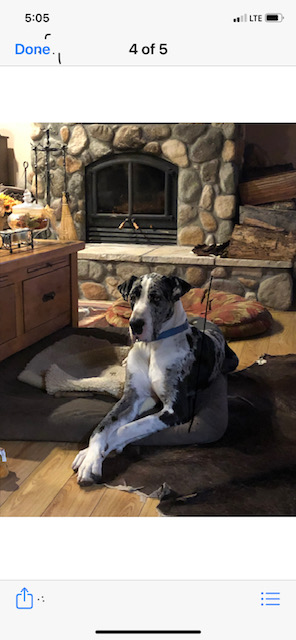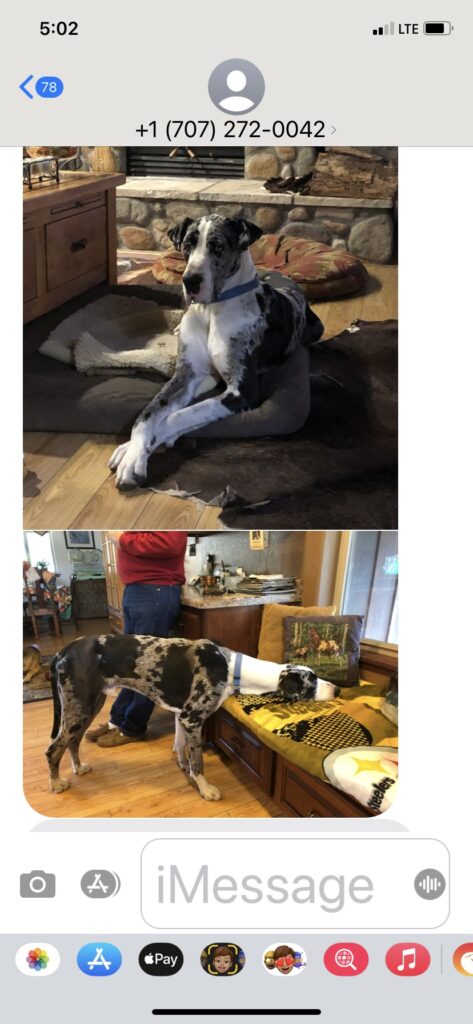 Another great baby and Dane photo from the Rovegno family!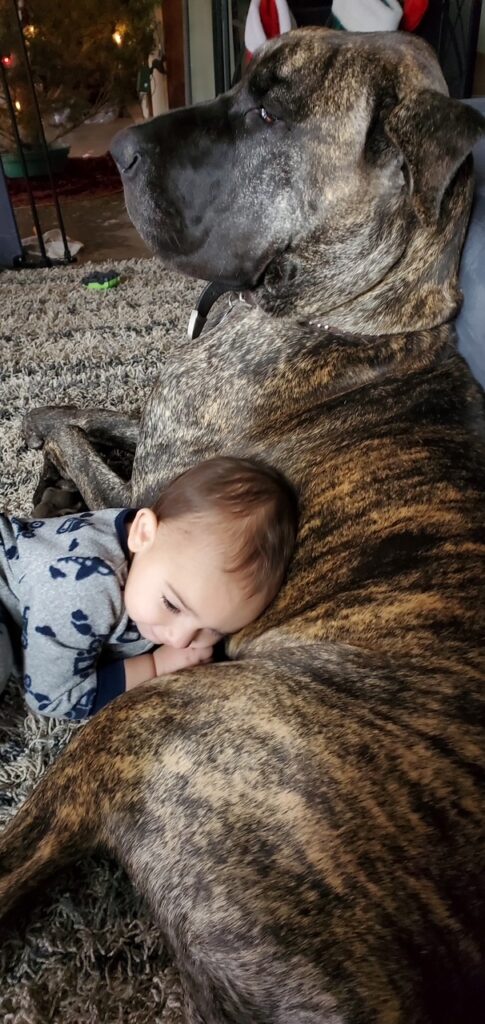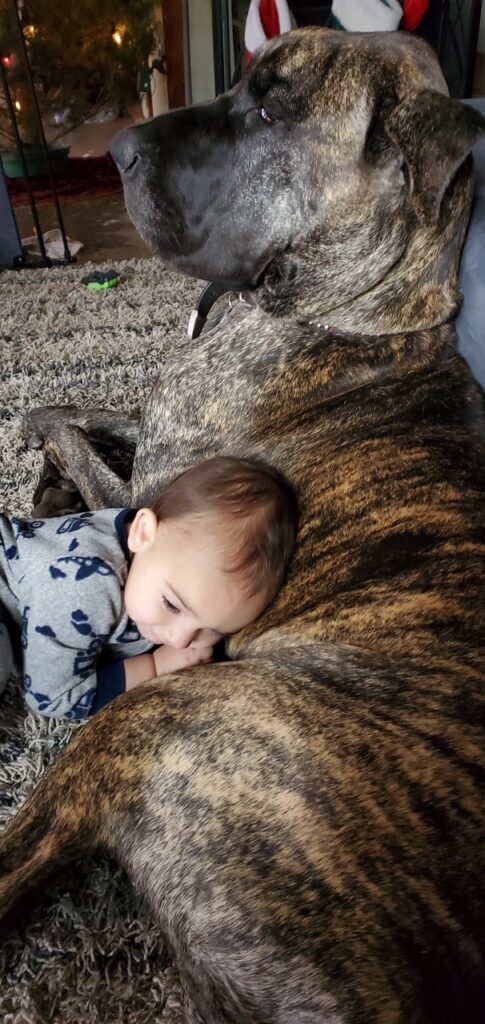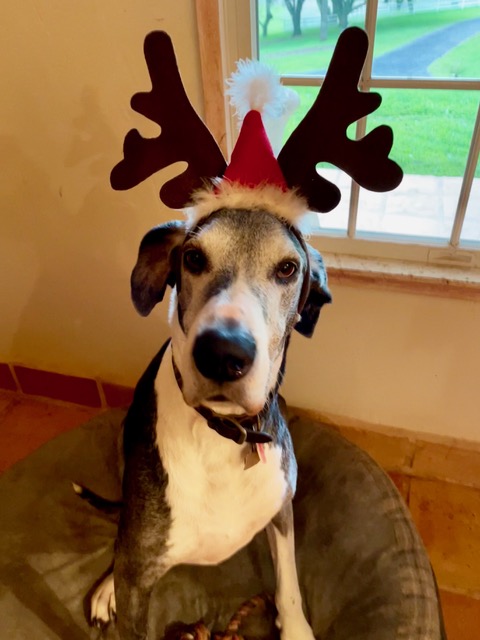 Love those grey faces!