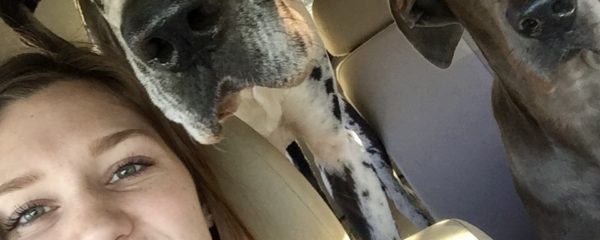 Thanks to Nikkie for adopting Grace and sending these really cute photos of Grace and Max. Here is what Nikkie wrote to us about Grace:
"Grace is quite the character; she has a ton of personality! She has gone from wanting nothing to do with us or Max to needing to constantly be in some sort of physical contact with us. She is a cuddler! Her most favorite thing to do in the whole wide world is play chase. She LOVES to run! She likes to be the chasee, not the chaser, so she will instigate Max into chasing her. Grace has also finally learned how to interact with toys and Max. Before, she would steal toys away from him and go play with them by herself but now she will pick up a toy, bring it to him and they will play tug of war. It has been so exciting watching her grow into who she has become. Grace has made leaps and bounds as far as her anxiety, however, at times she does still show some signs of anxiety. I'm not sure if it will ever get completely out of her, however, she is very responsive to direction. So when I see her pacing around, I will simply give her a command and without hesitation she will immediately do whatever I have directed and she will then be fine."
Thanks to Nikkie for working with Grace to make her the companion she wanted. Sometimes Rescue dogs take some work to settle in and we appreciate the owners who are willing to go the distance.