In Memoriam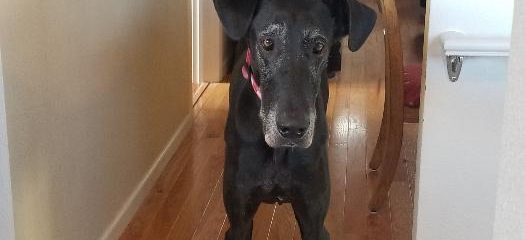 Lucy's owner, Elaina Hernandez, sadly let us know her long legged sweet girl has passed. We thank Elaina for being a wonderful mother to Lucy and for all she has done for Rescue. Here is what Elaina wrote:
"Heya! Well, our nervous Lucy LooHoo crossed the rainbow bridge yesterday about 3pmish.Back in October she bloated with torsion had surgery and didnt have to have any  intestines or stomach removed she was just drained washed and flipped back into regular position and my vet tached her stomach since she wasnt tacked with her spay. But yesterday she became ill again and bloated again =/The hard descion had to be made and we SAID OUR GOODBYES and our vet sent her over the rainbow Bridge with myself and my spouse Drew Lucy's Boo, and our Mama Wolf, our trainer and doggy daycare owner whom I had had the pleasure to be a Client and fam-damily member for the past 20 years by her side! Lucy's favorite peopleThis past week was my bday and we took her and her Pomsky brother to yosemite and stayed in a cabin for a few nights, monday night she ran the the Fungility course at our class.  And she did her favorite thing the tunnel like 6 times! She went out with bang!!!She made it 8, my sweet special girl who's mom was abandoned in that barn! Colleen  thank u so much for giving me the lifetime opportunity of being Lucy's FUREVER home since she was about 14 weeks old.She will be SO missed BUT NEVER FORGOTTEN.  That girl TAUGHT ME SO MUCH, that I'm a better dog mom now because of our lessons together! Just wanted to update u since we hadn't emailed in awhile.When I ready, I will for sure contact u for another Sweet girl  needing a furever homeGreat Danes rule!"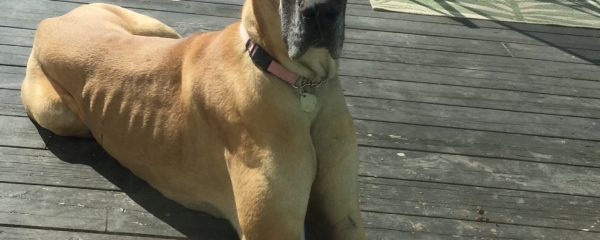 We just got this sad note from Maureen and Gary that their beloved Dori passed away. Our deepest sympathies to Maureen and Gary on their loss. Dori was the third Dane adopted from us. All three had issues, but Maureen and Gary worked through/accepted them and the Danes lived a happy life filled with love.
Here is what Maureen wrote: "Just reaching out to you to let you know we lost Dori.  It was actually a weeks back but I've had a hard time talking about her until recently.  We noticed she wasn't as playful then a couple of days later she seemed to be breathing harder after our walk.  So I took her in to the vet who sent me up to the Veterinary Specialty Clinic in Central Point, OR which he said was on par with UC Davis.  Three hours later I was bringing her body back to bury.  I know I was in disbelief.  The vet said she had a growth around her heart (which she thought was most likely cancerous) that had burst.  They drained 3 liters of blood from her lungs but couldn't save her.
She was such a sweet, beautiful girl.  For weeks every time I went out the front I expected to see her coming around the side of the house to go for our walk.  We buried her out in the upper pasture where she loved to run so every time I walk the loop I talk to her.  I still miss her.  I'm glad we had her with us for the time we did but it was much too short.
So sorry to send sad news. "
Maureen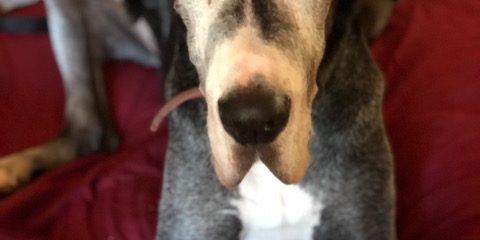 Our condolences to Barbara and Scott on the loss of their ten year old boy Cochise. We will miss all the cute photos Barbara always sent in of Shawnee and Cochise. Here is what Barbara wrote:
Today was the saddest day Our old man drifted away On a soft cloud bristling with treats With his legs still swift Where his tail still beats To the rhythm of his humor And the food schedule
He left too soon We howl at the moon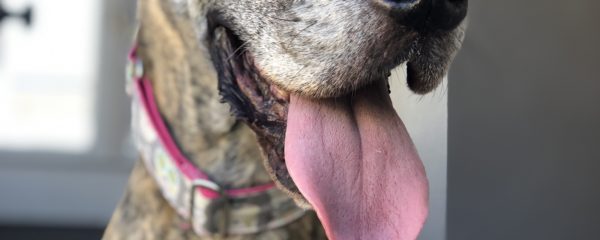 We received this sad note yesterday from Sinee and her family letting us know of MIllie's passing. Millie came into rescue as an older puppy with her brother. Millie was lucky enough for the Halladay family to come meet her and take her home. Here is what Sinee wrote:
" I am writing you with the heaviest heart to share that we lost Millie last Friday, September 20, 2019. It was a very sudden loss as we were out on our walk and she collapsed on the sidewalk. She was 2 months short of celebrating her 7th birthday with us. Our family is devastated but wanted to take a moment to thank you for choosing us to love her 6 plus years ago. She made our family complete. We cherished every moment we were blessed to have with her. Thank you for doing all that you do. All the best, Sinee, Eric, Austin and Amara Halladay "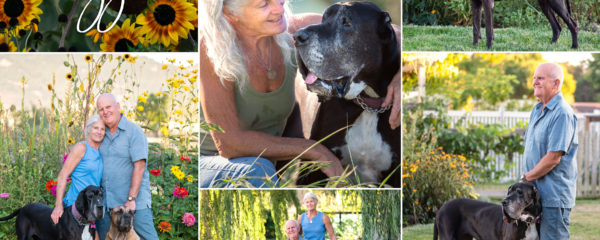 Thanks to Julie Meyer, Maggie's mother, for sending in this touching tribute to her girl. Maggie truely was the best dog in the world.
Maggie Meyer:       B: 12/15/12  D: 9/23/19
Where do I start when describing the years I've had with the most beautiful Dane ever? She came into our lives in the spring of 2015 and warmed our hearts with her sweet and mellow spirit. She loved everyone, human, canine, feline and equine. I could trust her with all the animals and fowl on our little farm.
She had the most strong devotion to me in particular, which I returned equally.
She was my best-est girl.
Maggie suffered from medical issues before and after I adopted her, she never let that her drag her down. Pneumonia almost took her from me not quite 2 years ago, but excellent vet care and her fighting spirt gave us this extra time. She was far too young to die from Lymphoma, and I will miss her always. My gratitude knows no limits to Colleen and Great Dane Rescue of Northern California- who supported Maggie and me unwaveringly through all her health issues.
If the best dogs could live forever- she'd never have left me.
Cause, she was the absolute Best.
Love you always my darling girl.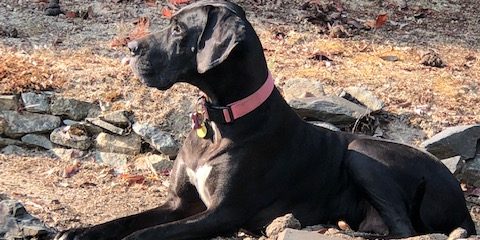 Our sincere condolences to Maxine Gutzman on the loss of her beloved Gracie. Everytime we post a memorial, we think back on our own Dane losses and our hearts go out to others who lose a beloved Great Dane. Here is what Maxine wrote about her girl Gracie:
"This is one of of my greatest sorrows. My love Gracie passed away September 3, 2019. She truly was the love of my life.  She got me through the passing of my husband and two huge moves. Every night I tucked her in with her blankie in my bed. She slept beside me for the last four years.  We always traveled together. She had wonderful manners and was always invited to my friends with me.  I am so heartbroken.  After spending thousands I couldn't save her."

Gracie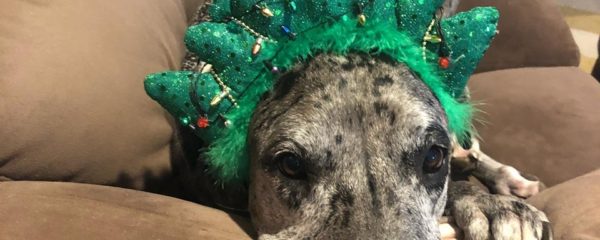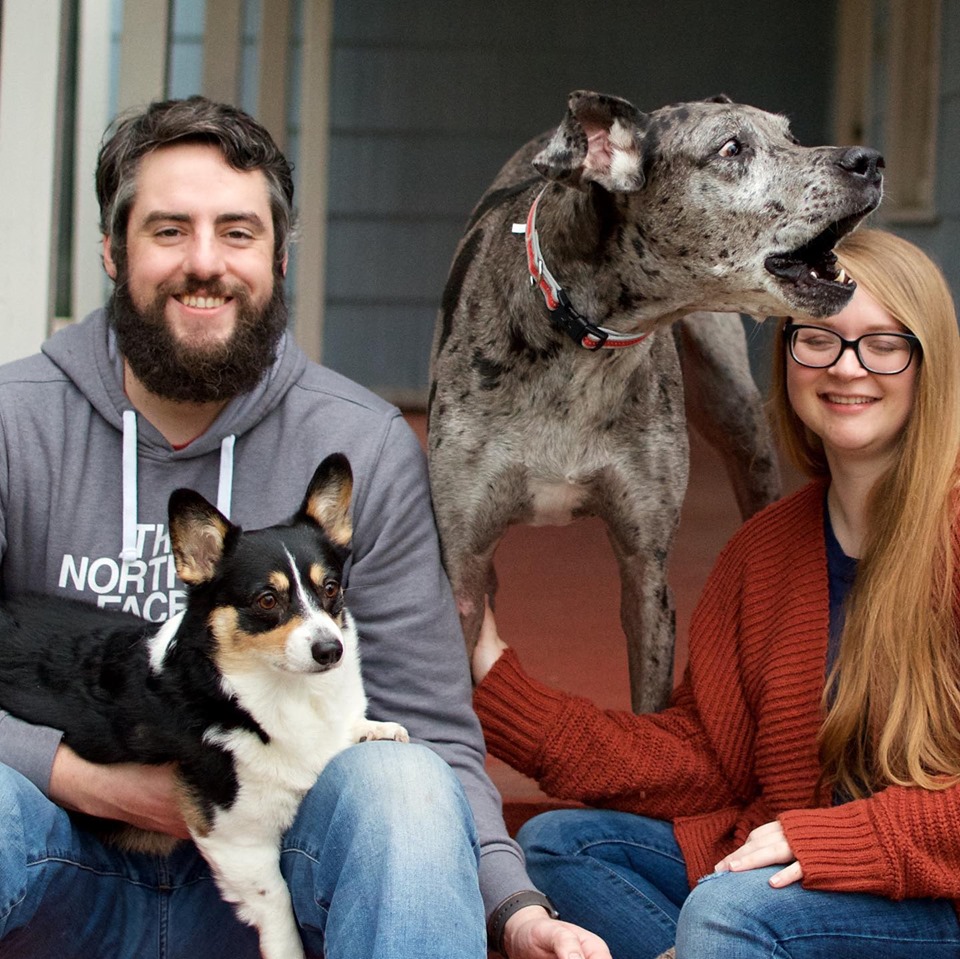 Alyssa and Ben adopted the sweetest Brooklyn from us several years ago. We received this note from them this week letting us know of Brooklyn's passing. Our sincere condolences to Ben, Alyssa and Charlie on the loss of their wonderful family member, Brooklyn. She was one lucky girl to have such a loving family.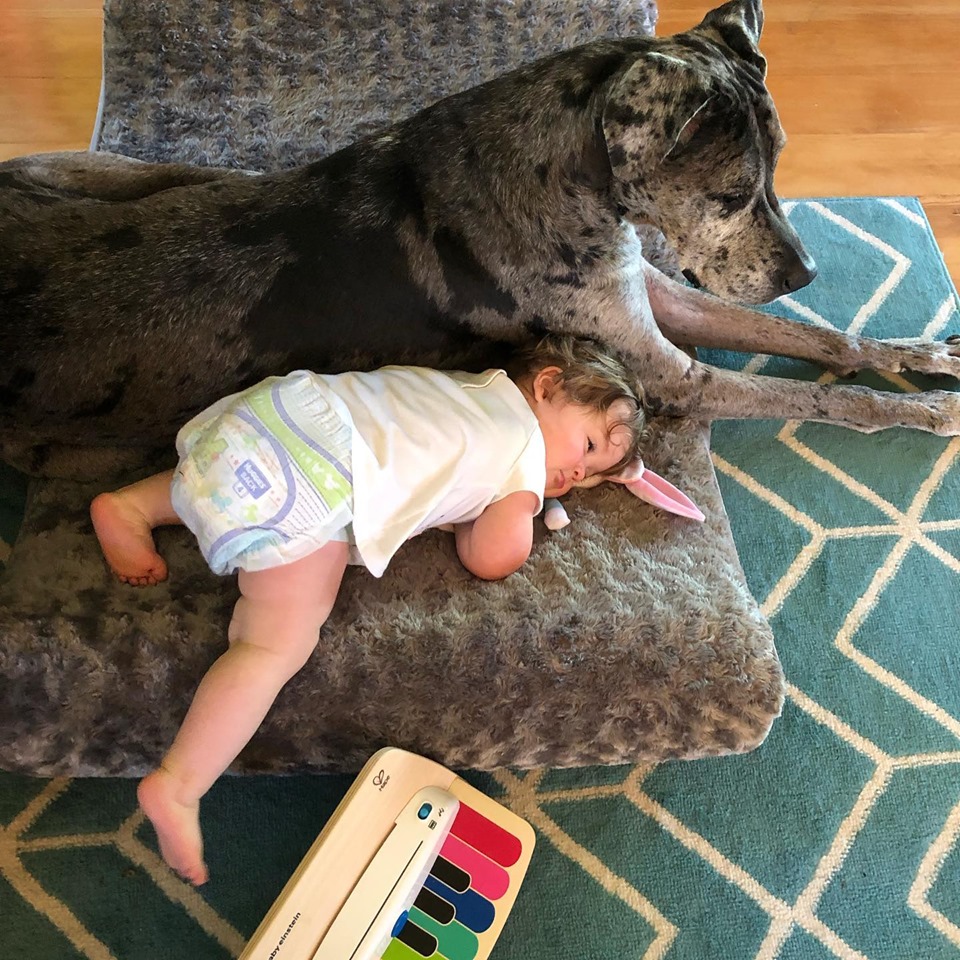 I was lucky enough to adopt Brooklyn from you about three years ago. Unfortunately, I'm e-mailing to let you know that she passed away last week. She was diagnosed with a heart condition about a month ago. She responded well to medication initially, but soon began to suffer. We were with her as she passed and it was very quiet and peaceful. Our hearts ache for her – she became a part of our family immediately, and it feels likes she was with us much longer than three years. Early last year, we welcomed a baby girl named Charlie and Brooklyn became a big sister. She was so loving and patient with Charlie. Always hanging out underneath her high chair, waiting to clean up any left over peas. 
She was such a sweet, goofy girl. So easy going and lovable. To say she will be missed is a huge understatement. We are so lucky to have the time with her that we did and we'll always treasure our memories with her.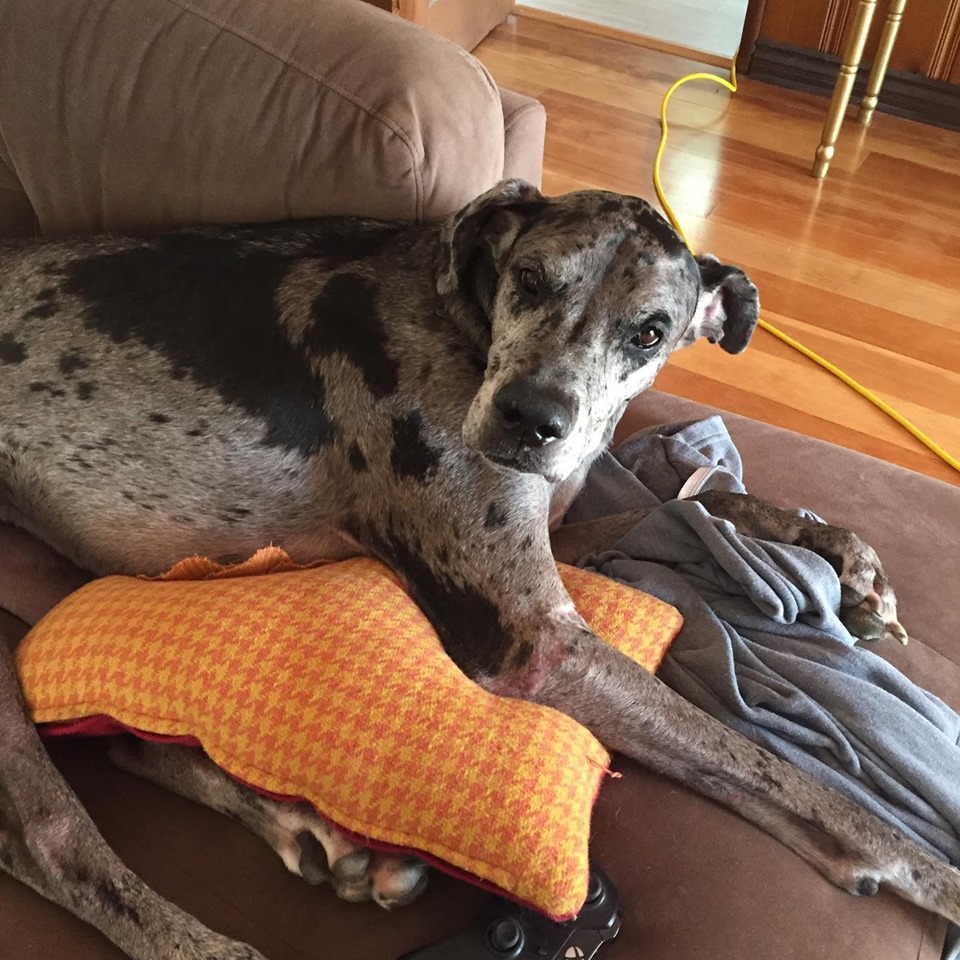 Thank you and GDRNC so much for everything you do, and allowing sweet Brooklyn into our lives.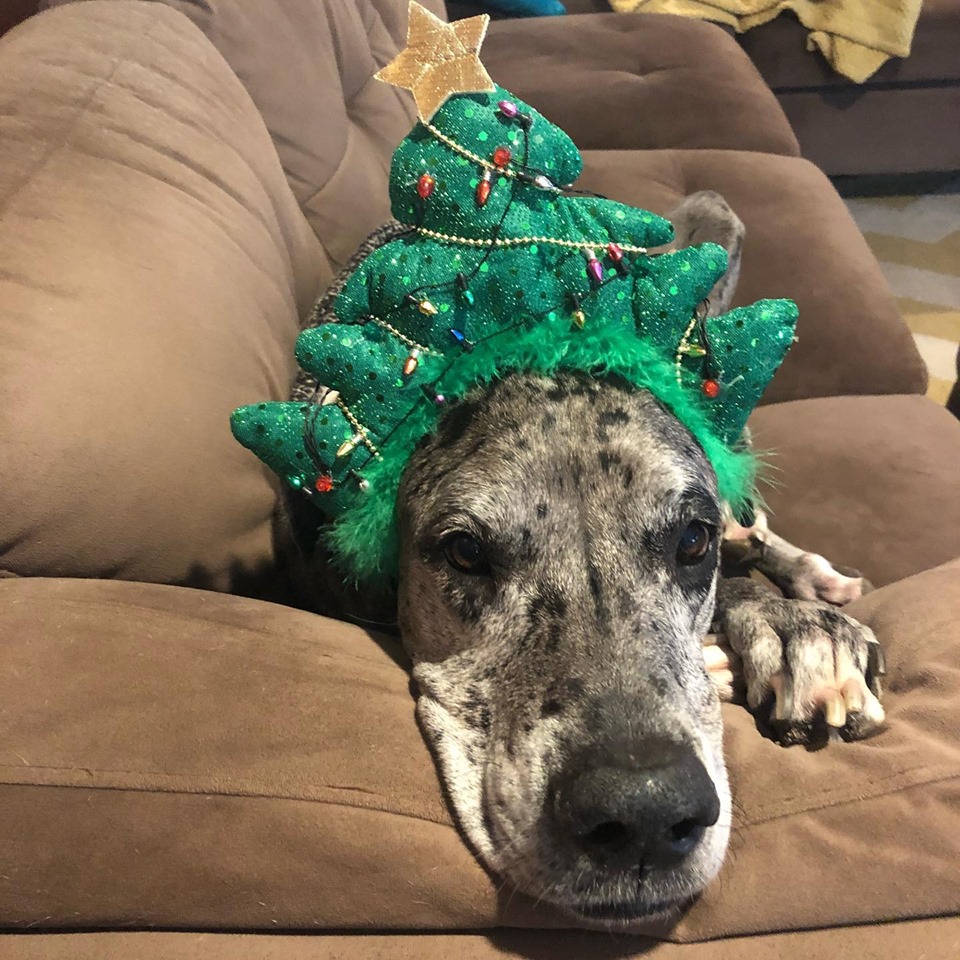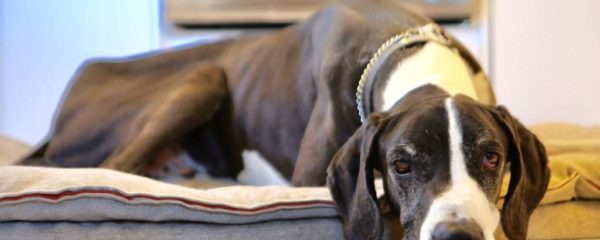 Our condolences to Despina and John on the loss of their sweet boy Emerson who died suddenly from a stroke. Here is what Despina wrote about her special guy:
"Emerson was just about to turn 5 when he died on April 29, 2019. He was a sweet, gentle soul whose favorite thing in life was going to the beach and jumping into the ocean. "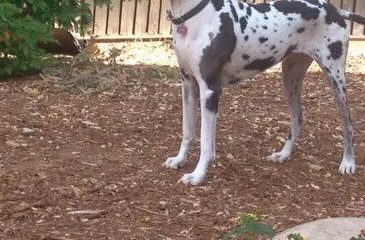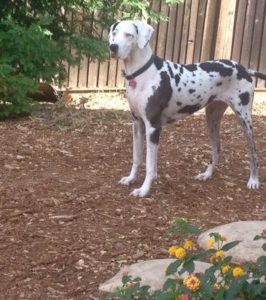 Dana recently let us know her girl Lexie passed away. Here is what Dana wrote to us:

"We adopted sweet Lexie from you 5 years ago and two weeks ago we had to say goodbye to her. I still remember the pitiful "coming soon" picture on your website of her at the Yolo Animal Control where she weighed in at 71 lbs because the previous family had starved her almost the death. I couldn't sleep that night thinking about her sad eyes and emailed you the next morning as I knew she had to be ours. I worried that she'd have lots of health problems from her abuse but all we did was feed her and give her lots of love to return her to the heathy state you see in this photo.
"Lexie could have easily held a grudge against all humans due to her being mistreated but instead she was the sweetest dog who gave unconditional love to us each and every day. We will miss her more than words can express and want to thank you for helping get her out of the terrible situation she was in so we could make the last 5 years of her life so much better than her first 5 years were."
The McNulty family.
We remember Lexie and the horrible condition she was in. It takes a special person to see past the physical and adopt a Dane that needs a loving home. Thank you Dana!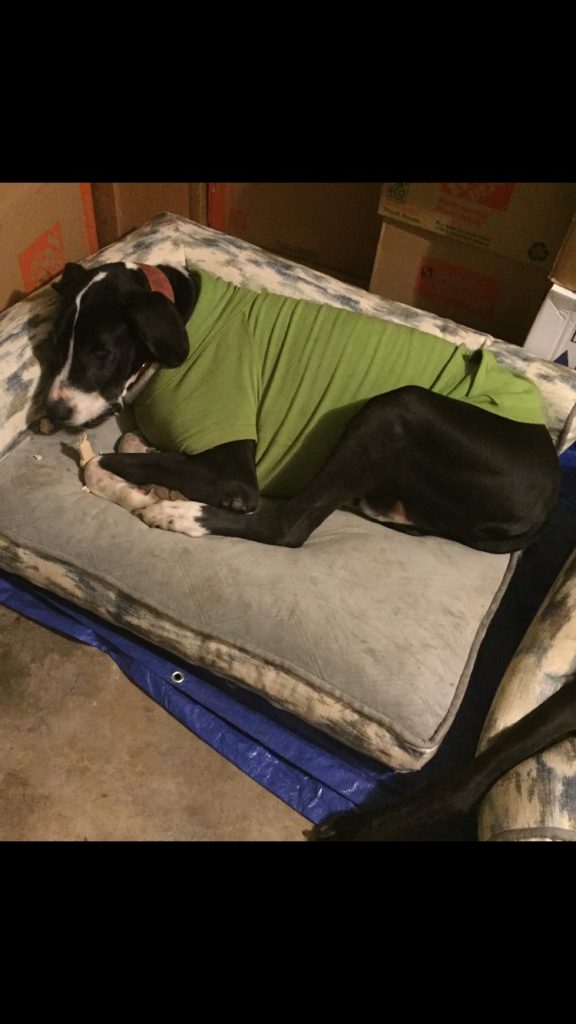 Our condolences to Judy Kiefer-Meyer and Bentley on the loss of their beloved Oreo.