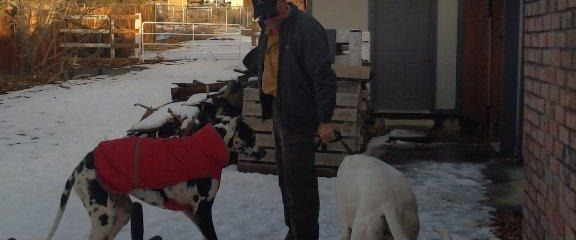 Nice photo and message from Gene Benson who recently adopted Thor who was on our site as a Private Adoption. Here is what Gene wrote to us:
"After several delays we picked up Thor on Friday. We've had him now long enough to be forming some impressions. Mie told us that he would not be good in a crate and that he has a history of self-feeding. Well, both of those behaviors are outside our normal experience with previous Danes. Turns out that she is completely correct about his behavior around a crate. He has near panic attacks that I believe are very serious separation anxiety. This will be a subject for our future training.
Jack in the red coat meeting Thor for the very first time. Thor's behavior towards other dogs so far seems as advertised, he is not showing any aggression.
Thanks very much to you and Great Dane Rescue of NorCal for helping us to have another interesting animal in our pack. Y'all were where we obtained Jack, almost 9 years ago now." We thank Gene and his family for adopting these two nice Danes and giving them a wonderful home.